Pattaya Club and Disco Highlights

First of all, I should point out that when I write 'Pattaya club', I'm talking about nightclubs or discos. I don't mean 'gentlemen's clubs'. There are some very good gentlemen's clubs in Pattaya that are well worth a visit. They offer incall or outcall escort girl services, but that is a topic for a seperate page. Click this Pattaya escort girls link for more information on that. The focus of this page is on the same sort of nightclubs that you get in West, the ones where you go to after the bars start closing, but with a twist!

A Pattaya disco, club, nightclub or whatever name you prefer, is a very different type of establishment to the kind of thing you will be used to in the West. I don't mean different in terms of paintwork, music, drinks or any of that stuff. No, I'm talking about the thing that the majority of blokes, young and old, go to these places for - the Pattaya nightlife disco girls of course!

I remember countless nights out in the U.K., I've forgotten most, where the end destination of the beer crawl was a nightclub. I've been out in Nottingham, London, Derby, Leeds, Manchester and Liverpool (if you're reading this in the U.K., check Liverpool out. 'Mathew Street' and 'Concert Square' are by far the best nightlife venues of anywhere I've seen in the U.K.). These cities only really get going on the weekends, and then only during specific hours.
As a younger man, I used to love going to nightclubs and talking to girls! The glimmer of opportunity presented a challenge that had to be met! I was about average in the success department, which meant getting rejected most of the time. Getting older, the ladies that I might like to get to know better are virtually out of reach now. The best women in older age-groups have long since been snapped up, and all that remains are.... let's say.... not very desirable! I suppose that works both ways, the women would maybe look at me and my friends these days and think 'where did all the best men go'?
Clubs in Pattaya

In any of the clubs in Pattaya you are a virtual superstar from the moment you walk in. It doesn't matter if you are old, fat, bald etc. It doesn't even matter if you dance like a rhino. When you are in a Pattaya club, fun is guaranteed. Some of the 'purist' womanisers might argue that the thrill of the chase is missing in a Pattaya disco, and they would be correct. If it's a challenge you are after, ask them to pay you for your company - that should keep you busy for a while! For the rest of us, the lack of a challenge has its compensations i.e. interest from, not only some of the most beautiful girls we've ever seen, but the most feminine too!
There is a selection of different types of theme to choose from when deciding which Pattaya club to head off to. Most cater for a younger audience, but you will still find all age groups in there. The themes to choose from vary according to the music they play; you can find all sorts, from the latest stuff in the charts, to rock 'n' roll, hip hop, R&B etc etc.
As is often the case, the best place to head for if you do want to end up in a disco in Pattaya is Walking Street. There are a good number to choose from here including Insomnia Pattaya, Tony Disco Pattaya, Mix Night Club Pattaya Thailand amongst others. There are some newer clubs to discover if you feel like a change. Some of the Pattaya discos have bar areas inside them when you walk in. This is because some customers just want to have a drink in a beer-bar type atmosphere, and check out the other customers, before deciding whether or not they want to progress into the disco proper.
Once inside the main disco area it's a familiar scene to what you will find in Western clubs. There will most likely be a large central dance-floor, a seating area and a standing area. There will either be a resident DJ, or there might be a selection of live music acts (depending on your favoured 'theme').
If you want your hotel to be located within stumbling distance of the main Pattaya club area, my tip would be
Siam Bayshore
at the end of Walking Street.

When to go to a Pattaya Club

If you are tempted to try out a Pattaya disco, the best time to go is late.... sometime after midnight. If you go before that time it will most likely not be that busy. The clubs are all open until late on, so there's plenty of time before closing. Some of the clubs have offers on where drinks are half-price before a certain time but, to be honest, that still doesn't make them that good a deal. From my point of view, nightclubs need to be busy to make them fun, and that means going late. Make use of the beer-bar type entrance first by having a beer there and scoping out how busy it is in the nightclub proper. When you do enter, you should find that the Pattaya ladies outnumber the male visitors by quite a lot..... enjoy!


Return from Pattaya Club to Pattaya Bars


Return to Pattaya Adventures homepage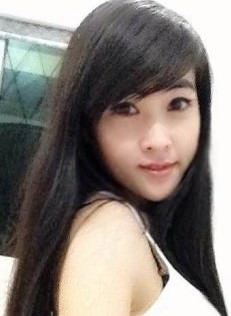 This lovely petite young lady, 28 years old and only 47kg, is looking for a western man to be her boyfriend. If you would like to meet up with girls just as lovely, you can with my:
Recommended Dating Sites: