Action Street Pattaya and Blue Rahtree

Action Street Pattaya has been on my mind for a while now and I though it was high time that I put together a report about it and the nearby 'Blue Rahtree' development. The first bars on Action Street such as Sensations Bar Pattaya, have been around for about two years now, and the impressive Blue Rahtree complex is about a year old. I stopped by a few days ago to get a feel for the place.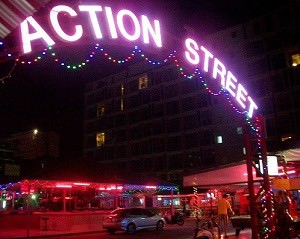 First of all, the whole area itself (located off Soi Buakhao at the southern end) is ripe with development and I can see this continuing for some time yet. The past couple of years has seen new condominium blocks going up, new hotels and, of course, Action Street Pattaya and Blue Rahtree.
If this is an area that appeals to you, and you would like to find a hotel nearby, have a look at
LK Metropole
which is located a short walk away. It is a very good hotel and is sure to appeal to you if you want to be located near to some activity.
Action Street Pattaya, the bars

The bars on Action Street are pretty much standard Pattaya beer bars. They are arranged in a sort of circular fashion with more bars in the centre of that circle. I'm told that, at the far end of the complex there are plans for the construction of at least one gogo bar already confirmed. The existing bars are more or less all of the open-air, square shaped, beer bar variety that you see all over Pattaya. Being new they are in quite good condition and everything is clean and tidy as you would expect. The really striking thing is the lack of customers and I'd imagine that, after having opened two years ago, the owners are getting very nervous!
Many of the bars in the complex were closed, and the bars that were open lacked custom. This is the low season at the time of writing though, and many of the other developments I mentioned, i.e. new hotels and condominium units, are only recently opened or still under construction. I'm guessing that the whole area is going to become a bit more high profile over the next two years or so, but only time will tell.
Action Street Pattaya, Blue Rahtree

The Blue Rahtree development is not actually on Action Street, it's only a stone's throw away though, so you can't really write about one without giving some attention to the other. As with Action Street, this place also seriously lacks custom and that really is a big shame because the infrastructure here is excellent. It's an indoor development with the bars split over two levels. The upper level, which looks down over the ground floor was closed, but it was clear to see that this would be a very good place if it was on the tourist map.
When I walked in the place, I was almost mobbed by the girls. The girls in Pattaya, Thailand are well known to be a friendly lot, but the girls here were in need of customers and it showed!
Overall I'd say that you would not want to spend a whole night on Action Street or Blue Rahtree, but it is very much worth a visit if only to keep an eye on how it works out in future. If it gets the customers it needs, we'll be looking at another Pattaya nightlife gem!



Action Street Pattaya, related pages:

Soi Buakhao; this soi is getting better all the time and Action Street gives it another boost. Well worth looking at!

Soi LK Metro; this is a good soi that's full of quality bars. The gogo bars in particular are great value.

Soi Diana; this is probably the main connecting road between Second Road and Soi Buakhao, and it is another great nightspot.





Return from Action Street Pattaya to Pattaya Nightlife


Return to Pattaya Adventures homepage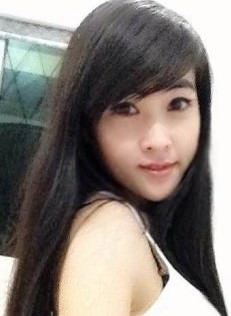 This lovely petite young lady, 28 years old and only 47kg, is looking for a western man to be her boyfriend. If you would like to meet up with girls just as lovely, you can with my:
Recommended Dating Sites: