Soi LK Metro Nightlife Attractions
Soi LK Metro is a genuine alternative for a night out if you like lots of quality bars to choose from. You've got bars of all sorts to choose from and more or less all of them have got eligible ladies working in them.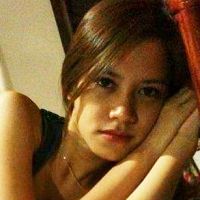 Why bother with the bar girls and hardcore hookers when you can meet someone much better online? If you prefer a more slow paced and intimate way of meeting ladies for sex and romance, you might be interested in checking out:
This soi will be of particular interest to anyone who likes a-go-go bars, and let's be honest... who doesn't like a-go-go bars?
The prices that you pay here are reasonable compared to the main alternative destination in Pattaya for this sort of nightlife entertainment mix i.e. Walking Street. Also, the surrounding areas, especially Soi Buakhao, are a lot cheaper.
The lower prices do not mean that the quality is poor, far from it! Some of Pattaya's best venues are to be found here and as time goes by it gets better and better. For anyone who thinks that the best days of Pattaya are in the past, I'd advise you to have a look at this place because it might change your perspective.
The atmosphere here is much more focused on actually having fun rather than wandering around gawping and photographing everything. You'll find more people here that are actually sat down enjoying some laughs with a beer than you will just walking around in big groups whilst buying nothing…
…Walking Street bar owners can only drool with jealousy on this important point!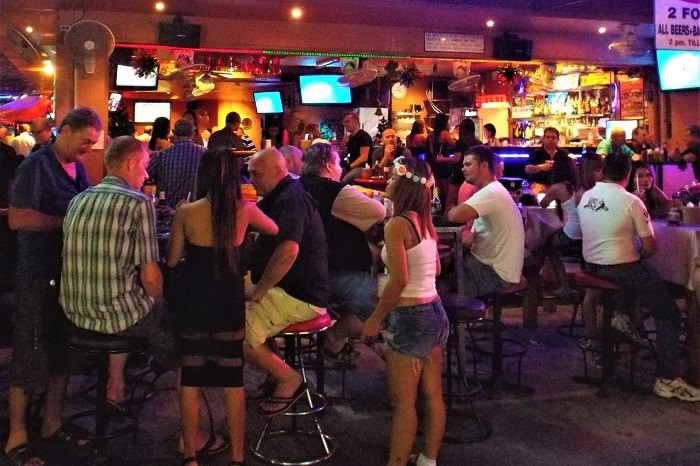 Proper paying customers at the Billabong on Soi LK Metro.
There are lots of beer bars to choose from on Soi LK Metro and, if you like to play pool, some offer this for free. You just need to write your name down on a board near to the table and wait your turn - it's usually a winner stays on set up.
I've mentioned on other pages that the future of the Pattaya nightlife scene (and especially the 'naughty nightlife' scene) is set to move inland away from the expensive prime real estate near to the beach.
This trend is well underway now and there has been some serious deterioration in traditional nightspots like sois 7&8. The areas around Soi Buakhao on the other hand have seen some impressive growth in visitor numbers, bars, and restaurants.
Soi LK Metro is very much a part of this newer development, and from the a-go-go bar perspective, it is the new jewel in the crown for Pattaya – I much prefer it to Walking Street these days. From the research that I did on the ground, your typical Walking Street a-go-go bar will be around 20% full at any particular point in the night; come to Soi LK Metro and that figure is usually more like 70% full.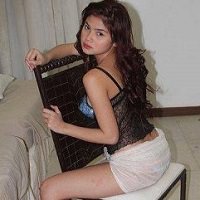 Modern technology is having a big impact on the bars in Thailand... the best girls have always been reluctant to work in bars for fear of being seen by someone from their hometowns, but there are lots of girls online at:
You might think that, if you are looking for Pattaya girls for companionship, a bar that is only 20% full would be a better choice because you'd have a better ratio of girls to customers. I think that in reality this makes little difference… if you spot a girl on stage that you like, you merely have to ask one of the waiting staff to get a drink for your girl and she'll be sat on your lap in no time!
The presence of other customers will not make any real difference to your efforts at attracting some feminine company. Even more importantly, in a bar that has a good patronage, the girls will tend to actually be enjoying themselves and will be more interactive with the customers, which makes the whole thing much more fun.
It's a good idea to find a busy bar if you want good service standards - you tend to get more hassle and higher prices in those bars that are less busy because the business model in Pattaya seems to be to go for the quick money rather than try to build a loyal following with repeat customers.
One thing to take note of is the bar-fine in the a-go-go bars because it can be quite high. 1,500 baht before 10pm is quoted in some places, but it does come down a little after that time.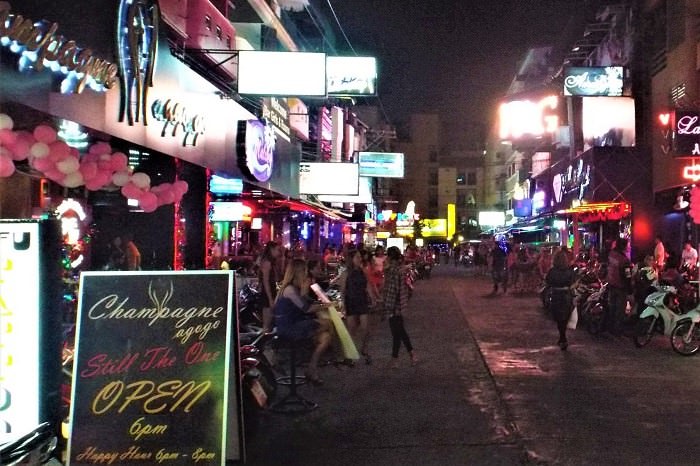 Looking down Soi LK Metro from the Soi Diana entrance.
Soi LK Metro A-Go-Go Bars
There are not as many bars on Soi LK Metro as there are on Walking Street, but they are packed more densely together into a relatively small area. You can walk the full distance of the soi in a couple of minutes and that can make it feel small, but there's plenty of entertainment here to keep you busy. There are also lots of options on nearby sois that make the general area a must see destination.
Some of the bars are better than others, but much will depend upon your own personal preferences as to which you like best, and a lot more will depend on the atmosphere in the place on any given night.
That said, there are three a-go-go bars on LK Metro that I would encourage you to have a look at if you are a fan of this sort of thing. 'Champagne', 'The Office' and 'Lady Love' are all excellent. I believe that some of these bars are owned by the same group, and it shows.
They are relatively hassle-free, draft beer can be bought from as little as 65 baht per glass, and the beauty of the girls on stage is generally the best around. More importantly, the success of any a-go-go bar really depends a lot on how much fun the girls working there are having, and in my favourite bars there's usually a happy atmosphere with lots of playful fun being had by all.
My favourite a-go-go bars are very good, but things are changing all the time and a bar that is not so hot today might raise its game tomorrow and become the new champion of Soi LK Metro, so a lot of what I write here is subjective if you are looking for advice about where to go for a night out.
In short, it pays to indulge yourself and visit them all!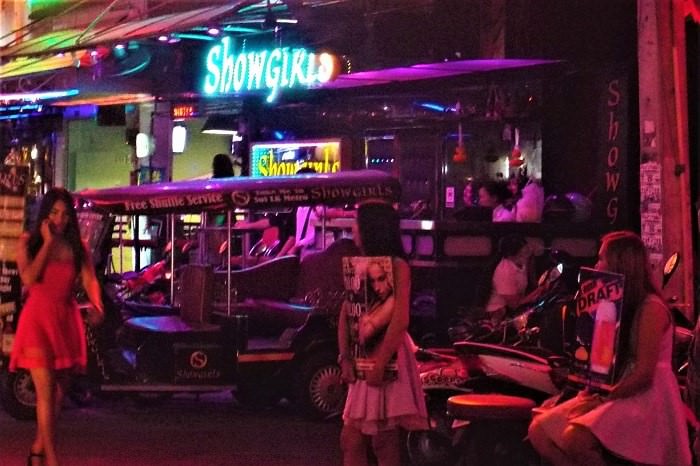 Showgirls a-go-go is usually a decent option.
Here's a short review section of a selection of a-go-go bars on Soi LK Metro:

Bachelor
A slightly more unusual gogo bar offering is the Bachelor a-go-go which has a different feel to it entirely. It is a more relaxed gentlemen's club atmosphere with sofas for seating.
I did hesitate for a while before actually entering the Bachelor a go go due to the look of the exterior. Whereas the other a-go-go bars have girls outside promoting them, this one only has pictures of ladies on the exterior.
It crossed my mind that it is harder to judge whether or not a lady is in fact a lady when all that you have to go on is a picture, and my suspicions were aroused that maybe it was a ladyboy bar. Some girls in a nearby beer bar assured me that this wasn't the case and that none of the a-go-go bars on LK Metro are ladyboy bars, so I gave it a go.
Like I said, it is a decent place and worth a visit, but at the time I arrived (about 1 am) the remaining girls on stage were not the most beautiful that the soi employs.

Showgirls
Showgirls a-go-go is one of the busiest bars on the soi partly because of its excellent central location. I stopped by for a visit one night at around 10:30pm and the place was almost full to capacity. I estimate that there is a seating capacity of around 130 or so, which makes it one of the largest gogo bars on offer, and I'd say it was already about 90% full.
The style of this venue is more 'theatre' style with a main stage along one side of the bar rather than the more usual central stage with seating all the way around. There were more girls on stage than you usually find with around 12 dancing at any one time. A glass of draft beer can be had at reasonable cost, and mine came without any hassle to buy anyone a lady-drink.

Chrystal Club
The Chrystal Club is another large bar, with similar seating capacity to Showgirls at about 130 or so. At 11pm it was only about half full. The cost of a glass of draft beer was nice and low, but overall the quality was not as good as you get in Showgirls.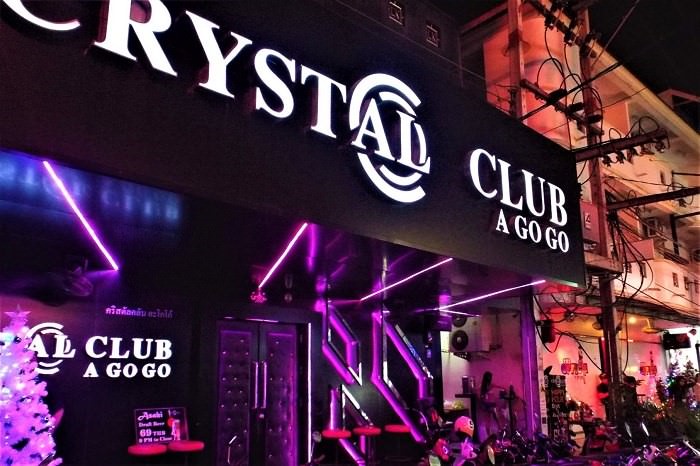 The Crystal Club A-Go-Go
For one thing there were only half as many girls dancing on stage, about 6 at any one time, but much worse that that was the lower attractiveness of the girls. The layout of this bar is the more typical central stage set up.
At the time I visited there was a good-looking young fellow in there that was getting a lot of attention from the girls. Unfortunately for him he squandered it all by hooking up with one of the roughest girls in the place… they say youth is wasted on the young!
Lady Love
Now for one of the best a-go-go bar options on Soi LK Metro at the current time; the Lady Love a go go was a lot of fun. Seating capacity was about 120 or so but it was only about half full. This didn't seem to matter as there was a lively, happy atmosphere in there by 11pm when I stopped by. Drink prices were amongst the lowest on the soi, and the standard bar-fine was also slightly lower.
There were 7 girls on a central stage layout and they were as good-looking as anywhere on the soi. If you only go to one of these gogo bars, I'd suggest you consider the Lady Love a-go-go.

Champagne
The long standing favored option on this soi of many expats and long-term visitors is the Champagne a-go-go. It was extended a few years back by a merger with a beer bar that stood next to it and some guys think that some of the magic was lost at that point.
Messing with a winning formula is always risky and whilst growing a business that is making money is a worthy and understandable pursuit, the whole attempt can fail badly if it damages the atmosphere.
It took a while to adapt to the new set up because the intimacy of a smaller venue is difficult to recapture in a larger setting, but I think that this bar is still one of the best around. It's not immediate first choice that it once was, but few of the other options can match it.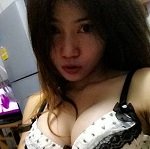 There are tens of thousands of Thai girls searching for romantic adventures with western men online. You can easily find good-looking girls for casual sex and fun times, or someone suitable for something more serious with:
The Office
The Office is another long established option that is well managed. I believe that it is owned and managed by the same group as Champagne, and that would account for the policy of treating customers well and not allowing the girls to unduly hassle them for lady-drinks.
The interior design is the usual stage-in-the-middle with seating surrounding it. It is a medium sized bar, with dimmer lighting than in most. The paintwork and furnishings are also darker, and so the place just feels a lot darker inside.
There is a good line up of girls on stage at any one time, and some of them are amongst the most beautiful on the soi.

Other Soi LK Metro A-Go-Go Bars
There are lots of other options to explore here and that variety is part of the fun; even after an 8-week visit I didn't get around to visiting them all because I had to review other nightspots too.
Of the bars that I didn't get to review this time around, Sugar Sugar is highly regarded by many Pattaya visitors. I've heard less said about the Queen Club, Kiss, Touch, Destiny, or Paradise, so I can't comment on them at this time.

Thai Dating Mega Book
For anyone who wants to impress the loveliest ladies in Thailand, and win their hearts, my instruction rich mega book is here for you: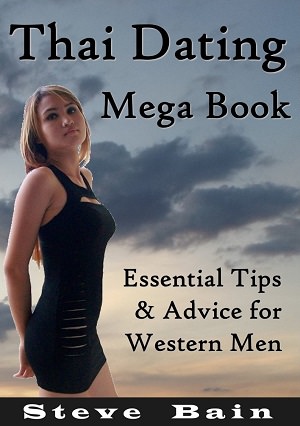 Find beautiful, trustworthy girls for long-term romance, or fun-loving ladies for casual sex with no-strings attached.

Learn all about Thai Dating Culture, what to talk about, what to avoid, how to present yourself, and how to impress.
Comes with my ongoing support, i.e. you'll be able to ask me questions and get my answers.
ONLY $27.00
Beer Bars
Generally speaking I'd say that the one thing that lets Soi LK Metro down is the physical appearance of the place from the outside. I accept the point that this is primarily an in-door nightspot but I can't help thinking that the soi could very easily be a much better looking place. There is quite a lot of neon to brighten things up but the worst thing has to be all the motorcycles everywhere; they take up far too much space in my opinion.
My prediction for the future (no specific date as I'm probably completely wrong) is that this will become a no-parking venue at some point. I can't imagine that bar owners have failed to notice that they would free up lots of space to put out some tables and chairs if they got rid of the motorcycles.

The Billabong Bar and the Kilkenny Bar
To get an idea of the potential, have a look at the picture below of the one bar on the soi that seems to have got its act together as regards outdoor space. It is the Billabong Bar that sits on the inside corner of this 'L' shaped soi. This is just one side of the bar, the adjacent side was just as busy and just as free of motorcycles.
The Billabong bar is certainly the busiest bar on the soi, and it offers good value for money; drinks are ordered on a two-for-one basis - although the cost of the first is about double the going rate...
Opposite the Billabong bar is the Kilkenny bar which is another good value bar. You can get a free game of pool here too. All you do is add your name to a chalk board and wait your turn; it works on a winner stays on basis.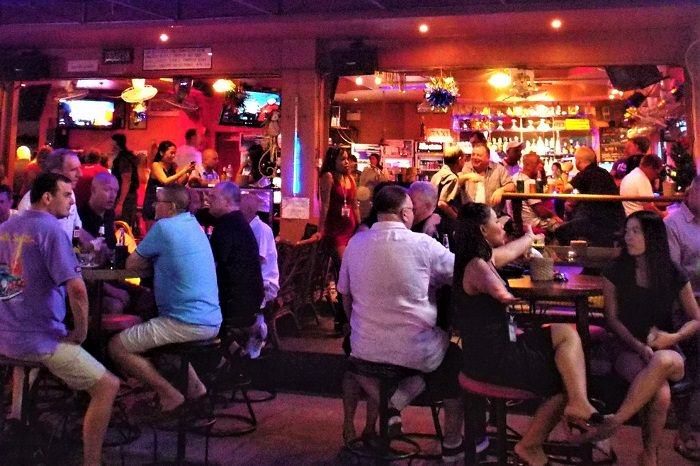 The Billabong is one of the most popular beer-bars.
Other Beer Bars
Of the other beer bars on the soi I don't have too much to say other than they are generally quite good. The 'Golf Club' offers a good breakfast and 'Murphy's Law' is a good sports bar. Incidentally, these bars offer accommodation at reasonable prices, but you'll need to search online for each individual bar as they are not listed on the big sites like Agoda.
Fans of the Billabong will probably also like the Climax Bar at the Soi Buakhao entrance to LK Metro because it is managed by the same group. Both bars have regular music acts and both offer good vantage points from which to do a bit of people watching.
There is a Scooters bar on the soi which is similarly themed to the other Scooters bars around town i.e. a sixties style mods bar. It does get quite busy, with the typical customer belonging to the 50+ age group.
The Thirsty Camel is one of the most recent additions, and whilst it looks good to me I didn't stop by, so I have nothing more to say on that.
If you want to find somewhere for a plate of food, most of the beer bars can accommodate you, but I've found that my personal favourite is the I-Rovers bar. The Craft Cottage at the Soi Diana entrance is another option that looked good to me but which I didn't try.

Devils Den Pattaya
The final word has to go to the long established institution located on Soi LK Metro that goes by the name of Devils Den.
It is a one-of-a-kind naughty establishment and it is highly regarded by its patrons. It's not cheap but if you want to get some very special attention from two ladies at once, and you think that you have the energy, then you might want to check it out.
The Devils Den girls will happily do out-call services, and they will even cater for couples! If you want a very special airport pick-up or drop-off service using a minibus and 2 girls of your choice for company, there is a facility for this too.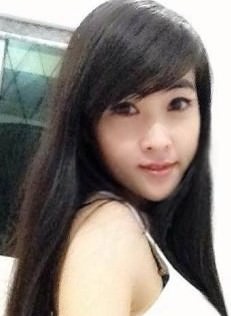 This lovely petite young lady, 28 years old and only 47kg, is looking for a western man to be her boyfriend. If you would like to meet up with girls just as lovely, you can with

My Recommended Dating Site: