Phuket Escort Girls & Service
If you are not staying in Patong, Phuket escort girls may have some appeal to you. If you are staying in Patong, then using any of these relatively expensive services would make no sense… unless you need the extra discretion offered.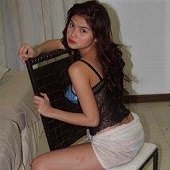 The vast number of Thai nightlife venues to choose from will give you plenty of opportunities to meet girls. But, if you prefer a more slow paced and intimate way of meeting ladies, you might be interested in checking out my:
Patong is like a miniature Pattaya, so you can easily meet all sorts of alternative Thai girls who will be interested in spending the night with you.
The nightlife in Patong is very good, and fun is guaranteed, but the revelers that holiday there are a relatively more mainstream sort i.e. it has a smaller proportion of single men looking for the company of Phuket escort girls.
There are enough single men within the general body of visitors to make taking a girl out of a bar comfortable enough though – meaning that you won't feel like a spectacle should you decide to wander off with a bar girl.
If discretion is needed, you could avoid the extra expense of a Phuket escort girl by arranging for a bar girl to come to your hotel sometime after you depart her bar. This won't be impossible to sort out, and the girls fully understand that some guys need to be discreet.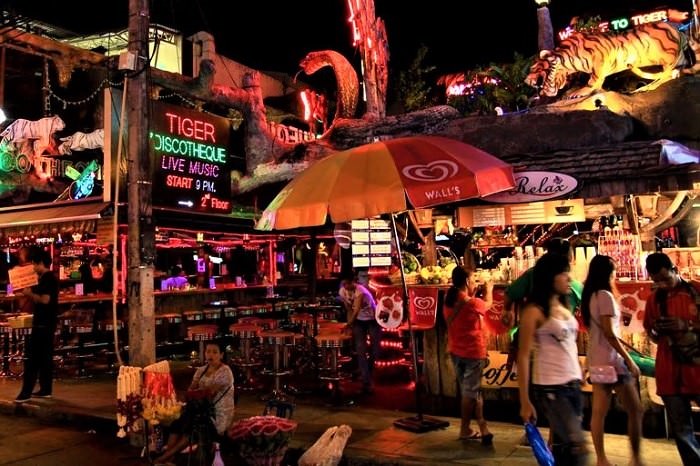 Bangla Road, the beating heart of the Phuket nightlife scene.
Arranging some fun
To swing this deal you will most likely need to bay the girl's 'bar- fine' (a release fee) which in Phuket will usually cost around 1,000 baht (you'll still need to pay the girl after your liaison). There is a chance that you could be conned and that the girl will do a no-show, but that doesn't often happen.
This might not be in accord with everyone's experience but I've often found, with regards to the bars at least, that Phuket girls can be a little more mercenary than, for example, Pattaya girls.
They can be a little more likely to try to take advantage of a newcomer by asking way too high a price for their company but, despite this, they are a friendly bunch of girls and they're good fun to be around.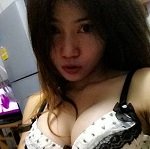 There are tens of thousands of Thai girls searching for romantic adventures with western men online. You can easily find good-looking girls for casual sex and fun times, or someone suitable for something more serious on my:

Incidentally, have a look at this page if you want to get an idea of Thai escort girl prices.

Keep in mind that call girls are amongst the best looking working girls, so the extra expense is to be expected. The downside are that you'll have to trust the pictures posted and you won't have any chance to have a chat with the girl and build up a bit of a rapport.
Happily, if you are looking for the all-important 'girlfriend experience' then you should be able to find it easily enough in Patong. It isn't as commonly found as it is in Pattaya; there's a bit more of a professional attitude in Phuket and some girls might not want to do a 'long-time' visit if they think that they can make more money by doing multiple 'short-time' services of an hour or so each.
The main center of the action, as far as the nightlife is concerned, is called Bangla Road.
You can think of it as being a bit like a smaller version of Pattaya's Walking Street and, as with Walking Street, it is a pedestrian zone by night. There are various smaller streets, known as sois, joining onto Bangla Road and most have a healthy selection of beer bars where you can meet a lady for the night.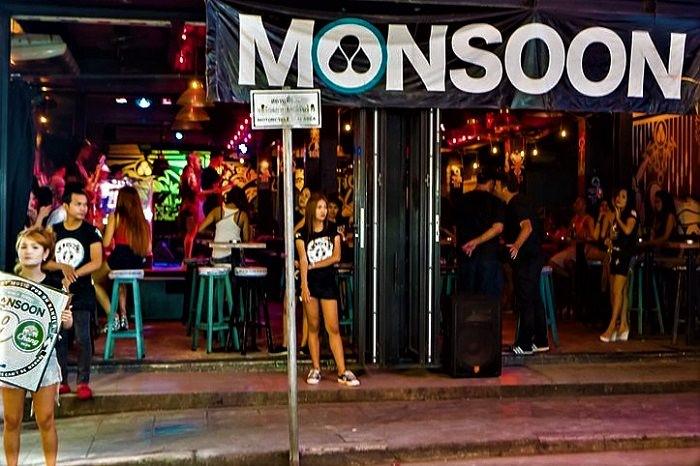 Even in Patong, bars can be quiet during the low season...
One thing to keep in mind with Phuket is that it is very easy to end up with your picture online; the tourists there seem to be particularly fond of their cameras and, unlike other places in Thailand, the bar girls there don't seem to mind being photographed.
It's something to bear in mind if being pictured in the company of a sexy young Thai girl might cause you some problems were it to be seen online.
Your online options for finding romance in Phuket are reasonable; there is a decent number of girls living on the island and it seems like a larger proportion of them use the dating sites to find guys for romantic reasons - be that a short holiday romance or a more serious long term arrangement.

Phuket Escort Service; outside of Patong
If you are planning a trip to Phuket then you should be aware that the nightlife outside of Patong is very limited and there won't be the same abundance of opportunities to meet bar girls and other sorts of Phuket hookers.
The main alternatives to Patong are Karon and Kata (which sit right next to each other). Both of these, especially Karon, have some nightlife options, but nowhere near as many as Patong. All the other beach destinations on the island are quiet in comparison, though nowhere is completely devoid of opportunities.
It's in the quieter places that Phuket escort service girls might be a more sensible option, because your other options are much reduced. Having said that, you should be able to easily slip your telephone number to a girl working in a shop, this sort of tactic is remarkably successful in all areas of Thailand and you can easily save plenty of cash by going this route.

Final Thoughts on Call Girls in Phuket
Phuket escort girls will have some appeal to some guys, the proliferation of escort sites focusing on Phuket provides ample evidence of that. However, for those people that just want to party the night away in the main nightlife orientated place, escorts are probably an unnecessary expense. There are too many cheaper options that can provide a call girl type service.
Another option that I haven't mentioned above are the Phuket massage girls, many of these ladies are happy to visit your hotel to provide their services and most will be willing to provide a lot more than mere massage…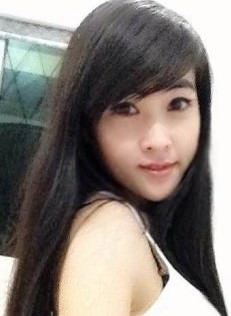 This lovely petite young lady, 28 years old and only 47kg, is looking for a western man to be her boyfriend. If you would like to meet up with girls just as lovely, you can with my:
Recommended Dating Sites: