Phuket Escort Girls & Service
If you are not staying in Patong, Phuket escort girls may have some appeal to you. If you are staying in Patong, then using any of these relatively expensive services would make no sense… unless you need the extra discretion offered.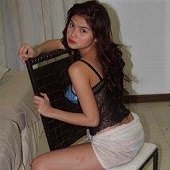 The vast number of Thai nightlife venues to choose from will give you plenty of opportunities to meet girls. But, if you prefer a more slow paced and intimate way of meeting ladies, you might be interested in checking out:
Patong is like a miniature Pattaya, so you can easily meet all sorts of alternative Thai girls who will be interested in spending the night with you.
The nightlife in Patong is very good, and fun is guaranteed, but the revelers that holiday there are a relatively more mainstream sort i.e. it has a smaller proportion of single men looking for the company of Phuket escort girls.
There are enough single men within the general body of visitors to make taking a girl out of a bar comfortable enough though – meaning that you won't feel like a spectacle should you decide to wander off with a bar girl.
If discretion is needed, you could avoid the extra expense of a Phuket escort girl by arranging for a bar girl to come to your hotel sometime after you depart her bar. This won't be impossible to sort out, and the girls fully understand that some guys need to be discreet.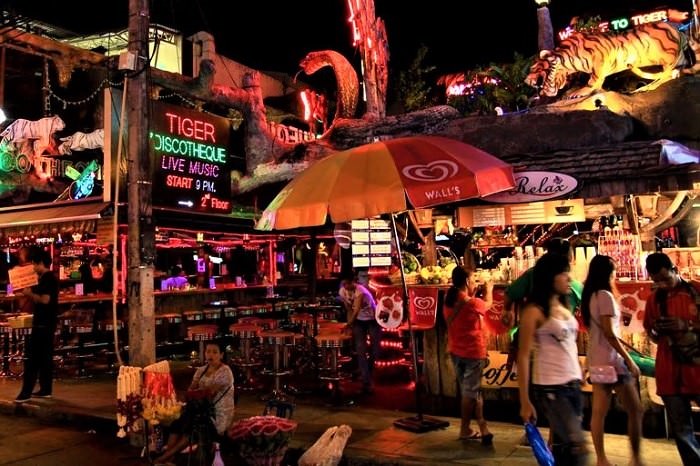 Bangla Road, the beating heart of the Phuket nightlife scene.
Arranging some fun
To swing this deal you will most likely need to bay the girl's 'bar- fine' (a release fee) which in Phuket will usually cost around 1,000 baht (you'll still need to pay the girl after your liaison). There is a chance that you could be conned and that the girl will do a no-show, but that doesn't often happen.
This might not be in accord with everyone's experience but I've often found, with regards to the bars at least, that Phuket girls can be a little more mercenary than, for example, Pattaya girls.
They can be a little more likely to try to take advantage of a newcomer by asking way too high a price for their company but, despite this, they are a friendly bunch of girls and they're good fun to be around.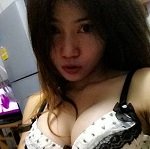 There are tens of thousands of Thai girls searching for romantic adventures with western men online. You can easily find good-looking girls for casual sex and fun times, or someone suitable for something more serious with:
Incidentally, have a look at this page if you want to get an idea of Thai escort girl prices.

Keep in mind that call girls are amongst the best looking working girls, so the extra expense is to be expected. The downside are that you'll have to trust the pictures posted and you won't have any chance to have a chat with the girl and build up a bit of a rapport.
Happily, if you are looking for the all-important 'girlfriend experience' then you should be able to find it easily enough in Patong. It isn't as commonly found as it is in Pattaya; there's a bit more of a professional attitude in Phuket and some girls might not want to do a 'long-time' visit if they think that they can make more money by doing multiple 'short-time' services of an hour or so each.
The main center of the action, as far as the nightlife is concerned, is called Bangla Road.
You can think of it as being a bit like a smaller version of Pattaya's Walking Street and, as with Walking Street, it is a pedestrian zone by night. There are various smaller streets, known as sois, joining onto Bangla Road and most have a healthy selection of beer bars where you can meet a lady for the night.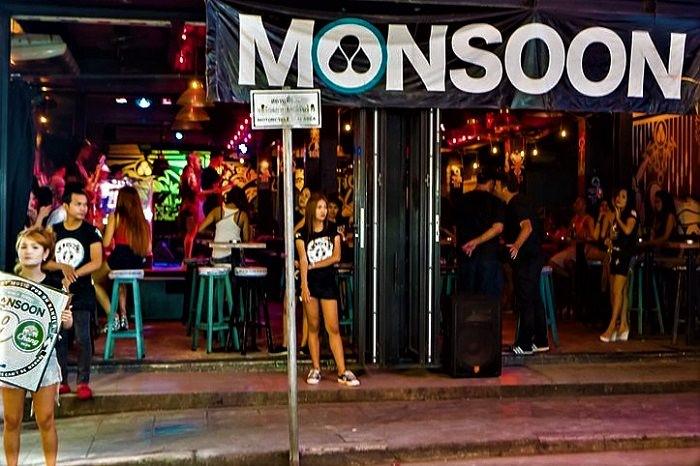 Even in Patong, bars can be quiet during the low season...
One thing to keep in mind with Phuket is that it is very easy to end up with your picture online; the tourists there seem to be particularly fond of their cameras and, unlike other places in Thailand, the bar girls there don't seem to mind being photographed.
It's something to bear in mind if being pictured in the company of a sexy young Thai girl might cause you some problems were it to be seen online.
Your online options for finding romance in Phuket are reasonable; there is a decent number of girls living on the island and it seems like a larger proportion of them use the dating sites to find guys for romantic reasons - be that a short holiday romance or a more serious long term arrangement.

Phuket Escorts; Jeab's story
By Chris (from Phuket)
Jeab was one of the more popular escorts in Phuket and, at times, you could say that she really loved her job. It gave her the flexibility she craved in the times she worked. Sometimes she met really quite interesting, nice people and, best of all, it paid well, really well.

Standing just over 5'6" in her bare feet and, naturally, much taller in the 3-4" heels she always wore when on assignment, Jeab was a girl from the provinces. A girl escaping the dire drudgery of country life to better herself. Perhaps not the profession she would have chosen for herself when younger and not one she'd choose for any daughter she might one day have herself but, needs must she always thought, needs must.
Jeab had been working on the island for "Prime Phuket Escorts" for almost three years and was in constant demand from her mainly farang clientele; foreigners from Holland, Germany, England, Sweden and so on all looked for her on their annual sojourn to the sinful sun of Patong.
The fact that she had many repeat clients was not that surprising really as he had all the key attributes which a foreign man usually looked for in a Thai woman: namely a lithe yet shapely, well-toned body; full breasts with dark, dark areolas and nipples; and jet black, un-dyed, waist length hair.
She spoke very good English and could be as charming or disarming and as seductive as needed; plus, of course, when the time called for it, she was good between the sheets.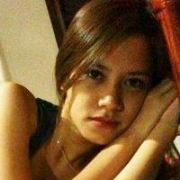 Modern technology is having a big impact on the bars in Pattaya... the best girls have always been reluctant to work in bars for fear of being seen by someone from their hometowns, but there are lots of girls online at:
Mind you, that's not what all of her clients paid for and, in her time working for Prime Phuket Escorts, Jeab had already had many varied experiences. She always felt a sort of thrill when her iphone rang and she saw the number of her agency on display.
What sort of customer will it be today she'd think? Young man, old man; fat or thin? Will it be a new one or an old client coming back to enjoy what I can offer them? Hope it's a big tipper, then I can have a few days off before the next one…
Jeab particularly liked the older men, but not too old. The ones like the wiry Joost, 62, from near Rotterdam, who thought for a while that they could still have intercourse a couple of times per night like they were still in their 20s or 30s. These type of men were the most charming, usually took her to the best places to eat and/or relax and, in many cases, simply wanted to talk about their lives in the company of beautiful women. They were also the good tippers.

Often, when it came to the sex part with someone like Jeffrey, just 70, bald and slightly overweight from outside London, she'd give each man that bit of affection they so desperately craved, a few hugs, a few squeezes of their arms, a caress of their backs, a peck on the cheek and so on.

The men that use Phuket call girls
As with other escorts, Jeab had learned to neatly categorize the type of men who use her agency and her services. Of course, almost all were tourists and, for the most part, first time tourists to such as the shy, retiring, Elwin, 41, from somewhere near New York, who hadn't quite worked out the bar or go-go bar scene.
Men like Elwin either felt intimidated by typical bar girls and their casual attitudes to having sex, or wanted a better class of woman. Someone a bit more refined, as Jeab liked to think, and one who, even if she didn't really want to be doing what she did, at least could pretend rather better than the ladies from the bars.
Within Jeab's customer base there were those men who were either single owing to some sort of relationship break down [Pedro, Spanish 49], being widowed [Alberto, French 73] or simply weren't getting enough at home. There were also those who had long stopped being attracted to their bloated, unattractive, domineering western wives or girlfriends.
Of course, some of the men themselves were singularly unattractive but, interestingly, Jeab often found these type of men more charming or with better personalities as if they were trying to make up for their lack of good looks.
Phuket beer bars can be quiet during the day.
Also, a few of her clients were younger men. She had thought that younger men wouldn't want to bother with escorts because they could get as many bar-girls as they wanted and think of the consequences later. Then there was the cost. Jeab was not cheap and a younger man could probably sleep with three or four bar-girls for the rates she charged.
Catering to the needs of men with fetishes is something that Thai escort girls provide, and Jeab was no different. A fetish that a customer's girlfriend or wife either didn't know about or didn't approve of and, hence, would not indulge in.
At first, Jeab was surprised just how strange some of the requests she received from some of her clients were but, once she understood that such fetishes were just other facets of the great diversity within the human sexual range of activities, she acquiesced to most requests received.
From amongst her clients these were the top tippers by far, and the most regular with at least 6 clients that she could regard as repeat visitors; many journeying at least annually, if not more frequently as time permitted, to see her and indulge their needs.
Jeab knew that her worked marked as a very low class woman in the eyes of other Thais, but her situation was similar to a lot of girls in the prostitution industry i.e. she needed the money and there was no other way of earning the same in another job.
Phuket escorts can earn a lot of money, and very few of them leave the industry to take work in a much more demanding traditional job e.g. factory work or farm work, for a lot less money.
Phuket Escort Service; outside of Patong
If you are planning a trip to Phuket then you should be aware that the nightlife outside of Patong is very limited and there won't be the same abundance of opportunities to meet bar girls and other sorts of Phuket hookers.
The main alternatives to Patong are Karon and Kata (which sit right next to each other). Both of these, especially Karon, have some nightlife options, but nowhere near as many as Patong. All the other beach destinations on the island are quiet in comparison, though nowhere is completely devoid of opportunities.
Thai Dating Mega Book
For anyone who wants to impress the loveliest ladies in Thailand, and win their hearts, my instruction rich mega book is here for you: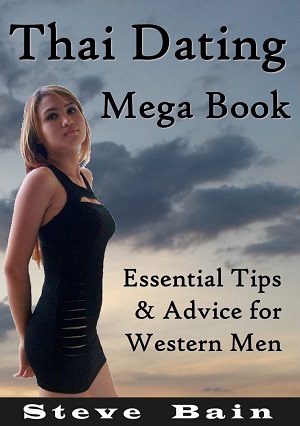 Find beautiful, trustworthy girls for long-term romance, or fun-loving ladies for casual sex with no-strings attached.

Learn all about Thai Dating Culture, what to talk about, what to avoid, how to present yourself, and how to impress.
Comes with my ongoing support, i.e. you'll be able to ask me questions and get my answers.
ONLY $27.00
It's in the quieter places that Phuket escort service girls might be a more sensible option, because your other options are much reduced. Having said that, you should be able to easily slip your telephone number to a girl working in a shop, this sort of tactic is remarkably successful in all areas of Thailand and you can easily save plenty of cash by going this route.
Final Thoughts on Call Girls in Phuket
Phuket escort girls will have some appeal to some guys, the proliferation of escort sites focusing on Phuket provides ample evidence of that. However, for those people that just want to party the night away in the main nightlife orientated place, escorts are probably an unnecessary expense. There are too many cheaper options that can provide a call girl type service.
Another option that I haven't mentioned above are the Phuket massage girls, many of these ladies are happy to visit your hotel to provide their services and most will be willing to provide a lot more than mere massage…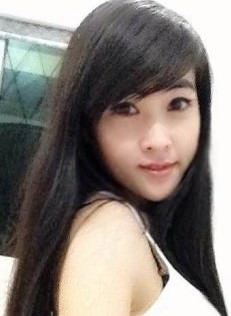 This lovely petite young lady, 28 years old and only 47kg, is looking for a western man to be her boyfriend. If you would like to meet up with girls just as lovely, you can with

My Recommended Dating Site: