Bangkok Girls

(Sex & Prices in 2023)
As ever, the Bangkok girls that work in the pay-for-play (P4P) industry remain a massive draw for visitors to the big city, and there's no denying that these ladies are often good-looking. However, there's more to this place than just short-time sex with bar-girls...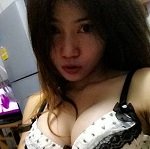 There are tens of thousands of Thai girls searching for romantic adventures with western men online. You can easily find good-looking girls for casual sex and fun times, or someone suitable for something more serious with:
For most men, regular Bangkok girls (i.e. not working-girls) probably make the most suitable ladies for long-term relationships because the culture gap in the big city is usually that bit easier to bridge than it would be for ladies from a traditional rural area.
Bangkok is a massive cosmopolitan city, and the people that live there are more likely to have some understanding of western culture.
English is widely spoken and there are plenty of middle-class, university educated ladies that would like to find a western boyfriend. Also, given that Bangkok is so large, there are plenty of ladies that are ready to meet you and who are within easy traveling distance.
I'll be writing a lot more about the virtues of regular Thai girls in Bangkok on other pages but here I want to write about the prostitution scene and the pleasures that it offers. After Pattaya, Bangkok is probably the most infamous naughty boy destination in Thailand, so a few words of advice are needed.
Click the link for details on: Bangkok working-girl prices.

I'll also be writing specifically about the differences between Bangkok and Pattaya soon, so look out for that if you are undecided about which location you think you might prefer.
It tends to be guys who are visiting Bangkok rather than guys who live there that make use of the P4P sex industry in the city. Obviously that isn't always the case, but expats in Bangkok often need to protect their reputation.
Anyone seen cavorting with Bangkok bar girls will ruin their local employment prospects!
Be aware that damaging your personal reputation in this way can easily have knock on effects for your business or professional ambitions if you need to deal with local people. However, for those who are undeterred by such things you'll find that Bangkok bar girls can be a lot of fun.
You won't find the 'girlfriend experience' as easily as you will in Pattaya, but there are exceptions.  Prices for the company of these ladies are significantly higher than they are in Pattaya, but compared to your average western city you'll think that prices are relatively low.
The best places to find Bangkok bar girls are in the three red-light areas; Nana Plaza, Soi Cowboy and Patpong. If you are a fan of the naughty massage scene then you'll be delighted to know that this is also very well catered for – the Bangkok Soapy massage is probably the best that Thailand has to offer!
The Bangkok sex industry is not what it once was, and it remains to be seen what the coming years will bring. The current focus of the authorities is on cleaning up the city's image, and that's not good news for fans of seedy Bangkok sex shows and the like...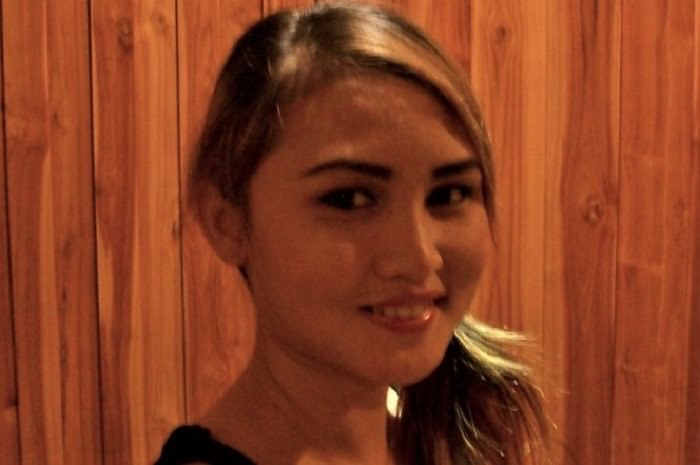 There are a lot of sexy girls online in Thailand.
When most men think of the Bangkok nightlife they imagine a place that's filled with exotic beauties and adult excitement, a place where the usual rules don't apply and where a man can get lost in a kaleidoscope of hedonistic excess.
That was always my preconception too, and the first time that I experienced it for real I found that my imagination wasn't too far off the mark.
A few years ago Bangkok was like another world, it was cool, and any western man that had the gumption to venture there was a man who refused to conform to western sense and sensibilities. Images of Vietnam servicemen resting up on R&R with a beer in one hand and parts of a sexy young thing in the other still get conjured up in my mind.
This sort of exotic appeal is a fine thing, but with regard to the ladies it does come with a serious culture gap that need bridging for any sort of serious relationship to survive. To give yourself a massive leg up, get my eBook:
A TV documentary from a few years back, profiling the Bangkok red light district and detailing it as a seedy underworld of sex and exploitation still lingers in my head, and I remember recalling one of the areas under the documentary's spotlight being labelled as the seediest of the seedy…
I also remember the warm sense of satisfaction I got in thinking "b****cks… I've been there, that place is not seedy, it's f***ing fantastic."
The Hangover 2 film that featured part of the Bangkok red light district also captured my imagination… the "Bangkok has him now" statement that was repeated a few times in the film resonated with me; it's the seductive image of a place where anything goes, and once you've experienced it you're forever smitten!


---
Casual Bangkok Sex with Online Girls
By Wesley (from the USA)
I'd been enjoying the casual Bangkok sex scene with online ladies for months and I'd run into the same problem almost every time; significant time and energy invested in the initial stages, and no sustainable chemistry once we'd spent time together.
At the other end of the spectrum were the Thai girls who would approach me with a forwardness that was off-putting, or even scary.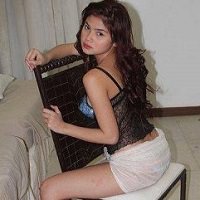 Modern technology is having a big impact on the bars in Thailand... the best girls have always been reluctant to work in bars for fear of being seen by someone from their hometowns, but there are lots of girls online at:
I wanted to meet sane and grounded girls, but girls who weren't going to delay the inevitable, the face to face encounter. The whole routine of message-stage formalities had gotten to be so repetitive that I'd started to play with the idea of setting up an automated series of  responses to save myself some time. I decided to give up the white knight act and lay out my whole casual Bangkok sex agenda on the table from the first message.
Fear is a useful emotion, and I bear the scars of not always having had enough respect for it, but in this situation it was a good thing to let go of. I decided that if a Thai woman was comfortable enough with her sexuality to post openly about it online then it shouldn't be a problem if I felt like being very direct about my agenda.
I want to assert that this wasn't a soulless quest for physical contact, there are plenty of instant gratification Bangkok sex establishments for that, but I could only stand so much precursory flirtation. I needed a girl with an open attitude towards intimacy.
Nook had portrayed herself as a worldly, open-minded, and very sexual person, so I threw my hook in the water.
Bangkok sex partner; Nook
My introductory message was very direct. First, I stated what it was that I was looking for; in this case an intelligent and engaging person with whom I could exchange intimacy. Then I sold myself, listed my attributes of romantic value – cooking, musical ability, fitness, etc. Finally, and I think this was an important part of the whole pitch, I made clear admission of my most glaring flaws. I can be distant, I need periods of isolation and my condo is not sanitary nor does it have a pleasant smell. That last one is pretty high on most Thai girls' lists, "good smell", so that's an important disclosure for me to make.
I actually took the whole lack of pretense a step further and wore my favourite shirt which wasn't particularly intact. She was taking night classes and I arranged to meet her near the campus for a drink. I got there early.  I jumped up to attention when I saw her coming; sparks flew immediately and the conversation was quick and focused. Within thirty minutes we were in a cab headed back to my place, which wasn't clean.
As we climbed into my half-made bed she gave me the complete run down of her current romantic involvements, intentions, and erotic ambitions; she was unbelievably direct. Unless money has been discussed, the Bangkok sex scene tends to develop much more slowly than this, so it seemed that my new direct approach online was working well.
While there was a good deal of pawing and rolling around, we didn't jump straight into the main event. We spent hours talking about nothing in particular and laughing like hell about all of it. She'd gone through private schools and spent a lot of time overseas so her level of English was quite high, but she was still very much a woman of Thailand.
Shopping of course is the national pastime of the fairer sex, and a casual Bangkok sex acquaintance is no exception. Nor was she lax in the grooming of her nails or the stocking of scrubs, creams, lotions and fragrances. And it's difficult for me to say how much of it was her because this time I feel I was equally guilty, but there was constant messaging.
Once she started coming over regularly the bad smell was something that she decided to deal with. She bought me a bunch of cleaning supplies and put little cups of fragrant oils with sticks stuck into them all around the condo, there were a selection of approved sprays too. I wasn't allowed to spray anything else. Unlike most Thai girls I'd dated in the past, she left it at that. Generally I've found they'll start cleaning even if it isn't completely necessary and you'd rather they didn't. I had no expectation of her cleaning anything, but she did lay down a very exacting set of standards that I had to meet, or else.
Now, whether it was monogamous or not, I had a relationship with the expectation of clean quarters and regular contact, and I was being encouraged by various means to explore other avenues of the Bangkok sex scene; so I did.

Thai girls and disclosure...
Feeling compelled to do it, I was more or less emotionless about the whole thing and snapped at the first chick who seemed interested. She was an English woman, a few years my senior and most graciously endowed. Our initial exchanges wasted nothing on pleasantries, lest you count a graphic picture exchange. She had a few x-rated videos too; I thought I had it made.
The actual experience was tragic. I was read poetry, I was drawn into a bizarre and prolonged sort of petting, the viewing of a teen angst chick flick, and she kept gnashing her teeth and growling at me in the most unappealing way possible.
It was horrifying and I'd agreed to spend two nights. I'd done what I thought I was obligated to do the morning after the first night, but her hands were greedy and forever probing and squeezing unsympathetically. A very real sense of dread had begun to creep over me when Nook called, and she was a little bit angry. Apparently I was obliged to let her know if I'd planned to make an extended stay and I was supposed to go meet her at my place immediately. I leapt at the out, and so ended my Bangkok sex excursion with the English woman...
Thai Dating Mega Book
For anyone who wants to impress the loveliest ladies in Thailand, and win their hearts, my instruction rich mega book is here for you: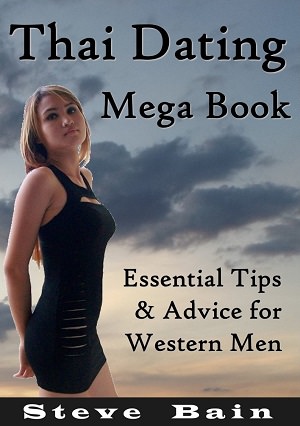 Find beautiful, trustworthy girls for long-term romance, or fun-loving ladies for casual sex with no-strings attached.

Learn all about Thai Dating Culture, what to talk about, what to avoid, how to present yourself, and how to impress.
Comes with my ongoing support, i.e. you'll be able to ask me questions and get my answers.
ONLY $27.00
Things changed after that and a strict code of disclosure was imposed on me. I had to let her know of anyone I planned to chat with before I chatted with them, and I had to give her access to all my accounts so that she could read my communications. And she did, finding reason to criticize almost everything in there. She gave me access to Facebook, Okcupid, Thaifriendly, and all of that kind of stuff too, but I only glanced at it as a sort of formality.
I was busy with work and with Nook, and as much as it seemed like an open buffet of potential Thai lovers, I didn't have the energy to partake of it. And so far as I could tell, neither did Nook.
Having assumed she was operating under the same 'Bangkok sex disclosure protocol' that I was, it also made sense for me to assume that she, too, had not found time for any other playmates. So when I called her one Friday evening I expected she wouldn't be doing anything after work and would want to come over, in anticipation of which I'd picked up a load of seafood at the market.
"Can we talk tomorrow? I'm meeting someone for dinner tonight."
"Huh? Since when? Dinner with whom?"
"Adrian, since earlier today. He just wants some information about the club."
"Uh, oh, ok."
She was involved in all sorts of clubs, so I overate of  seafood and khanom and went to bed early.
She called me at 8:30 on Saturday morning, and sounded manic. She loved me so much, I was so fantastic, and she had to see me immediately. I went straight over and my second foot hadn't crossed the threshold before she pounced, all cooing and kissing and praise.
It wasn't until we were within heartbeats of our laying together getting biblical that I asked what had been up with Adrian. The momentary flash of expression told me everything I needed to know.
"Was he here?" She nodded bashfully. "Did you.." I got a bit vulgar here but her answer was yes. "When the hell were you going to tell me?"
Her phone beeped. A message flashed on the screen. She hadn't given me access to her Line or email accounts and a sudden realization hit me. I looked at her, looked at the phone, looked at her again and grabbed the phone. I read through several chats, all with other dudes, all graphic, all with meetings in the planning phase.
This is not an uncommon double standard in the non-committal Bangkok sex scene, but my trust felt profoundly violated. I'd acquiesced to sexual openness, but I'd done it with the agreement of mutual disclosure. Obviously this agreement had been grievously violated. With things already being on the frontier of acceptability to me, Nook's attempt to spin any negative emotion about the situation as being a reflection of some character flaw I possessed pushed me over the edge.
The attraction was effectively killed, at least for the time being. We eventually managed a much less involved situation that served as a pleasant something, sometimes. I surrendered to the idea that until I was ready to take something very seriously this was the sort of situation I was likely to continue facing. I went back to chatting with different Thai girls, dating some, running away from others, but without going out of my way to anticipate "the one".
I had the best luck when I was open to the experience of love or real closeness, but not so eager I tried to force it on the situation. The online Bangkok sex scene opens the field a whole lot, for men and women, and with so much competition everyone is more hesitant to move anything too quickly. If they aren't they're desperate to grab on to someone, and there can be a lot of different motives behind that. I say try to keep an open mind, and an appointment book.

---
The Bangkok Red Light District
So, the question has to be asked, how does the modern Bangkok measure up as a place for party animals, and where are the best places to be found?
It's arguable whether or not the backpacker area Khao San Road is a member of the red light area district group of night-spots or not. There's certainly plenty of girls there who would be happy for a paid liaison but, in general I regard it as something different.
So, I haven't included a description below. However, if you want to know more about it, I have included a dedicated article that you can read here:
The three areas below are certainly members of the red light club...

Bangkok Red Light District 1; Nana Plaza
The Nana Entertainment Plaza (NEP) dubs itself the world's largest adult playground but, whilst there are lots of bars there, I don't believe that this is a credible statement.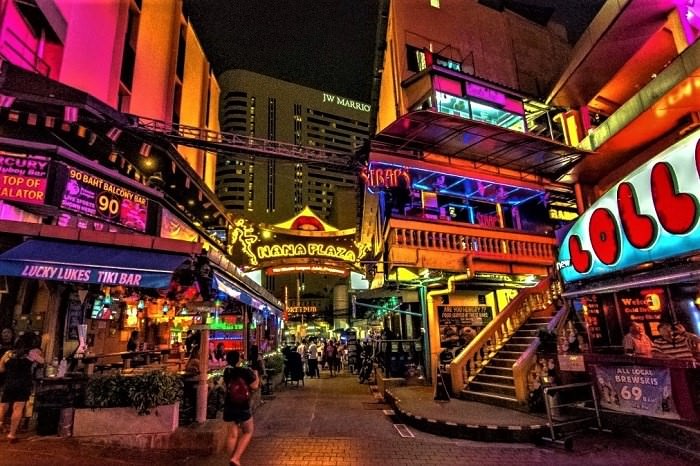 Nana Plaza remains my firm favourite red light area in Bangkok.
For one thing, it is nowhere near the size of Pattaya's Walking Street. It is a good spot regardless of the dubious size claim and personally I favor it as the best Bangkok red light district; the other two just aren't big enough for my taste. The NEP was the focus of the TV documentary that I mentioned above, and I've had plenty of fun times there.
Click the link to see comments about Nana Plaza on Tripadvisor.

The NEP had a big facelift a few years back which has done a lot to spruce it up. It was a much needed renovation and it brought a completely different feel to the place.
Different isn't always better and the rough-as-nuts appeal that some may remember about the NEP has been replaced by a yellow paint job, improved lighting, removal of food stalls that used to clog up the entrance, and some new modern beer bars in the center of the 3-storey courtyard.
A-go-go bars occupy all 3 storeys, and some have ladyboys performing…
A lot of the gogo bars have changed theme from one thing to another in search of that elusive winning business formula, but the gogo bar business model in the plaza is often described as struggling at best… and some would say that it's totally broken.
The beer bars that line Soi Nana outside the NEP have also undergone a lot of redevelopment in recent years, and most are now as modern and trendy as you'll find in a typical western city, with lots of sexy ladies working in them.
To read a true story about one man's experience with the sexy ladies of the plaza, have a read of this:
Bangkok Red Light District 2; Patpong
Patpong has most history attached to it, and it is the place I always think of when I think of a Bangkok ping pong show or something similar.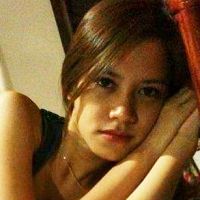 Why bother with the bar girls and hardcore hookers when you can meet someone much better online? If you prefer a more slow paced and intimate way of meeting ladies for sex and romance, you might be interested in checking out:
It's the sort of place where you expect a few touts to hustle you upstairs into one of the lady shows, and then charge you a fortune for a compulsory drink and so on. In fairness, these are all just preconceptions and the hassle factor here is not really all that different to the other areas.
Unfortunately, Patpong is a big disappointment to me these days; it is the smallest of the three red light areas and the market stalls in the middle of the set up doesn't do much to help the bar scene. It is still famous for the Ping Pong shows that some of the bars put on, but you need to be careful with these as many are rip-off joints.
I think that this is intentional because, over time, Patpong is declining as a naughty-bar zone and is sort of reinventing itself as a more mainstream destination. There are some very attractive Bangkok bar girls to be found here though.
Its heyday was long ago, maybe the 1980's, and is now a mixture of all sorts of things. The variety may appeal to some, but to most people it will come across as being a bit of a mismatch… I mean who goes out intending to buy a shirt and watch a ping pong show?
Patpong is unique in two other ways; firstly, it is built on privately owned land and secondly, it is located within a designated entertainment zone, meaning that the bars there can stay open for an extra hour, until 2am.

Bangkok Red Light District 3; Soi Cowboy
The first time that I ever visited Soi Cowboy I have to say that I was left feeling distinctly underwhelmed but, to be fair to the place, my expectations were probably too high.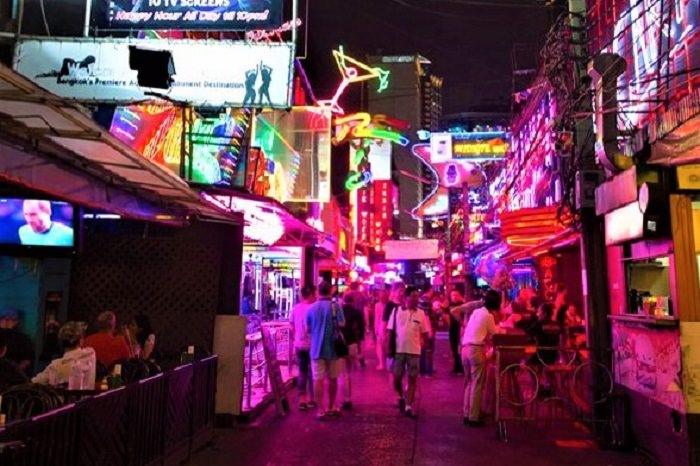 Soi Cowboy - of 'Hangover 2' fame.
If I'd accidentally stumbled across the soi whilst on a wander then I think I would probably have felt quite differently about it, and would have been more appreciative. The problem was that I'd been reading that it was the best venue in Bangkok and so I was expecting it to be bigger and better than Nana Plaza, but it's actually quite small in comparison.
The "Hangover 2" film has done a lot to popularize Soi Cowboy on account of a few scenes in the film being shot there. Some of the best gogo bars are to be found here too, Baccara being the most notable, and there's a lot of neon lighting up the place.
If you are wondering how the soi got its name, it's because of the cowboy hat wearing American who opened the first bar there back in the 1970's.
I want to turn now to an example of the sort of bar-girl story that people still associate with the city... and then I'll tell you where you can still find this sort of experience!

Overall Thoughts on the Naughty Scene
These days, a lack of Bangkok girls entering the bar industry has hit hard in the capital where alternative work, and alternative means of meeting westerners via online dating, has taken its toll. Compared to yesteryear it's a major challenge for the bars to recruit enough of the quality ladies that the customers want to see, and that hurts trade.
It is no easy task to get customers into a gogo bar without a quality line up of ladies!
On the topic of gogo girls, click the links for a bit more information about what sort of things go on inside them, as well as an entertaining true story about one guy's experiences with these ladies:
The relative scarcity of available bar girls has meant that the prices asked by those that remain has soared in recent years. In summary, all three of these places still have their charms, but there is a feeling that some of the fun-factor has been lost.
The Thai smiles have not deserted the place but they aren't as ready as they once were and worse still, the Bangkok girls working in the bars don't offer the same sort of girlfriend experience that they once did – despite prices rising beyond all recognition.
I think that the last thing anyone would expect of Bangkok bars, given the anything-goes perception that people tend to have, is that there would be closing times. Well, there are closing times, and they are enforced!
By 2 o'clock in the morning your night is over unless you intend to drink in your hotel room, it's a big disappointment to be honest.
I appreciate that not everyone has quite the same drinking mentality as myself and my fellow Englishmen, but I reserve the desire to occasionally drink myself into oblivion. If I don't wake up from time to time in a strange bar with absolutely no idea of how I came to be there, then that dispels the whole anything-goes illusion for me!
The Bangkok red light district survives rather than thrives, that is the sort of impression that you get these days and especially so when comparing it to days gone by.
Happily, there is a solution to this problem… its name is Pattaya. It's less than 2-hours away by taxi, the prices are much lower, the Pattaya girls are much friendlier, and the nightlife is second to none. For comparisons between Bangkok and Pattaya, scroll down the page for more details.

Bangkok Girl Sex Prices (P4P)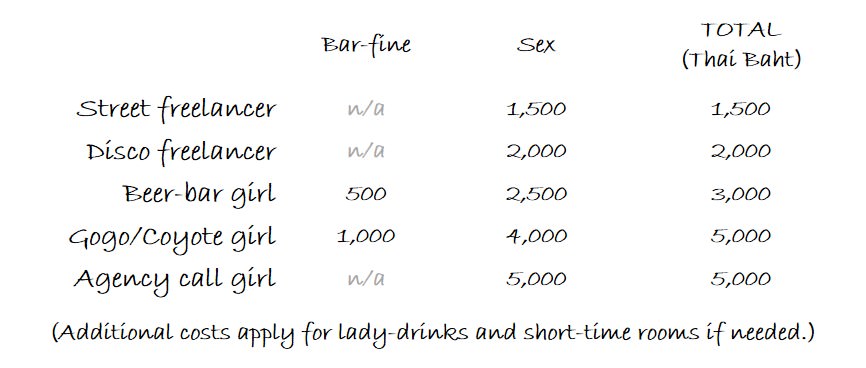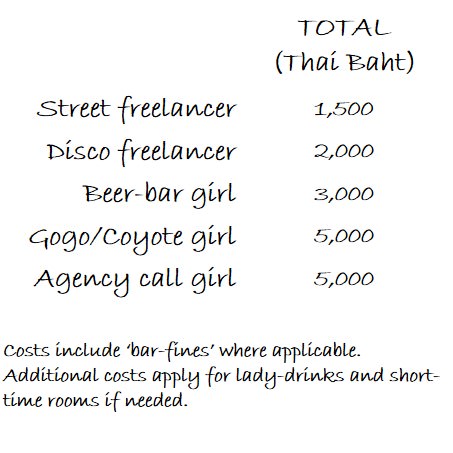 P4P sex prices in Bangkok are as steep as it gets in Thailand, and the pushy nature of the bar-girls to buy them drinks and so on makes for a night that is much more expensive that it once was.
Due to the expense I'm going to make a recommendation that I usually avoid with regard to working-girls i.e. that freelancers are worth consideration here. For details on that, have a look at:
Unless you have deep enough pockets to not care about the cost, I suggest Pattaya as a more affordable alternative.

My usual proviso applies - the prices are for short-time only (an hour or a single shot). Yes, there are many factors that will affect these prices, and strong negotiating skills my help on some occasions. The time of year matters (high season is expensive) and the time of night also matters (later on things gets more negotiable).

Final Thoughts
As I've maintained throughout the article, Bangkok girls are a really good option for anyone who is interested in serious Thai dating, and I give them my top recommendation for finding a lasting romance in the land of smiles.
If you like your ladies to be a little taller, fairer-skinned, and a little less strict about traditional Thai cultural values, then you will appreciate the advantages that the big city has to offer.
The last word has to be (and please excuse the shameless self-promotion) that if you choose to follow the strategy in my Thai dating Mega Book, and use it to target Bangkok girls specifically, it will put you miles ahead of the game and open doors for you that most western guys never reach.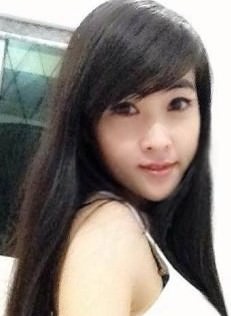 This lovely petite young lady, 28 years old and only 47kg, is looking for a western man to be her boyfriend. If you would like to meet up with girls just as lovely, you can with

My Recommended Dating Site: