Bangkok Girls & Sex in the City
For most men, Bangkok girls probably make the most suitable ladies for long-term relationships because the culture gap in the big city is usually that bit easier to bridge than it would be for ladies from a traditional rural area.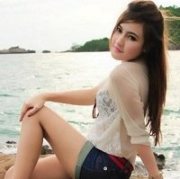 If you want to date a sexy, younger Thai lady that you can put your trust in, don't go looking for her at a bar. Thai bar girls can be lovely, but they're not great at loyalty... online dating is much safer, but check:
Bangkok is a massive cosmopolitan city, and the people that live there are more likely to have some understanding of western culture.
English is widely spoken and there are plenty of middle-class, university educated ladies that would like to find a western boyfriend. Also, given that Bangkok is so large, there are plenty of ladies that are ready to meet you and who are within easy traveling distance.
I'll be writing a lot more about the virtues of regular Thai girls in Bangkok in the sections below, but first off I want to write about the prostitution scene and the pleasures that it offers. After Pattaya, Bangkok is probably the most infamous naughty boy destination in Thailand, so a few words of advice are needed.
I'll also be writing specifically about the differences between Bangkok and Pattaya below, so look out for that if you are undecided about which location you think you might prefer.

Bangkok Bar Girls & Naughty Nightlife
It tends to be guys who are visiting Bangkok rather than guys who live there that make use of the P4P sex industry in the city. Obviously that isn't always the case, but expats in Bangkok often need to protect their reputations
Anyone seen cavorting with Bangkok bar girls will ruin their local employment prospects!
Nana Plaza, great for fun, but avoid it if you want a regular girlfriend...
Be aware that damaging your personal reputation in this way can easily have knock on effects for your business or professional ambitions if you need to deal with local people. However, for those who are undeterred by such things you'll find that Bangkok bar girls can be a lot of fun.
You won't find the 'girlfriend experience' as easily as you will in Pattaya, but there are exceptions as this true GFE story demonstrates.  Prices for the company of these ladies are a lot higher than they are in Pattaya, but compared to your average western city you'll think that prices are relatively low.
The best places to find Bangkok bar girls are in the three red-light areas; Nana Plaza, Soi Cowboy and Patpong. If you are a fan of the naughty massage scene then you'll be delighted to know that this is also very well catered for – the Bangkok Soapy massage is probably the best that Thailand has to offer!
The Bangkok sex industry is not what it once was, and it remains to be seen what the coming years will bring. The current focus of the authorities is on cleaning up the city's image, and that's not good news for fans of seedy Bangkok sex shows and the like...

The Bangkok Red Light District
When most men think of the Bangkok red light district they imagine a place that's filled with exotic beauties and adult excitement, a place where the usual rules don't apply and where a man can get lost in a kaleidoscope of hedonistic excess.
That was always my preconception too, and the first time that I experienced it for real I found that my imagination wasn't too far off the mark.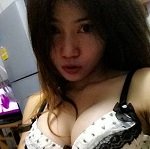 There are tens of thousands of Thai girls searching for romantic adventures with western men online. You can easily find good-looking girls for casual sex and fun times, or someone suitable for something more serious with:
A few years ago Bangkok was like another world, it was cool, and any western man that had the gumption to venture there was a man that refused to conform to western sense and sensibilities. Images of Vietnam servicemen resting up on R&R leave with a beer in one hand and parts of a sexy young thing in the other still get conjured up in my mind.
A TV documentary from a few years back, profiling the Bangkok red light district and detailing it as a seedy underworld of sex and exploitation still lingers in my head, and I remember recalling one of the areas under the documentary's spotlight being labelled as the seediest of the seedy…
I also remember the warm sense of satisfaction I got in thinking "b****cks… I've been there, that place is not seedy, it's f***ing fantastic."
The Hangover 2 film that featured part of the Bangkok red light district also captured my imagination… the "Bangkok has him now" statement that was repeated a few times in the film resonated with me; it's the seductive image of a place where anything goes, and once you've experienced it you're forever smitten!
So, the question has to be asked, how does the modern Bangkok measure up as a place for party animals, and where are the best places to be found? Read on…

Bangkok Red Light District 1; Nana Plaza
The Nana Entertainment Plaza (NEP) dubs itself the world's largest adult playground but, whilst there are lots of bars there, I don't believe that this is a credible statement.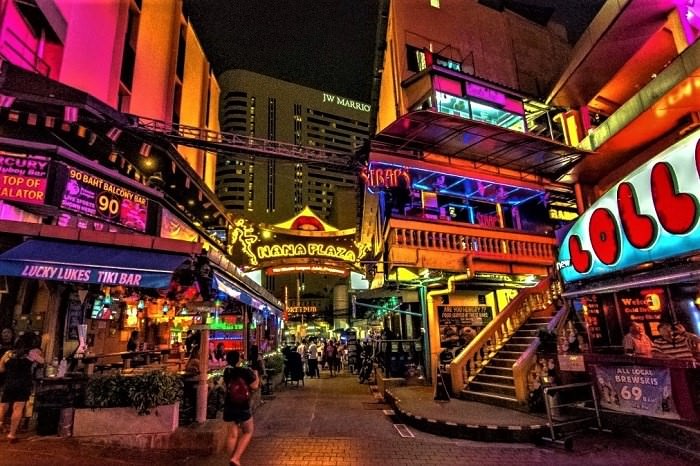 Nana Plaza remains my firm favourite red light area in Bangkok.
For one thing, it is nowhere near the size of Pattaya's Walking Street. It is a good spot regardless of the dubious size claim and personally I favor it as the best Bangkok red light district; the other two just aren't big enough for my taste. The NEP was the focus of the TV documentary that I mentioned above, and I've had plenty of fun times there.
The NEP had a big facelift a few years back which has done a lot to spruce it up. It was a much needed renovation and it brought a completely different feel to the place.
Different isn't always better and the rough-as-nuts appeal that some may remember about the NEP has been replaced by a yellow paint job, improved lighting, removal of food stalls that used to clog up the entrance, and some new modern beer bars in the center of the 3-storey courtyard.
A-go-go bars occupy all 3 storeys, and some have ladyboys performing…
A lot of the gogo bars have changed theme from one thing to another in search of that elusive winning business formula, but the gogo bar business model in the plaza is often described as struggling at best… and some would say that it's totally broken.
The beer bars that line Soi Nana outside the NEP have also undergone a lot of redevelopment in recent years, and most are now as modern and trendy as you'll find in a typical western city, with lots of sexy ladies working in them.
To read a true story about one man's experience with the sexy ladies of the plaza, have a read of this:
Bangkok Red Light District 2; Patpong
Patpong has most history attached to it, and it is the place I always think of when I think of a Bangkok ping pong show or something similar.
It's the sort of place where you expect a few touts to hustle you upstairs into one of the lady shows, and then charge you a fortune for a compulsory drink and so on. In fairness, these are all just preconceptions and the hassle factor here is not really all that different to the other areas.
Unfortunately, Patpong is a big disappointment to me these days; it is the smallest of the three red light areas and the market stalls in the middle of the set up doesn't do much to help the bar scene. It is still famous for the Ping Pong shows that some of the bars put on, but you need to be careful with these as many are rip-off joints.
I think that this is intentional because, over time, Patpong is declining as a naughty-bar zone and is sort of reinventing itself as a more mainstream destination. There are some very attractive Bangkok bar girls to be found here though.
Its heyday was long ago, maybe the 1980's, and is now a mixture of all sorts of things. The variety may appeal to some, but to most people it will come across as being a bit of a mismatch… I mean who goes out intending to buy a shirt and watch a ping pong show?
Patpong is unique in two other ways; firstly, it is built on privately owned land and secondly, it is located within a designated entertainment zone, meaning that the bars there can stay open for an extra hour, until 2am.

Bangkok Red Light District 3; Soi Cowboy
The first time that I ever visited Soi Cowboy I have to say that I was left feeling distinctly underwhelmed but, to be fair to the place, my expectations were probably too high.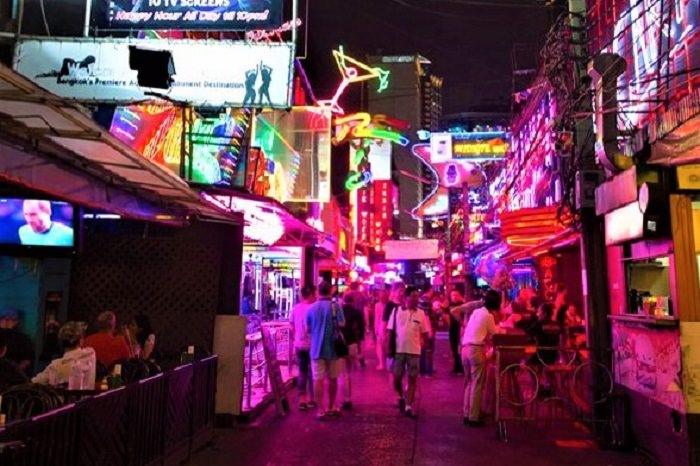 Soi Cowboy - of 'Hangover 2' fame.
If I'd accidentally stumbled across the soi whilst on a wander then I think I would probably have felt quite differently about it, and would have been more appreciative. The problem was that I'd been reading that it was the best venue in Bangkok and so I was expecting it to be bigger and better than Nana Plaza, but it's actually quite small in comparison.
The "Hangover 2" film has done a lot to popularize Soi Cowboy on account of a few scenes in the film being shot there. Some of the best gogo bars are to be found here too, Baccara being the most notable, and there's a lot of neon lighting up the place.
If you are wondering how the soi got its name, it's because of the cowboy hat wearing American who opened the first bar there back in the 1970's.

Overall Thoughts on the Naughty Scene...
A lack of Bangkok girls entering the bar industry these days has hit hard in the capital where alternative work, and alternative means of meeting westerners via online dating, has taken its toll. Compared to yesteryear it's a major challenge for the bars to recruit enough of the quality ladies that the customers want to see, and that hurts trade.
It is no easy task to get customers into a gogo bar without a quality line up of ladies!
The relative scarcity of available bar girls has meant that the prices asked by those that remain has soared in recent years. In summary, all three of these places still have their charms, but there is a feeling that some of the fun-factor has been lost.
The Thai smiles have not deserted the place but they aren't as ready as they once were and worse still, the Bangkok girls working in the bars don't offer the same sort of girlfriend experience that they once did – despite prices rising beyond all recognition.
I think that the last thing anyone would expect of Bangkok bars, given the anything-goes perception that people tend to have, is that there would be closing times. Well, there are closing times, and they are enforced!
By 2 o'clock in the morning your night is over unless you intend to drink in your hotel room, it's a big disappointment to be honest.
I appreciate that not everyone has quite the same drinking mentality as myself and my fellow Englishmen, but I reserve the desire to occasionally drink myself into oblivion. If I don't wake up from time to time in a strange bar with absolutely no idea of how I came to be there, then that dispels the whole anything-goes illusion for me!
The Bangkok red light district survives rather than thrives, that is the sort of impression that you get these days and especially so when comparing it to days gone by.
Happily, there is a solution to this problem… its name is Pattaya. It's less than 2-hours away by taxi, the prices are much lower, the Pattaya girls are much friendlier, and the nightlife is second to none. For comparisons between Bangkok and Pattaya, scroll down the page for more details.

Regular Girls & Living in the City
There are three main points that you need to understand about regular Bangkok girls:

If you want a proper relationship with a respectable girl then you are going to need to convince her that you are a respectable man. That means you can forget about the usual nightlife attractions because decent Bangkok girls know full well what goes on there, and they will not entertain the idea of involvement with anyone that frequents such places.
If you think that it's a good idea to pretend to be something that you are not, in order to get one of the good girls into bed, think again. Thais will absolutely hate this with a vengeance, and you will place yourself at serious risk of retaliation from the girl's family.
If you are honest about your intentions, and all you want is a lot of casual sex and fun times, then there are plenty of options on the online dating sites to find that. For an example of this, here is a really entertaining true story about casual sex in Bangkok.

Appearances & tastes
In appearance Bangkok girls tend to be a little taller and fairer skinned than the ladies that you'll find in Pattaya. Pattaya has a large body of girls who originate from the rural northeast of Thailand where petite, darker skinned people are the norm.
Obviously there is a vast amount of variety in a cosmopolitan place like Bangkok, but the ladies who originate from the big city do tend to have slightly more western-like features i.e. fairer skin, longer legs and more curves.
Thai Dating Mega Book
For anyone who wants to impress the loveliest ladies in Thailand, and win their hearts, my instruction rich mega book is here for you: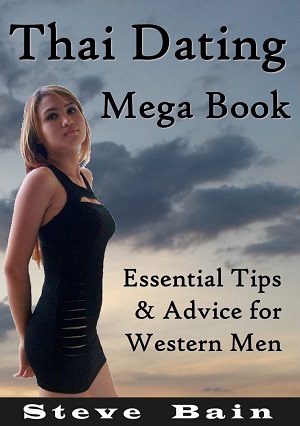 Find beautiful, trustworthy girls for long-term romance, or fun-loving ladies for casual sex with no-strings attached.

Learn all about Thai Dating Culture, what to talk about, what to avoid, how to present yourself, and how to impress.
Comes with my ongoing support, i.e. you'll be able to ask me questions and get my answers.
ONLY $27.00
To my eyes, the best looking Bangkok girls are amongst the most beautiful women in the world.
Another point worth considering is that the typical cuisine that the ladies of Bangkok prefer to eat is more akin to the sort of Thai food that you find in the west. Personally I find it much more palatable than the food that Pattaya girls tend to go for (which is often Laos food rather than Thai).
On the other hand, if you like to eat bugs, or you like your food spicy enough to melt your teeth, then feel free to ignore this particular piece of advice :)

Living in Bangkok
The modern city is nothing like the old-world images that might be jumping into your head, and I do admit to being a little disappointed that this is the case. Bangkok is fast becoming just another urban metropolis with the same high-street brand names that you'll see scattered around all over Europe and North America but, at the same time, the city does still have a charm and character of its own.
Bangkok retains a unique cultural heritage.
At any rate, when you are living in Bangkok rather than merely visiting the place, you'll come to appreciate the modern comforts and amenities that economic development has brought.
Old world nostalgia is a fine thing, but for most expats and long term visitors it definitely takes a bow compared to things like modern healthcare, cuisine, infrastructure, transport and the rest.
If the allure of Bangkok girls has got you thinking about retirement in Thailand, or perhaps a career relocation, you needn't worry too much about costs. By way of comparison, it is still a lot cheaper than most major western cities – estimated at not much more than a third of the overall cost of living in London or New York.
Bangkok is every bit the modern metropolis, and life there is often crowded and hectic. Add to that the stifling heat and humidity at certain times of the year and you've got a place that can easily drive you nuts.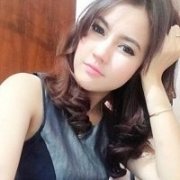 If you want to meet a lady for serious romance, online dating is a better place to start than a disco in Pattaya. The tourist focused bars are no good for meeting the love of your life, but there are alternatives so read:
Speaking of driving, I'd advise anyone to avoid it, it isn't necessary and it can cause problems. I can personally assure you that driving through downtown Bangkok during rush-hour is no fun at all, it's total gridlock and no-one gives an inch!
When driving you have no option but to force your way into tiny gaps and, in the event of an accident, you can be sure that you will be blamed whether it's your fault or not.
I've even heard of a westerner that witnessed a traffic accident as he was driving along; having some medical training he stopped to make sure everyone was okay. By the time the police arrived the two Thai drivers involved had concocted a story that laid the blame squarely on the westerner.
Presumably, neither of the Thai drivers had any car insurance and they assumed that the westerner would have it… and so they were going after a pay-out.
Luckily, Taxis are an extremely cheap alternative, and there's also the option of the sky-train for getting around town (although it does get crowded).

Bangkok girls and a desirable residence
Approaching Bangkok girls with romantic intent is very easy to do compared to the west, because it is virtually risk-free with regard to embarrassing yourself.
I've written extensively about how best to approach regular Thai girls and the advice that I've bring results that you've never experienced anywhere else on Earth. To check this out have a read of my Thai dating strategy it more or less guarantees success.
If you do end up in a serious romantic relationship with a lady from Bangkok, and you start thinking of a life together, there's another benefit to being in the city in that it is home to all the best hospitals and schools.
You might not be planning on hearing the patter of tiny feet anytime soon, but Bangkok girls are no different to girls the world over i.e. they nearly always want to have children at some point… such is the folly of women :)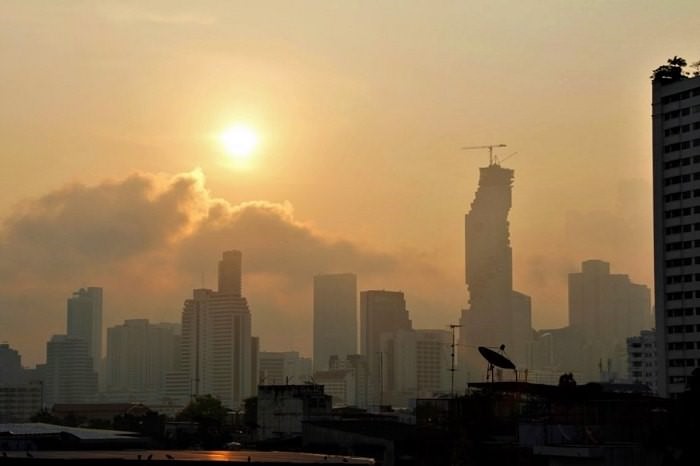 The modern Bangkok skyline is a thing of beauty.
I mentioned that avoiding the red light areas is important if you want to protect your business or professional reputation, this is equally true when it comes to your prospects for dating regular Bangkok girls. Gossip travels very quickly in the big city and you'll probably be ratted out by someone if you try to date a regular lady whilst having a reputation for bringing short-time girls back from the naughty bars!
The problem is so serious that, even if you have led a life of celibacy, you'll still struggle to attract any of the good girls if you merely live too close to a red light district, so avoid this mistake by making a more respectable part of the city your home.
If you do see girls from the naughty areas, do yourself a favor and keep them away from your home. There are plenty of cheap hotels in Bangkok that rent rooms by the hour, and using them will help protect your reputation.
One of the best areas of the city to pitch your tent is upper Sukhumvit, but don't mistake this area for lower Sukhumvit as that's where the biggest red light areas are found.
I haven't written anything here about Khao San Road as it isn't technically a naughty boy destination, but I'd regard it is a similar manner as far as your reputation is concerned and avoid living near to it if you value your reputation. For details on the scene there, have a look at my report on Khao San Road Nightlife.

In upper Sukhumvit you'll be amongst some of the most respectable western men in the city. You'll still be within easy reach of all the best parts of the city and the rental prices are a bit more manageable too.
Any respectable Thai girl who has an interest in dating western men will be impressed by a guy that lives in a respectable area such as upper Sukhumvit… provided that he has NEVER been seen by prying eyes in the company of any promiscuous ladies of the night!
If you have been seen before then you can expect her to find out about it sooner or later, such is the strength of the grapevine in Thailand. When she does find out, that will be the end of any romantic ambitions that you may have been cultivating.
If it seems like I'm focusing a little too much on the benefits of living in the city with regard to the regular Bangkok girls that you can meet there, as opposed to the working girls that you could meet up with, be aware that it is for a good reason. I believe that the main selling point for Bangkok, in terms of the opposite sex, is all about serious relationships.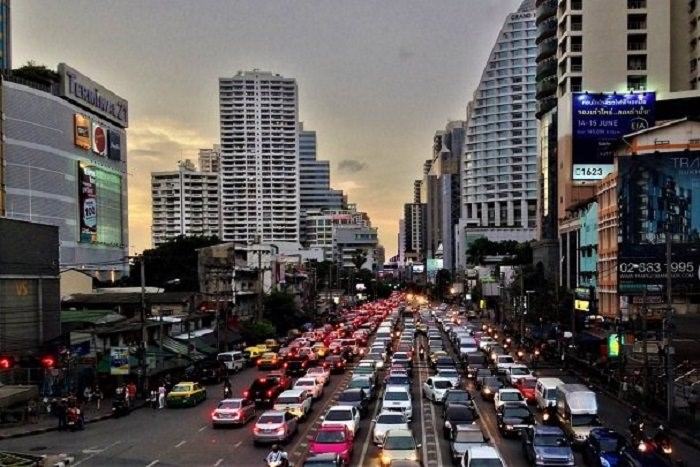 This is lower Sukhumvit, just a few miles further along is upper Sukhumvit.
If you just want to lead a more carefree lifestyle without taking on any commitments then the bar scene does have a lot to offer, but in that case I'd advise you to take a look at living in Pattaya instead. It's quite a lot cheaper and it has many more options for that sort of thing whilst still having lots of other none-nightlife-related stuff to keep you entertained.

Working in Bangkok & Visa options
For younger expats and long-term visitors, Bangkok has a distinct advantage in that it is where most of the expat jobs are based. This is going to be an important consideration if you are aged under 50 and still need to work for a living because, unfortunately, retirement visas are unavailable to you.
Getting a long-term tourist visa will not entitle you to work in Thailand, and whilst there are a lot of expats scraping a living as 'digital nomads' i.e. people making a living from their blogs, YouTube channels, freelance writing and so on, they aren't technically supposed to be doing this in Thailand as it does constitute working without a permit.
It is a bit of a grey area though.
At one time, western visitors would hop over the border every 30 days to renew their visa, but that practice was stamped out a few years ago. More recently, the 6 month multiple entry tourist visa was introduced, replacing the old 3 entry visa, and bringing in new requirements to prove that you have a sizable bank-balance and an income that can support you during your stay in Thailand… that will probably keep a lot of digital nomads out of Thailand for anything longer than a fairly brief visit.
The only real alternative for these younger guys is to find formal employment in Thailand and for all but a lucky few that usually means teaching English language (assuming that you have the required qualifications). You can get some reasonably well-paid jobs teaching English once you've built up some experience, and this will entitle you to a work permit that allows you to stay in Thailand.
The point is that it's in Bangkok that you usually find the best opportunities for this.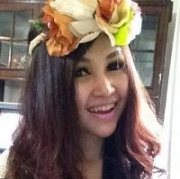 Contrary to popular opinion, Thai girls make excellent wives if you choose wisely. But don't select a long-term partner from a tourist area and hope for the best, it's far too risky. There are much better options online so see:
Living in Bangkok as an English teacher will not put you on the rich list anytime soon, but it is regarded as a respectable occupation, and it will open some doors for you as regards your romantic ambitions for meeting regular Bangkok girls (many of whom would love some free lessons!).
Of course, if you are over 50 and have the necessary retirement funds in place, you needn't worry about any of this. You'll be able to get a retirement visa and live wherever you want.
Bangkok vs. Pattaya
Bangkok vs. Pattaya comparisons are useful in so far as they detail what each of these cities excel at. I don't think that there's an overall winner as it's a bit like comparing apples and oranges, but it is useful to keep a few points in mind to distinguish the two when it comes to meeting and dating Thai girls.

Bangkok and its major selling points:
1. Sky Bars
If you want beauty and refinery then there's no doubt that the Bangkok nightlife scene has a lot more to offer than Pattaya. There are some refined places in Pattaya, the Hilton hotel and other top hotels for example, but Bangkok wins this particular battle. The sky bars in Bangkok set a scenery that stands up well against anything in the world.
The sky bar at the Lebua hotel is the best known of these, due to being featured in the 'Hangover 2' movie, but there are many more and the Lebua isn't even my favorite. That award currently goes to the 'Vertigo and Moon Bar' that sits on top of the Banyan Tree hotel.
The food options at these top hotels is also outstandingly good, so the dining options are next up on the list selling points. Be aware that for romantic dinner-date purposes, most of the eligible women in Bangkok would be quite uncomfortable in one of these high-class restaurants, and it's usually a better idea to let the lady choose where to eat.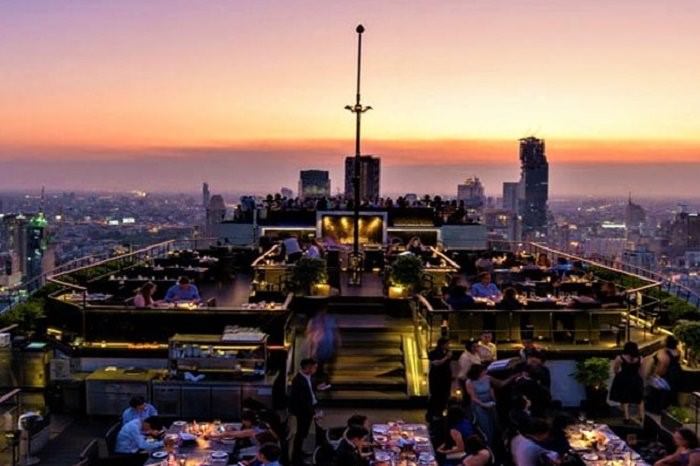 Vertigo and Moon Bar, at the Banyan Tree
2. Dining Options
One of the big selling points that favors the big city in the Bangkok vs. Pattaya showdown is the quality of the food that is available at the upper end of the scale. If you enjoy fine dining at a fraction of western prices then Bangkok is an absolute winner.
As an Englishman I do understand that you might have some reservations about my judgement when it comes to quality cuisine... English food, for a long time, was utterly abysmal and I'm the first to admit it! With that said, the English have prided themselves on the traditional Sunday roast and I think it stands up quite nicely when done well.
The best Sunday roast that I have ever eaten (including anything my mum ever cooked up) was served to me at the 'Huntsman Pub' located on the basement floor of the Landmark hotel in Bangkok. I kid you not, it was outstandingly good and highly recommended.
From what I've read, the Huntsman doesn't even warrant an 'also-ran' mention in the battle for very best dining options in Bangkok, so the really good ones must be the stuff of legend.

3. Long-Term Dating
I've long recommended the big city as the best choice for those guys who are seeking a base of operations from which to conduct their long-term romantic endeavors.
Any Bangkok vs. Pattaya comparison here needs to be split right down the middle between those guys who are looking for a serious love interest and those guys who just want a holiday girlfriend. Bangkok is best for the former, Pattaya for the latter.
Bangkok girls are somewhat less traditional in their views and much more familiar with western guys than rural ladies, but the ladies in Pattaya are even more familiar… a little too familiar :)
The big city is a very cosmopolitan place and not just in terms of the different nationalities of people who visit/live there. There are lots of foreign businessmen and professionals in Bangkok, and Thai attitudes towards these guys are much more conducive to winning the hearts of regular decent girls in Bangkok.
The bad news stories that you hear/read about failed Thai/Western relationships usually stem from relationships that started out in one of the Bangkok red light areas, or pretty much anywhere in Pattaya, so avoid these areas if you want true-love.

Pattaya and its major selling points:
1. Bar Girls & Nightlife
Everyone who has been to Pattaya knows full well that the extent of the nightlife scene, in terms of beer bars and bar girls, far overshadows anything that Bangkok has to offer. There are literally tens of thousands of working-girls in Pattaya and you'll easily meet them in the beer bars and a-go-go bars in the city.
For the time being Pattaya remains the party capital of the world and the options for meeting girls are endless. There are moves by the authorities to clean up the city's seedy image but so far this has not spoiled the fun too much.
The all-important girlfriend experience is still available but it is slowly disappearing. Some bar girls, and even some street workers, will refuse 'long-time' offers until really late at night, and getting one to join you for a week or two is becoming prohibitively expensive.

2. Beaches
Clearly you aren't going to get any beaches in Bangkok as it isn't a coastal city, and the main Pattaya beach has long been an object of ridicule and disgust. The main Pattaya beach is not a good option if comparing it to the best offerings in Thailand, but it is still an option, so it wins the Bangkok vs. Pattaya battle by default in this regard.
Actually, once you put on your walking flip-flops and start exploring the area you'll come across some decent beaches in Pattaya. My favourite mainland beach used to be Cosy Beach in Pratumnak, but that has become a bit too popular with tourists (mainly Russian) and so it has lost its feel of seclusion.
My current favourite mainland beach in Pattaya is found just to the north of the main beach, it's called Wong Amat beach and it is a good choice. You don't get hassled by hawkers so much, the beach is deeper and cleaner, beach massage options are better, it's quieter because there is no road running along it, and I recommend it if you like chill out by the sea during daylight hours with your holiday-girlfriend.

3. Lower Cost of Living
I nearly listed this entry as 'low' cost of living but settled on lower...
It is true that the basic costs of life, e.g. accommodation, food and essentials, are still really low. However, once you start enjoying the nightlife options that Pattaya is famous for then costs can quickly start spiraling out of control.
Long gone are the days that followed the Asian financial crisis in the late 90s when exchange rates were so good for westerners that you just didn't need to worry about costs in Thailand – the main cost was the flight that brought you here...
Things really turned on their head when the west had its own financial crisis in 2007-08. Exchange rates dramatically worsened and all of a sudden people needed to check their bank balances ahead of a night out.
Costs have further risen over the past couple of decades due to economic development in Thailand, and resulting alternative career options for the girls. Prices in Thai baht have risen sharply irrespective of exchange rates, and the rises have been particularly acute in the naughty nightlife scene.
However, whichever way you cut it, the Bangkok vs. Pattaya comparison is still going to show that Pattaya is a much cheaper option than Bangkok… it's just not as cheap as it was.

Final Thoughts
As I've maintained throughout the article, Bangkok girls are a really good option for anyone who is interested in serious Thai dating, and I give them my top recommendation for finding a lasting romance in the land of smiles.
If you like your ladies to be a little taller, fairer-skinned, and a little less strict about traditional Thai cultural values, then you will appreciate the advantages that the big city has to offer.
The last word has to be (and please excuse the shameless self-promotion) that if you choose to follow my Thai dating strategy, and use it to target Bangkok girls specifically, it will put you miles ahead of the game and open doors for you that most western guys never reach.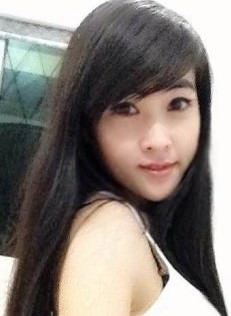 This lovely petite young lady, 28 years old and only 47kg, is looking for a western man to be her boyfriend. If you would like to meet up with girls just as lovely, you can with

My Recommended Dating Site: