Soi 7 Pattaya, Bars & Girls
Soi 7 Pattaya has long been a personal favourite of mine. As a nightspot, it has always been a very popular choice with tourists. There are dozens of bars to choose from and there is a vibrant, cheerful atmosphere here, along with lots of bar girls…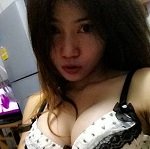 There are tens of thousands of Thai girls searching for romantic adventures with western men online. You can easily find good-looking girls for casual sex and fun times, or someone suitable for something more serious with:
This soi is a very good place to be if you enjoy people-watching, because you get to see all sorts of crazy stuff going on and it is always good fun. There are lots of things to do and, personally, I tend to find myself drawn to this part of Pattaya more than any of the other options around the city.
I do admit that this personal preference is partly based on nostalgia, with lots of happy memories here for me, but regardless of that I still think it holds up well as a nightspot that most guys will enjoy.
There is a range of quality offerings to choose from here whether that be the bargain hotels here, or some of the best traditional English and Irish food outlets in Pattaya. But first and foremost it remains one of the best bar areas to find a good looking holiday girlfriend!
Generally speaking, the hotels here are geared towards the party lovers, because they are located right in the middle of some of the best action in town. It does mean that there will be some late night noise to deal with though, and some of the other guests might well be bringing ladies back to their rooms.
So, Soi 7 Pattaya is not the best option for families!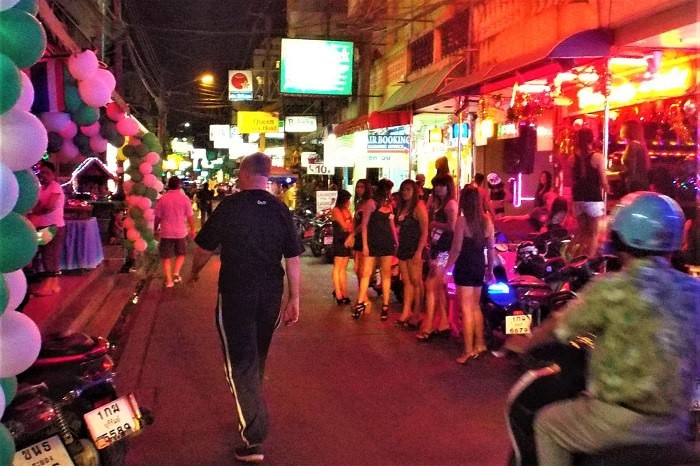 Soi 7 Pattaya, popular with single guys and bar girls…
Soi 7 Pattaya; the location and the customers
Soi 7 and its sister soi 8 run parallel to each other from Second Road down to Beach Road. There is a connecting road about halfway down the Sois such that, viewed from above, they would be shaped like a 'H'. In length the two sois extend something like 300 metres from start to end.
Geographically, they are located in a fairly central part of Pattaya Bay and most other areas are within easy walking distance, which makes the area an excellent spot to choose a nearby hotel as your base camp if you are coming for a short visit.
As with the other main tourist areas, the visitors here are becoming more and more international in their countries of origin. That change has been slower to take hold here though, and there is still a strong contingent of white middle-aged single men.
Naturally, there are lots of good-looking Pattaya girls working in the large number of bars in this area of Pattaya, and that has played its part in continuing to attract those single middle-aged western guys…

Soi 7 Pattaya Entertainment
Although there are a large number of beer-bar options available here, there are not many gogo bars here and those that are here are small.  The beer-bars regularly host karaoke singers, and whilst the standard of singing might not be the best they are popular with the bar-girls, and that makes for a happy atmosphere…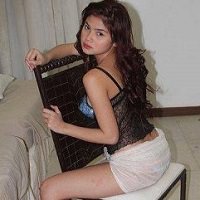 Modern technology is having a big impact on the bars in Thailand... the best girls have always been reluctant to work in bars for fear of being seen by someone from their hometowns, but there are lots of girls online at:
Pool is very popular in the bars, with many having both a pool table and a resident champion (i.e. one of the girls) that you can challenge.
My own pool game is average at best, so the resident beer-bar champion will normally be a decent challenge for me. Some of the champions are actually quite good and would give most guys a competitive game. I'm not sure how they do it, if you saw them bend over and line up a shot, you'd swear that they had never held a cue in their lives!
Every now and then one of the bars will have a birthday party for someone who works there. When you see a party you can normally expect that there will be some free food available. You might not want to eat it yourself (you'll be okay if it's Thai food, but if it's Laos food.... let's just say I don't rate it very highly!) but, if you have a girlfriend with you, she might choose to fill up!
A slightly comical aspect of this area is demonstrated by the occasional 'chases' that the police make to see off the street hawkers and mobile food stalls. This kind of trade is not entirely legal and, from time to time, a police vehicle will drive down soi 7.
When this happens, you'll see a dozen or so Thais running with their mobile stalls down the soi to escape. I've never actually seen any of the police officers make an arrest and, within a few minutes of them leaving, every single street hawker will have returned and be back in business... only in Pattaya!

Pattaya Soi 7 Bars
At the Top End
The picture below was taken at the top of Soi 7 just off Second Road looking down the soi in the direction of the beach. The food stall you can see is serving up some tasty insects! It's not often you see a westerner buying this sort of thing, and I'll guarantee that you'll never see me buying it… this is one for the locals as far as I'm concerned.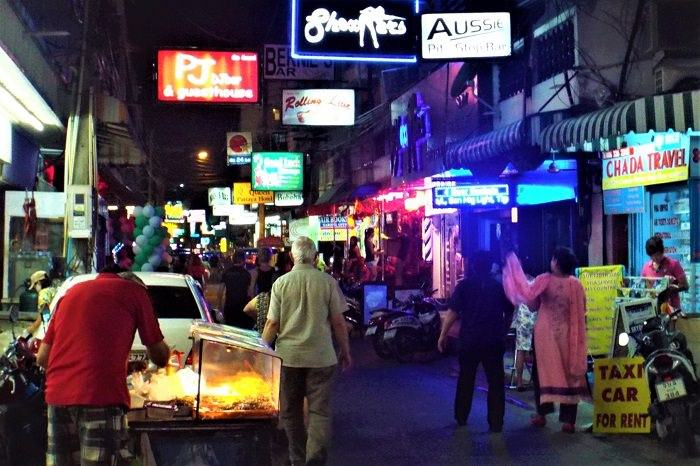 Soi 7 viewed from Second Road.
The gentleman with the white hair heading down the soi is fairly typical of the sort of guys that you find strolling around here. It is a good soi for visitors to find the company of a local lady; bar-fines are usually cheap at a starting rate of 300 baht.
There are some bars at this end of the soi that are a bit of a rip-off in my opinion. The PJ bar and guesthouse has always been more expensive than other bars in the area and for no apparent reason.
Even worse though is the bar on the opposite side of the soi... 'Shooters' charges prices that are ridiculously high! Beer costs around twice the price of most bars, and if you take a liking to a lady there you had better be ready to stump up 1,000 baht for the bar-fine alone… and you can only get your girl at that price if you wait until after midnight! Needless to say the girl will then almost certainly ask for a personal fee that is also way over the going rate…
To put this into context, the Buhpha Bar a few bars down was, until recently, charging a mere 200 baht bar-fine, and that rate applied at any time of day. Be careful of those bars with dancing girls on stage... there's often no real difference in the quality of the girls but these 'coyote' bars always charge way over the odds – usually more than gogo bars!
Whenever you see a bar with balloons spread out all over the exterior, as in the picture at the top of the page, it means that the bar is throwing a party that night. Usually this means that it is somebody's birthday. Balloons do tend to attract a much larger custom and I suspect that it is because the expat community in Pattaya is fully aware that a party at a bar means that free food will be flowing at some point.
There are some expat paupers who will stop at nothing to save a baht!
The Rolling Live bar on Soi 7 is one of the more lively venues, and is well worth checking out. Most Rolling Live bars have live music acts but the one on Soi 7 is more of a girly bar. There is another bar in this chain nearby on Soi 8 that is much better if you want to hear a live band or two.

The Mid-section
Once you get about half way down Soi 7 Pattaya you come to my favourite bars.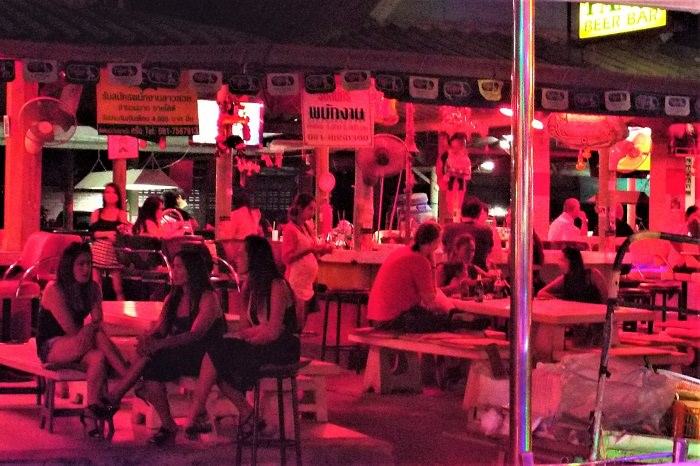 Bars and girls on the mid-section of Soi 7
Prices here are usually quite cheap and there is almost always a good party atmosphere with people enjoying the nightlife. The first picture below is taken from the Dom Bar. It sits on the corner of soi 7 and an adjoining street to Pattaya Klang, opposite the Happiness Corner Bar.
The Dom bar is not a good place to go if you are looking to meet up with a lady... the staff there are not the best looking! I like it as a place to go to play some pool (it has the best tables on Soi 7) and as a place to watch the antics going on in the bars opposite.
The picture gives an idea of what the bars are like early in the evening before things start going crazy later on in the night. The girls normally start work by about six o'clock and by seven o'clock the sun has set with the last of the daylight gone.
Soi 7 doesn't start to get busy until about ten o'clock. By that time the girls have usually had a few drinks and any innocent passer-by is likely to get mauled by a mob of ladies in an attempt to lure him into their bars!

The Final Third
The final third of Soi 7 Pattaya is packed with attractions, and I've spent plenty of quality hours here over the years. The picture below was taken at around 9:30pm.
Shortly after taking this photo… about 2 seconds after, the girl on the far right hand side of the picture wrapped her arms around me and tried to explain to me that she had known me for some time now, and that the two of us were meant to be together!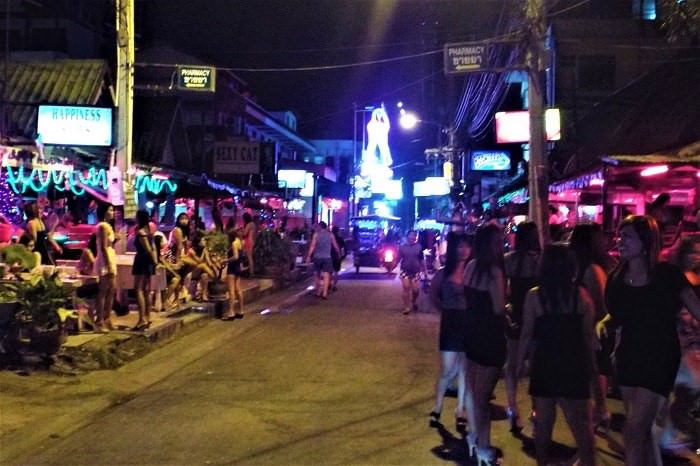 Soi 7 bar girls on the prowl.
Unfortunately, I wasn't to be convinced of the merits of this idea and politely declined the offer but, shortly afterwards… about 2 seconds after, the girl in the white dress on the other side of the soi explained to me that it was, in fact, she who was meant to be with me…
…such are the joys of Pattaya!
The bar on the left of the picture, the Happiness Bar, is one of my favourites and whilst the beer is a little more expensive there (about 80 baht for a bottle of Chang beer compared to the usual price of about 55-60 baht), it is always a fun place to stop for a refreshment or two.
The Boomerang Bar towards the end of Soi 7 is another of my long standing favourites and it offers, in my opinion, one of the best viewing positions on the soi if you want to watch some of the craziest girls in Pattaya. The Happiness Bar is within easy viewing distance and it is always good fun watching the girls from that bar try to entice the tourists in for a drink.
I lost a bit of affection for the Boomerang Bar on my last visit because I got the impression that one of the older ladies working there was being a bit cheeky in asking me to buy her drinks a little too often.
On one particular visit I was only intending to have a few quiet drinks by myself (the night before had been a long one and I wasn't feeling great) and hadn't brought much cash out with me. Sure enough the older lady started tap me up for a drink but this time she wanted me to buy her friend a drink too.
I explained that I was short of cash that day and the expression on her face was as if I had just slapped her mother! Needless to say she didn't get any more drinks from me…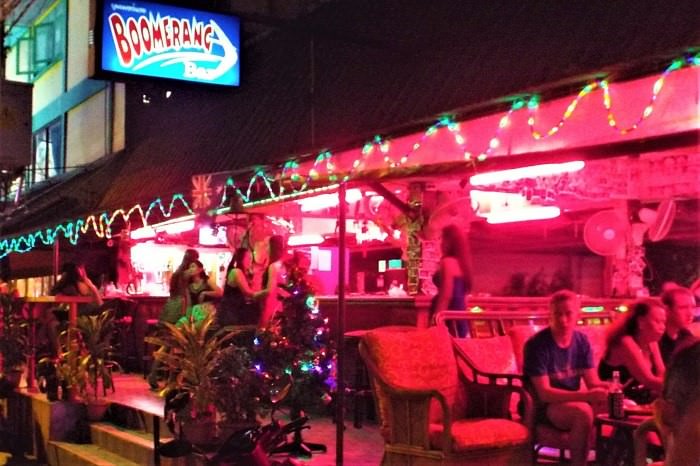 Soi 7 Boomerang Bar.
Soi 7 Gogo Bars…
The gogo bar scene on Soi 7 is much the same as it has been for many years in that it is not the best that Pattaya has to offer.
One soi 7 gogo bar that has since closed its doors i.e. the Happiness A Go Go outright scammed me on one visit. To be fair I wasn't at my most sober and my recollection of the night may be a little imperfect, but after ordering a single beer there I got a bar-bill for over 1,000 baht!
I complained that I'd only had one drink but the mamassan (lady manager) got quite confrontational and insistent that I had ordered a round of drinks for the girls on stage. I'll be a gentleman and stop short of writing my actual feelings on the matter... but you should be aware that this is a common scam employed by more than one gogo bar in Pattaya.
If you are a little drunk and you are alone, don't be surprised if your bar-bill comes back heavily padded. Happiness agogo did not make me even a little bit happy, and I raised a smile when it was shut down.
For those interested, no, I did not pay the padded bill and agreed a much lower bill (although still more than it should have been). If this happens to you it is best not to show anger... just smile politely but firmly that there has been a mistake and ask for a new bill.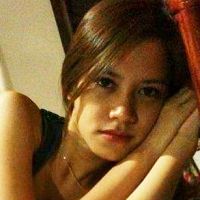 Modern technology is having a big impact on the bars in Thailand... the best girls have always been reluctant to work in bars for fear of being seen by someone from their hometowns, but there are lots of girls online at:
Silver Star 2 A Go Go
If you are just looking to have a beer and a laugh (rather than a lady to spend the evening with) then Silver Star 2 is the right choice to go with in these parts. I stopped in for a look recently in order to relay my findings to you dear reader… oh, the hardships I suffer for your enlightenment.
I'd estimate that Silver Star 2 has a seating capacity of around 100 or so. At the time I visited (about 10:30pm) it was already nearly full. The customers inside were nearly all the middle-aged Western men that are typical of Soi 7 in general.
There were 6 girls dancing on stage but none of them were particularly attractive. Most of them were dancing on a central stage surrounded by seats that were fully occupied with leering guys enjoying the show. There is a bath tub in there too which usually has a couple of girls in it all lathered up.
There are three main selling points to this gogo bar that I can think of:

It was really good fun. The girls were quite playful and interactive with the customers without being at all pushy for lady-drinks.
There was quite a lot of nudity in the bar, which is somewhat rare these days, but much more to my taste…
It is well located as a starting point before heading off to a better gogo bar nightspot i.e. Walking Street or my favourite LK Metro.
Thai Dating Mega Book
For anyone who wants to impress the loveliest ladies in Thailand, and win their hearts, my instruction rich mega book is here for you: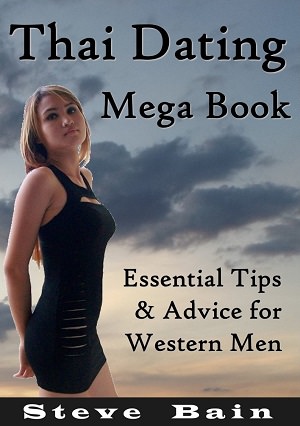 Find beautiful, trustworthy girls for long-term romance, or fun-loving ladies for casual sex with no-strings attached.

Learn all about Thai Dating Culture, what to talk about, what to avoid, how to present yourself, and how to impress.
Comes with my ongoing support, i.e. you'll be able to ask me questions and get my answers.
ONLY $27.00
Restaurants and Eateries
The food on Soi 7 is much as it has always been – which is actually quite good.
The two best known restaurants for breakfast are the Pig and Whistle, and Rosies. For a long time my favourite was the Pig and Whistle because it has the feel of an authentic old British pub, which is good if you are a Brit and have been away from home for a while.
I'll guarantee that even if you are only on holiday in the land of smiles for a few weeks, you'll soon start missing the food that you are used to. For us Brits, it is breakfast that we tend to miss the most, and the Pig and Whistle serves up a very good plate of English breakfast.
More recently I've changed allegiance to Rosies because I prefer the sausages in there, but both restaurants are very good. Another good thing about Rosies and the Pig & Whistle is that they are both located opposite one of my recommended hotels – Eastiny 7. If you don't fancy the hotel breakfast you have the option of one of the best fry-up breakfasts in Pattaya right on your doorstep.
For dinner there is another good restaurant on the soi if you like Mexican food. The Tequila Sunrise has been around for years and serves up some good stuff at reasonable prices.
For snacks I can recommend some of the street food vendors, barbequed beef and chicken is usually good, and there is a good chicken doner kebab stall at the top end of the soi. I'd steer clear of the vendors that the Thai girls like though, the food is usually far too spicy for tourists.

Final Thoughts
All in all, Soi 7 Pattaya is still a top quality nightspot if you like to eat, drink and be merry!
I'm not sure what the future holds though, because there is no doubt that the general pattern for nightlife in Pattaya is to gradually shift inland due to the cheaper rents available there.
For the time being at least, I still give this soi a solid thumbs up.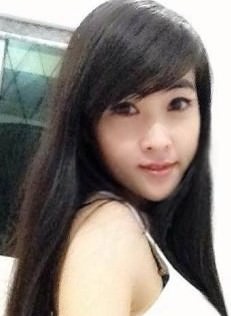 This lovely petite young lady, 28 years old and only 47kg, is looking for a western man to be her boyfriend. If you would like to meet up with girls just as lovely, you can with

My Recommended Dating Site: