Jomtien Nightlife, Bars & Girls
Just to the south of Pattaya, the Jomtien nightlife attractions offer another dimension to the main party town in Thailand. I've long been a fan of Jomtien, but until recently I'd neglected it somewhat for its more infamous neighbor a few kilometers to the north.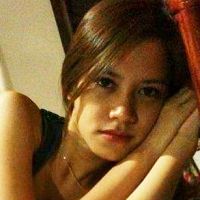 Why bother with the bar girls and hardcore hookers when you can meet someone much better online? If you prefer a more slow paced and intimate way of meeting ladies for sex and romance, you might be interested in checking out:
What you'll find in Jomtien is a different sort of night out to the alcohol fueled madness in Central Pattaya, but it's one that's worth checking out. If you are looking to stay in Pattaya long-term then you'll definitely want to consider Jomtien because prices are significantly cheaper and there is sizable expat community there.
The Jomtien nightlife doesn't have anything like the footfall of tourists in central Pattaya and, whilst it does have some good bar complexes, there's nothing to compare with Walking Street or LK Metro if you are looking for gogo bars or discos.
The biggest concentration of beer bars is/was called the 'Rompho Complex', located right next to the Jomtien night-market. It's a popular area at night but I think that the developers got a bit carried away – there are far too many bars in the complex and most of them are/were empty for most of the year.
As I write this report, I believe that the Rompho complex is scheduled for imminent demolition and redevelopment, and reports coming out of Pattaya suggest that most of the bars there are either closed already or lacking customers, the only question that remains is how this redevelopment will affect the other nightspots in the area.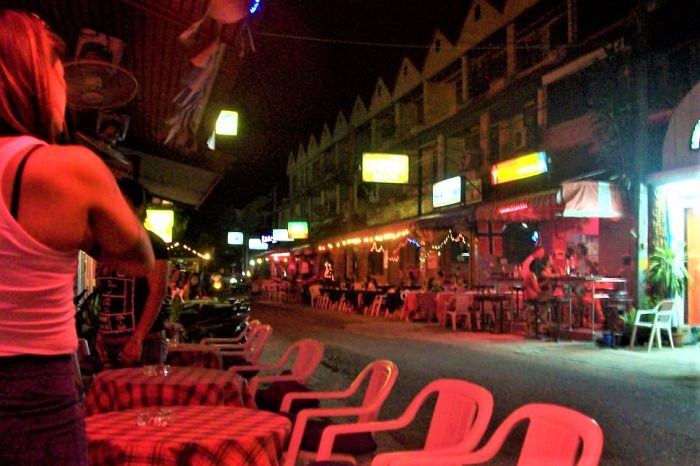 Soi Splendid Resort (between 7&8) is worth a visit from late afternoon.
One alternative option is the smaller 'Jomtien Complex' which has the advantage of being easier to find for the newcomer – you'll see it near to the beach as you approach Jomtien by car/taxi on Thappraya Road. The relatively well known Country Road Bar here located here, as well as the Long Tail Bar and the KitCat Lounge (a gentlemen's club – see below for details).
There are, as with Central Pattaya, lots of other sois that house plenty of bars, and the most notable of those are Soi Splendid and Sois 5 and 7. Hopefully, the demolition of the Rompho complex will help to bring more customers to these sois.
Soi 6 is another option for easy sex in Jomtien. This is not to be confused with Pattaya Soi 6, which is the premier daytime naughty boy area in the whole of Thailand, but it is also primarily a daytime venue. The difference is that Jomtien Soi 6 is a happy ending massage destination. All of the massage shops there will offer naughty boys some extra treats after their chosen massage (oil massage being my recommendation).
The massage shops on Soi 6 are of the smaller shop-front variety and, as always, the girls working there are not usually the most attractive. For that I recommend the larger Soapy Massage parlors in and around Pattaya proper e.g. Honey Massage, Sabai Dee, Sabai Land and the rest, but Jomtien itself doesn't have any of these big parlors that I'm aware of.
If you are a foodie you will be spoiled for choice because Jomtien is home to most of the top eateries, particularly western style eateries, this side of Bangkok. The main joining road to Central Pattaya, i.e. Thappraya Road, is home to a lot of these restaurants, see below for details.
Thai Dating Mega Book
For anyone who wants to impress the loveliest ladies in Thailand, and win their hearts, my instruction rich mega book is here for you: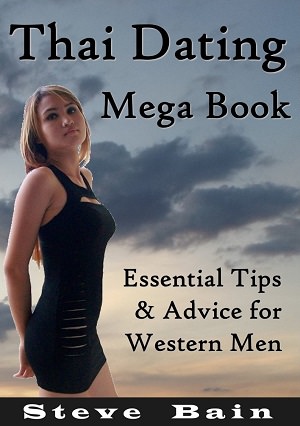 Find beautiful, trustworthy girls for long-term romance, or fun-loving ladies for casual sex with no-strings attached.

Learn all about Thai Dating Culture, what to talk about, what to avoid, how to present yourself, and how to impress.
Comes with my ongoing support, i.e. you'll be able to ask me questions and get my answers.
ONLY $27.00
When you also throw into the mix the lower prices, a better beach, and the convenient location of the local Thai Immigration Office on Soi 5, it's not hard to understand why Jomtien is probably the most popular part of Pattaya for western expats.
Many western guys have opted to make Jomtien their home and, personally, I think it is the best area of Pattaya to set up your base camp if you are on a long stay.
Central Pattaya is only a few minutes away when you get the urge to party the night away, and a local pick-up taxi will take you there for a mere 10 baht. The ease of access is a big selling point compared to other expat enclaves that don't sit on the taxi circuit.
Jomtien girls and hookers
I must admit that I haven't really seen too many stunners in the bars of Jomtien, and that the best looking girls are usually found in the gogo bars of Pattaya proper.
There is, of course, just as much chance that a diamond in the rough will emerge here as anywhere, and when that does happen the girl in question will usually be somewhat untainted by the prostitution game. This does not make them the sort of ladies who I would recommend getting attached to, for that I'd advise you to try and find regular girls in non-tourist areas.
New girls emerging on the prostitution scene don't stay untainted for long, and most will gravitate to more furtive grounds on Walking Street or LK Metro. It would be a mistake to try and save one of these Jomtien girls from the ravages of a life of vice by becoming her boyfriend, because you'd almost certainly end up being taken for an expensive ride.
However, if you are looking for a relatively well-behaved girl to see on a semi-regular basis for fun times then it could work.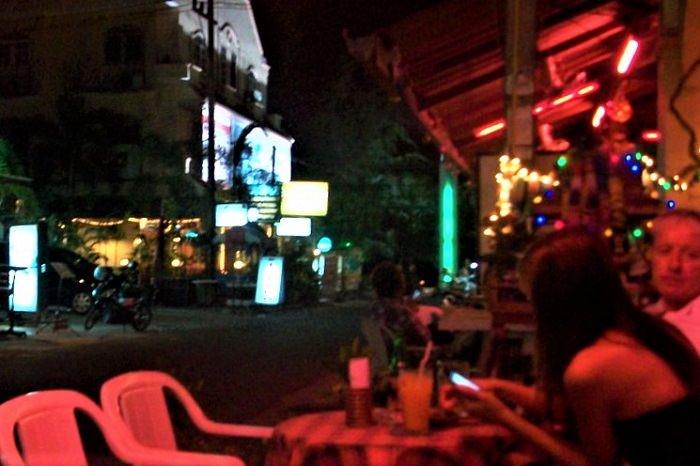 A gentleman enjoying a night out in Jomtien with is girl.
There are not many gogo girls in Jomtien, and even freelance hookers are relatively rare, the vast majority of working girls in Jomtien are bar girls. Some local guys tell me that the prices these ladies quote for their company are more negotiable than they are in Central Pattaya, but their initial asking price will probably not be significantly lower.
I'm not sure I believe these reports about negotiability, the last time I was there I got talking to an expat who hadn't been with any of the Jomtien girls for 3 months because they wouldn't lower their prices to an amount that was commonplace just a few short years ago.
This conversation took place in the Rompho Complex, and the number of girls working there was much higher than the number of customers, so it's not as though the girls had many other guys clambering to secure their services, but still they wouldn't lower their asking price.
Of course, it could just be that the expat in question had been earmarked as someone to avoid, and that other customers can negotiate successfully, but I wouldn't expect silly reductions on asking prices.
Due to the fact that a larger proportion of the western guys in Jomtien are expats, they tend to be older and more settled. You won't find so many backpackers, youngsters, Chinese hordes and so on in these parts. I like this aspect of the Jomtien nightlife, it feels a lot less touristy and you start to tire of being surrounded by 2-week millionaires then you too might like to escape the tourists from time to time.
A lot of the expats here do tend to go for the 'long-time' girlfriend option, whether that be for something serious or just casual, and you'll notice that they tend to have their ladies with them when they are out for a drink.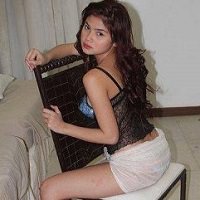 Modern technology is having a big impact on the bars in Thailand... the best girls have always been reluctant to work in bars for fear of being seen by someone from their hometowns, but there are lots of girls online at:
I can understand their approach here, when a good-looking lady comes along it does make some sense to snap her up. Just keep things on a strictly casual basis, that's my advice.
The presence of so many Thai/Western couples does give a slightly more respectable appearance to proceedings here, but appearances can be deceptive – the Jomtien nightlife is still for pleasure seekers and you aren't going to rub shoulders with Germaine Greer here anytime soon... thank god!

Gentlemen's Clubs
Gentlemen's clubs in Pattaya showed some promise as a possible compromise between Thailand's sense and sensibilities regarding the prostitution scene and western attitudes towards it. The Thais really dislike the openness of the solicitation that the girls display, and they can't understand why westerners seem so blasé about it.
The beauty of a good gentlemen's club is that everything happens behind closed doors and I had thought that this would please the authorities – I was wrong. I think that the bone of contention is that sex occurs on the premises i.e. in rooms that are rented by the hour. This sort of thing is frowned upon by the authorities and falls on the wrong side of their definition of what constitutes prostitution and what does not.
The raids by the police and the army in recent years has focused on these types of establishments, and I wonder what the future holds for them. For the time being, the gentlemen's clubs offer some daytime entertainment for horny customers.
There is a better selection of these gentlemen's clubs in Jomtien than in other parts of Pattaya. Here's a selection to choose from:

Passion Club – As the baht taxi travels down Thappraya Road, just before it makes a right turn towards beach, get off. You need to turn left instead and follow that road to the end. Only open during the day, and it has a pool.
Rioja – This one is not so easy to find and it needs a motorbike-taxi ride to get to it on Maeauen Alley. On the plus side it looks like a nice establishment. That's if it is still open, and I'm not sure it is.
KitCat Lounge – Really easy to find being located just off Thappraya Road behind the popular Country Road Bar. On the downside it doesn't have as many facilities, so I'd go for the Passion Club for the pool and extra discretion.
Jomtien Beach and Dongtan Beach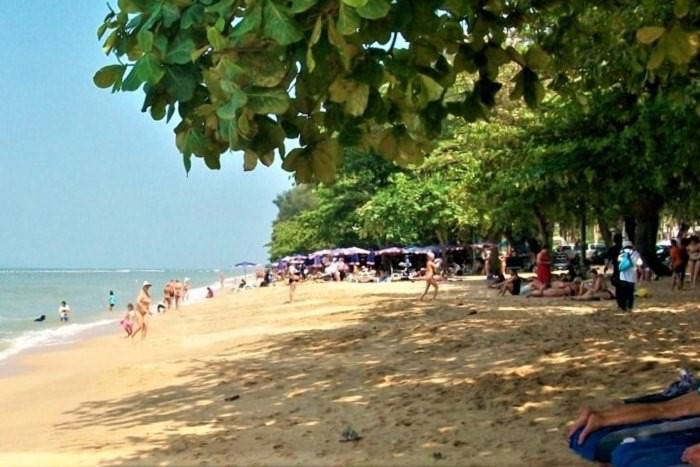 Dongtan Beach is a little quieter with a bit more sand.
Whilst the most popular part of the beachfront here is only marginally better than the main beach in Pattaya, there is the option of finding a bit more peace and quiet if you stroll away from Beach Road in a northerly direction.
If you arrive at Jomtien beach by taxi from Pattaya, get out as soon as you see the beach and turn right. That will have you facing north, and the beach ahead of you is called Dongtan Beach. The extra peace and quiet comes from the absence of any traffic running behind the beach.
Dongtan beach has another advantage in that it has more depth to it rather than the thin strip of sand that you find elsewhere. It has also recently been renovated, so generally speaking it has got a lot going for it.
One word of caution, as far as Jomtien nightlife is concerned, you might want to avoid this area after dark if you are uncomfortable hanging around in a gay area...

Restaurants & Eateries
For some reason, the majority of the most highly regarded restaurants in and around Pattaya are located in Jomtien. If you put any trust in TripAdvisor reviews then restaurants such as the Moonlight Restaurant, Bruno's Restaurant and Wine Bar, and the Café des Amis are the ones to head to if you enjoy fine dining.
The best Jomtien nightlife hotspots are located close to these restaurants, with many eateries on Thappraya Road i.e. the main road linking Jomtien and Pattaya.
Quality food options are not restricted to expensive restaurants either, the best 'Larb Moo' I've tasted was bought from a very basic restaurant on Jomtien Beach Road at the corner of Soi 4.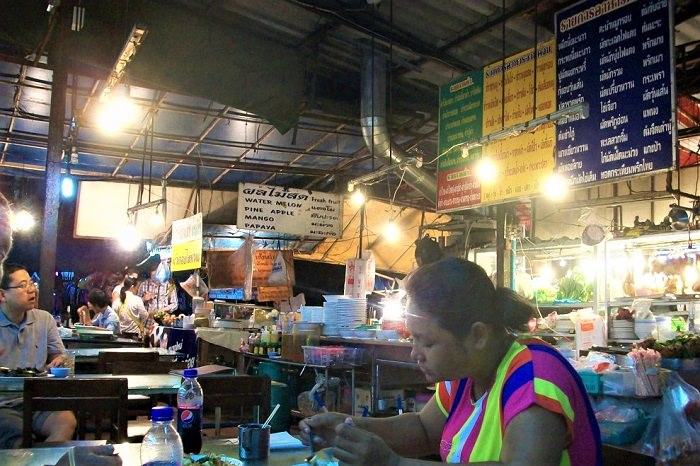 This cheap restaurant on Jomtien Beach Road, corner of Soi 4, was superb.
Cheap Thai restaurants like this often cook up some really tasty dishes, but I'd avoid anything other than Thai food, these places are not well trained in international cuisine.

Hotels in Jomtien
Fifth Jomtien, Pattaya – Well located right on Soi 5 and close to all the best nightlife options. This is a quality hotel that is sometimes expensive, but sometimes has cheap deals with rooms available at a 67% discount.
D Varee – Located on Soi 13, Beach Road, This is my top recommendation for anyone who likes a good rooftop bar at their hotel because the D.I.B. Inspiration Sky Bar is the best in the area. Other facilities are also good in this mid-price hotel.
Katty Bar – For a decent cheap option the rooms above the Katty Bar, Soi 4, are worth a look. For one thing they're only 60 meters from the beach, and for another the cheap Thai restaurant that I described above is even closer.
For the lowest prices on these and many more, get the best hotel deals here.
Crime and Safety
There are no real safety concerns in Jomtien during daylight hours and in recent years I've been unaware of any particular problems with the area at all.
This was not always the case, at one time the Jomtien nightlife in the Dongtan beach area was not a safe place to be.
There were a number of violent incidents reported in the news there and you were left suspecting that there were some dangerous gangs of Thai men operating in the area.
I haven't heard of anything lately, and with the authorities spending a large amount of cash refurbishing Dongtan Beach, I imagine that any nefarious activities have moved on to somewhere less conspicuous.
At any rate, if you are heading into the Jomtien nightlife for a night on the booze, or for a meal at one of the town's restaurants, you aren't likely to find yourself anywhere near this area because it isn't a place with any beer bars or restaurants.

Final Thoughts about the Jomtien Nightlife
I think that the nightlife in Jomtien is not going to appeal to the majority of party animals who come to Pattaya to drink all night long. It's not that sort of place, and it's actually taking a serious downgrade with the closure of the Rompho complex.
It will, however, continue to be a big draw for guys who intend an extended visit. The reduced number of 2-week tourists and larger number of expats means that a lot of local guys know each other, and they behave differently.
Living in Pattaya is obviously very different to holidaying there and if you want to enjoy a more normal slower paced lifestyle then Jomtien has lots of advantages. Ease of access and lower prices (compared to Central Pattaya) are the two big advantages, but a better beach and some really good restaurants also matter.
The gentlemen's clubs in and around the area are all located in the expat areas of the city and Jomtien is no different. The obvious reason for this is that guys who live here tend to build relationships, and that makes discretion and a valuable commodity. Getting up to naughty stuff in the adult Jomtien nightlife offerings is better for unattached guys.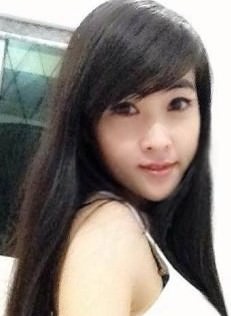 This lovely petite young lady, 28 years old and only 47kg, is looking for a western man to be her boyfriend. If you would like to meet up with girls just as lovely, you can with

My Recommended Dating Site: