Koh Samui Escort Girls & Alternatives
There's a relatively strong case for using Koh Samui escort girls, as opposed to the other working-girls that you will find here, compared to other parts of Thailand. For one thing, the selection of alternative companions, e.g. bar girls, is somewhat reduced compared to the main nightlife orientated destinations in the country.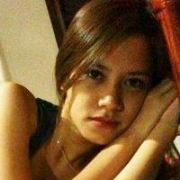 Modern technology is having a big impact on the bars in Thailand... the best girls have always been reluctant to work in bars for fear of being seen by someone from their hometowns, but there are lots of girls online at my:
There are still some decent nightlife options here but, compared to Bangkok, Pattaya or Phuket, they are on a much smaller scale.
The men that visit Koh Samui with the intention of hooking up with a Thai girl also tend to be financially better off than the men that go to places like Pattaya, so they're probably a little less price-sensitive than most guys, meaning that the extra cost of a call-girl won't worry them so much.
At the other end of the tourist scale, there are lots of penniless backpackers who come here for the full-moon parties, and these guys tend not to use the services of any prostitutes whether they be escort girls or bar girls – they focus more on picking up with fellow travelers.
You will need to pay an escort girl a lot more than you would pay other hookers, but the typical range of Thai escort prices are not going to worry you much if you are a man of moderate means or more.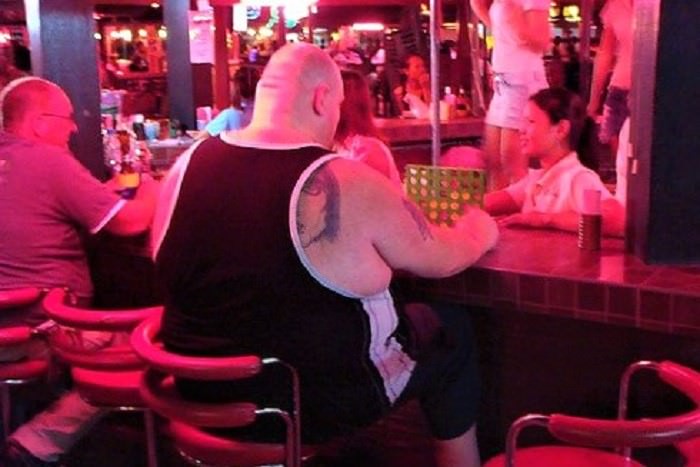 Beer bar customers come in all sizes and shapes.
I don't have any recommendations to make about any particular Koh Samui escort agencies, but a quick online search will turn up your main options, there aren't that many to choose from.

A Koh Samui escort alternative… bar-girls
As mentioned, the nightlife scene here is a little different to other places in that it caters more to couples and to young backpackers than your usual sort of naughty tourist, and many of the bars resemble regular drinking establishments rather than the sort of thing that you get in Pattaya.
That said, there are a few clusters of beer bars where the serving-girls are most definitely available for take-out.
The all-important 'girlfriend experience' is available from the Koh Samui bar girls, so, if you are looking for someone to share your entire holiday with and go off exploring, then this is a good thing. Things are slowly changing though, and as you'll read below there are some girls who will only go with a customer for short-time liaisons.
The island is quite large and, if you don't know your way around, a bar girl will be a very useful companion. I recommend hiring a scooter whilst visiting the island, even if you can't ride one there's a strong probability that your bar-girl companion will be able to, so you can sit behind her whilst she gives you the island tour (stopping off at all the best beaches for a little alcohol refreshment of course).
Bar girls entertaining their customers.
For ideas about things to do and stuff to see, have a look at this report.

More Options...
If you are not interested in the girlfriend experience, then there is little to recommend about the bar-girls. Whilst there are axceptions, most of them are not as attractive as escort girls, but you can still have lots of regular fun with them in their bars playing pool, connect 4 and so on.

For men who prefer their liaisons with the locals to be a little more discreet, you could try one of the massage parlors. These are very thin on the ground in Koh Samui, but there is one noteworthy option on Chaweng beach called the 'Pink Lady'.

There are lots of Koh Samui hookers working freelance, but my usual advice applies here i.e. they come with greater risks because they can't be traced if they rob you! Such things are rare, but they do happen from time to time.
They also come with the more sinister risk of being drugged before they rob you. There is much less frequent complaint about underhand dealings with the freelancers on Koh Samui than, for example, Pattaya, but it's worth keeping your wits about you, and your valuables out of sight.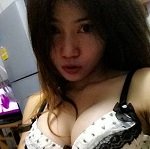 There are tens of thousands of Thai girls searching for romantic adventures with western men online. You can easily find good-looking girls for casual sex and fun times, or someone suitable for something more serious on my:

Online dating for finding girls
Finally, there is the online dating option to consider. There are not so many online ladies to be found living on Koh Samui, so you are a little more restricted in your options but that's no reason not to have a quick look.
If you find a suitable companion online then you will probably have found the best option of all since you will be able to strike up a bit of an understanding between the two of you before you even land in Thailand.

Today's sex workers in Koh Samui
There has been a lot written, both on my own site and others on the net, about the hidden dangers posed by getting too attached to the sort of Thai girls that you find working in the tourist areas.

The threat is real, and it shouldn't be underestimated if you are overly prone to trusting in people's good intentions and forming emotional attachments too soon, but I think that it is a threat that is diminishing.

Koh Samui has beautiful spots to discover.
More and more, the better looking girls are turning away from the traditional pathway to riches i.e. snagging a western boyfriend who will marry them and deposit all his cash into her purse. These days most westerners are much better informed than in the days of old, and so they are more wary.
Additionally, the ratio of girls to men has fallen somewhat in the bars which leaves the better looking girls with the option of scoring numerous 'short-time' liaisons with customers in a single night, and for a much higher fee than was the case a few short years ago.
The upshot is that it has gotten harder for sex workers in Thailand to find a western boyfriend for anything long-term, and easier to make more money via the western model of prostitution.
There are increasing numbers of reports coming from western tourists of Thai bar girls who refuse to leave their bars for anything more than an hour or two… and that's quite a departure from how things used to be!

How sex workers in Thailand are adapting their practices
These days a lot of Koh Samui escorts and other hookers begin their shifts in the early evening and carry on right through the night until daylight. No wonder there are so many reports about girls that just want to sleep all day!
Bar girls don't always stop and go home to rest just because their bars have closed, a fair proportion of them continue on to one of the discos once the beer bars and gogo bars close for the night.

A beautiful Koh Samui Sunset.
Discos don't get busy until quite late on, midnight at the earliest, and they are at their best in the early hours once all the better looking bar girls start arriving in larger numbers. At this point they will be working as freelance hookers, so there's no bar-fine to be paid if you depart together.
You may sometimes find that lady-drink prices are still high, the reason being that freelance hookers in Thailand often earn commissions on the drinks bought for them.
There's two downsides to the discos if you are looking for company:

Firstly, whilst there are guys of all ages in there, you do get a proportionally younger clientele which means that you'll have to compete with relatively fitter, better looking guys if you want to get the best looking girls.
Secondly, if you do end up with a girl who has been working in a bar all night, she probably won't admit it, and by the time sex workers in Thailand make it to a disco you can bet that many of them have already been entertained a few times that night!
As I've written elsewhere, if you are looking for a regular girl rather than a working girl, you're much better off heading to a disco that caters for a Thai audience rather than a tourist audience, but these are tough to find on Koh Samui, and I think it's a better idea to search for serious girls in Bangkok.

Final Thoughts about Koh Samui escorts
I've written about the need for discretion that some men have in some parts of Thailand; on Koh Samui I would advise being respectful of local sense and sensibilities and not getting up to anything too lewd in public.
A Koh Samui escort girl can be met with discretion, and that may be a good thing if want to avoid upsetting anyone. This is not Magaluf and public indecency can land you in some serious trouble.
I've already written about the local tensions between indigenous Thais and the tourist industry on Koh Samui, so keep that in mind and behave respectfully.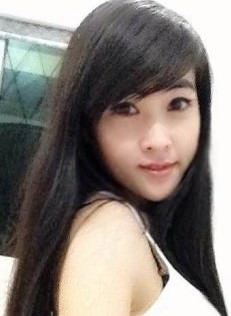 This lovely petite young lady, 28 years old and only 47kg, is looking for a western man to be her boyfriend. If you would like to meet up with girls just as lovely, you can with my:
Recommended Dating Sites: