Beach Road Pattaya

(Bars & Nightspots)
Whilst Beach Road Pattaya is a busy road with some good nightlife attractions along it, it is nowhere near to being a top nightspot in its own right. It does, on the other hand, have several of the best nightlife options running off it.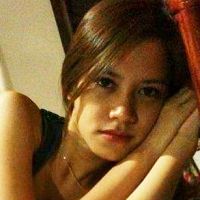 Why bother with the bar girls and hardcore hookers when you can meet someone much better online? If you prefer a more slow paced and intimate way of meeting ladies for sex and romance, you might be interested in checking out:
Walking Street and Sois 6, 7, 8 all connect to Beach Road, and these destinations remain popular options.
The road stretches for about 3km from the dolphin roundabout in the north down to Walking Street in the south.
Whilst there are a few beer bar complexes at various locations along Beach Road, they don't tend to get that busy (with the exception being the complex at the bottom of Soi 8). For many years the nightlife in Pattaya has gradually been shifting inland due to the expensive rent that real estate near to the beach commands.
As bars have closed, hotels and other high-rise developments have gone up.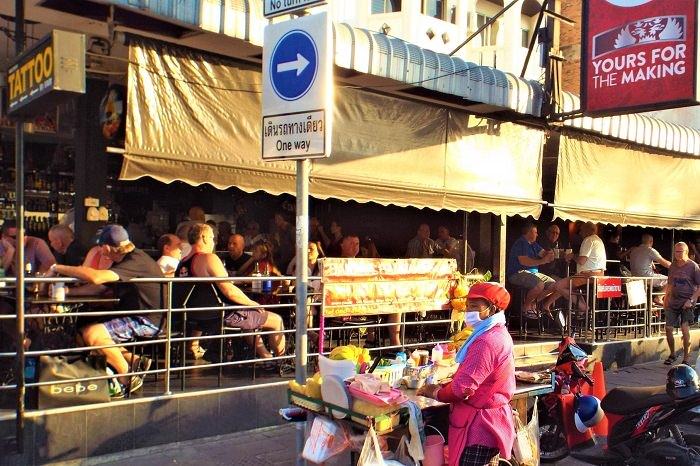 Daytime drinking venues along Beach Road.
You can still find a few bars along Beach Road, and they tend to be busiest during daylight hours. There are some good places to grab a beer and watch the sun go down over the sea.
Actually, sitting yourself in one of the deckchairs actually on the beach (rather than the road) is best for this, but it comes with a lot of hassle from hawkers who will line up to try and sell you all sorts of stuff.
Keep an eye on the prices along Beach Road, it is not unusual for two almost identical bars to be located right next to each other but charge very different prices. A bottle of beer can be bought at low cost in some bars on the northern section of the road, but prices tend to rise sharply as you move southwards.
Some bars along Beach Road

There is a small isolated beer bar that I like for some reason that I can't quite put my finger on. It is called the '5 Star Bar' and is located near to Soi 11. It is not cheap, and the girls are not beautiful, but I like to sit in this bar on one of the tables looking out over the road and the beach/sea beyond it.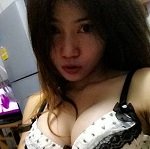 There are tens of thousands of Thai girls searching for romantic adventures with western men online. You can easily find good-looking girls for casual sex and fun times, or someone suitable for something more serious with:
There are some working girls trawling the opposite side of the road, and it can be entertaining to sit back and observe…
Another venue that needs to be mentioned is the 'Pattaya Beer Garden'. Despite the name, it is a restaurant as well as a bar. There's no need to eat here but I do recommend it, the food is good quality and good value, and the views are second to none.
If you want a good sea-view, the Beer Garden is the place to go.
It is located at the end of the pier near to Walking Street. To get to it you'll need to walk past some run down beer bars, don't let them put you off, the Beer Garden is clean, friendly and cheap.
At night the Beer Garden is welcoming of single ladies (which means working-girls) and it operates a signalling system via the beer mats. On one side the beer mat will state that you're 'just chillin', on the other it states that you're 'looking'.
This indicates your interest to the single working-girls that come into the bar…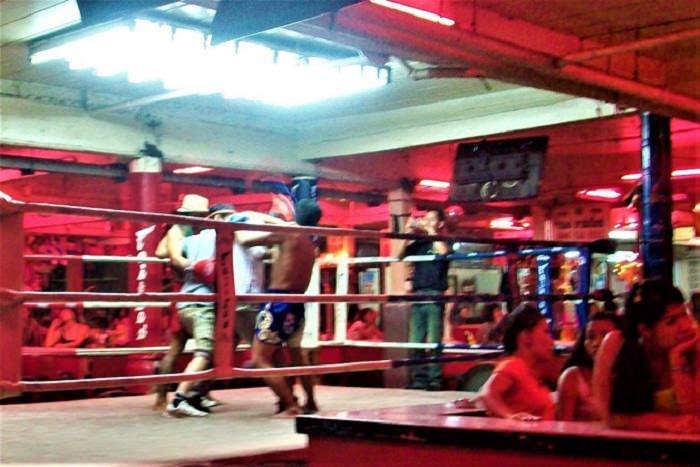 Fake Thai boxing shows in Pattaya.
There's soft music playing in the background, and there's the sounds of the sea and the surf breaking against the stilts that support the restaurant.
In the early evening you can faintly hear the madness of Walking Street just starting up for the night. In the restaurant there is a healthy amount of custom and there are conversations and laughter all around.
At dusk there are still a few people speeding around on jet-skis and, if you have young children with you, they will be kept entertained by this. It's a good idea to remember to take your camera with you if you decide to pay this place a visit as you're sure to get plenty of opportunities to take some pictures worthy of your photo album.
The Pattaya Beer Garden is a very good place either to relax and unwind, or as a place to start the night off before heading into the more hectic places that the nightlife has to offer!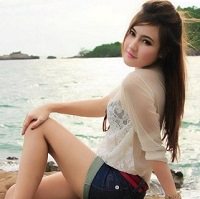 If you want to date a sexy, younger Thai lady that you can put your trust in, don't go looking for her at a bar. Thai bar girls can be lovely, but they're not great at loyalty... online dating is much safer, so check:
I mentioned the rundown beer bars in front of the beer garden, if you decide to have a drink at one of them you'll be charged a higher price. I can't really explain why it is expensive here, but there is one novelty that can be found there.
There's a fake Thai boxing show each night…
For the privilege of being able to watch staged fights, whilst drinking your over-priced beer in a rundown bar, you will be asked to donate cash from time to time for the fake fighters!
My recommendation is to avoid this beer bar complex, there are much, much better nightlife options a few yards away on Walking Street!
Probably the busiest hive of activity on Beach Road is found around sois 7 & 8. During daylight hours it is a main attraction for people watching along the coast. It is usually busy from early in the afternoon until early evening.
It is busier during daylight hours because there are actually some good bargains to be found there. I know that this runs contrary to what I've said before about expensive rents near to the beach that force up prices, but the sheer number of visitors seems to make up for the reduced profit margins.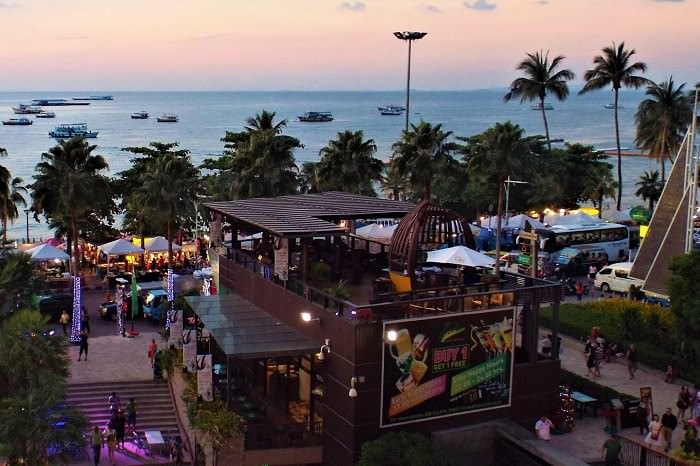 A rooftop bar on Beach Road.
The picture above was taken from one of the balconies of the Central Festival shopping center. It's a good scenic spot that's perfect for picture taking at my favourite time of day... just after sunset.
There are a few rooftop bars/restaurants in the area including the Hilton Hotel's very own (worth a look but pricey). The rooftop bar that you can see in the picture belongs to the 'Zico's' bar/restaurant. Cocktails are available there.
If you go there you won't bump into any heavily intoxicated, ageing fellows in need of a good bath that you find in some daytime drinking establishments, so there is some compensation for the higher prices!
Another bar on Pattaya Beach Road that needs a mention is the Tahitian Queen, the self-proclaimed oldest bar in the city dating back to 1978. Whilst that certainly guarantees that the bar has seen a lot of action, I don't think that it is the oldest beer-bar in town – I imagine that there were drinking establishments prior to 1978…
The Tahitian Queen has got a better claim for being the oldest gogo bar in Pattaya. I can't say how good the place is as I've never ventured inside (the Rock n Roll theme is not to my taste), but I have read good reports of it from some expats.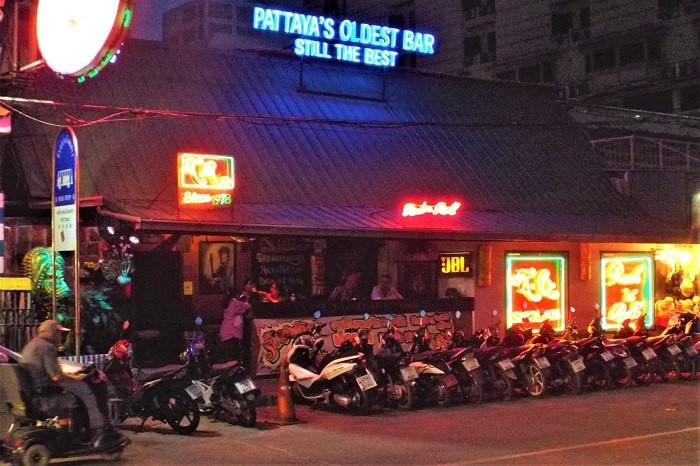 The old timer (bottom left) may remember the old days…
Beach Road Pattaya; final thoughts
You will find yourself drinking at a bar on Beach Road at some point, everyone does. The location is such that everyone comes here often.... even if it is just on-route to somewhere else. You will pay whatever price is asked and you will wonder what you are doing here. It is not all bad, it is very busy and does make a good spot for people watching. It's not a good choice for a big night out though, and I've never even seen a girl there that I would consider spending some quality time with!
I haven't written anything about the ladies on this road and with good reason – they deserve a special report all of their own. To read it click:
The Thais are particularly fond of fireworks and you can expect a good display on Beach Road at various times of the year. There's even an annual fireworks competition with various displays put on by different representations from various countries around the world.
Fireworks are popular over the Christmas and New Year celebrations in Pattaya and most of the bars around Pattaya will have some sort of Christmas theme going on, all in all it's a great time to be in the land of smiles. It's very popular with those tourists that either don't have any close family members back home, or do but don't get along with them.
It's probably a good idea to book your hotels in Pattaya well in advance if you intend to be here during the festive season; Beach Road is very busy at this time of year so you might not get your first choice hotel without booking ahead.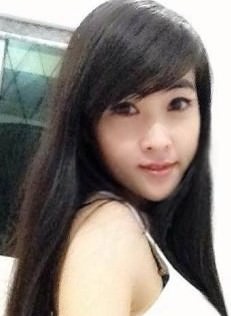 This lovely petite young lady, 28 years old and only 47kg, is looking for a western man to be her boyfriend. If you would like to meet up with girls just as lovely, you can with

My Recommended Dating Site: