Pattaya Soi 7 near Beach Road; 2015

The final third of Soi 7 before reaching Beach Road is packed with attractions, and I spent plenty of quality hours there on my recent January 2015 visit. The picture below was taken at around 7:30pm which is a bit early for most customers… the place starts to get busier at around 10pm by which time I like to have my camera packed away in my room so that I can get down to the business of having some proper fun!

Shortly after taking this picture… about 2 seconds after actually, the girl on the far right hand side wrapped her arms around me and tried to explain that she had known me for some time now and that the two of us were meant to be together! Unfortunately I wasn't to be convinced of the merits of this idea and politely declined the offer but shortly afterwards… about 2 seconds after, the girl in the white dress on the other side of the soi explained to me that it was she who was meant to be with me! Such are the joys of Pattaya…

The bar on the left, the Happiness Bar, is one of my favourites and whilst the beer is a little more expensive there (about 80 baht for a bottle of Chang beer compared to the usual price of about 50-60 baht), it is always a fun place to stop for a refreshment or two. After a number of years practise I'm becoming a deft hand at one of the bar games – Connect 4. If I haven't had too many drinks I can usually get the upper hand these days. In this bar it's a close call between me and the best players so we usually play 'loser buys the drinks'.
Soi 7 Boomerang Bar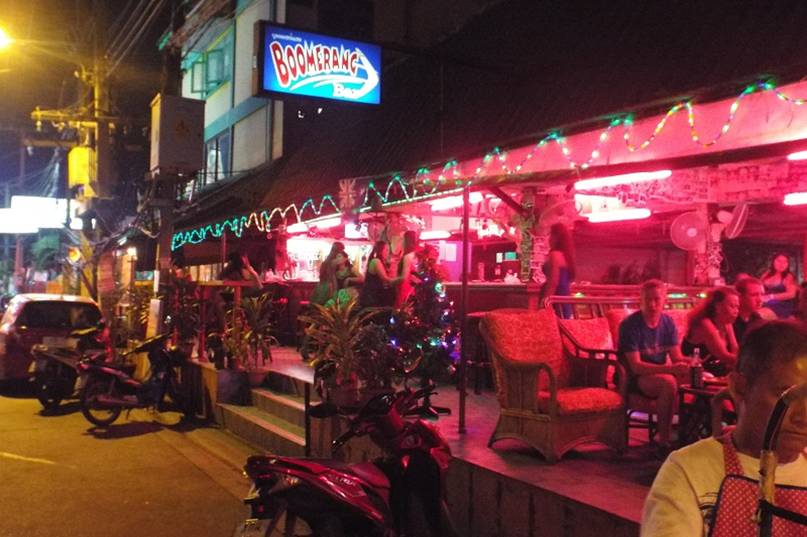 The Boomerang Bar towards the end of Soi 7 is another of my long standing favourites and it offers, in my opinion, the best viewing position on the soi if you want to watch the going on the opposite side of the soi. The Happiness Bar is within easy viewing distance and it is always good fun watching the girls from that bar try to entice the tourists in for a drink.

I lost a bit of affection for the Boomerang Bar on my January visit because I got the impression that one of the older ladies working there was being a bit cheeky in asking for me to buy her drinks a little too often. On one particular visit I was only intending a few quiet drinks to myself (the night before had been a long one and I wasn't feeling great) and hadn't brought much cash out with me. Sure enough the older lady started tap me up for a drink but this time she wanted me to buy her friend a drink too! I explained that I was short of cash that day and the expression on her face was as if I had just slapped her mother!! Needless to say she didn't get any more drinks from me for the entire duration of my visit…
Soi 7 Silver Star 2 A Go Go
I've already written that Soi 7 is not a good nightspot if you are searching for a good gogo bar and I'll stick by that statement. However, if you are just looking to have a beer and a laugh (rather than a lady to spend the evening with) then Silver Star 2 is the right choice to go with. I stopped in for a look in order to relate my findings to you dear reader… oh, the hardships I suffer for your enlightenment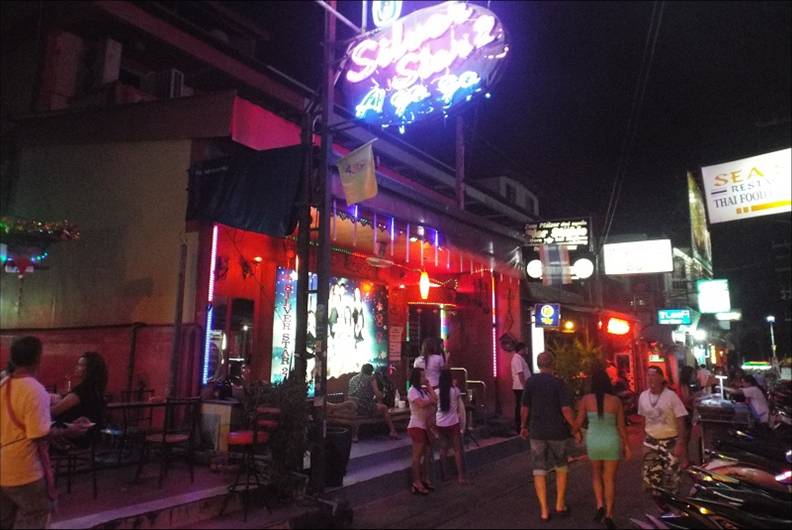 I'd estimate that Silver Star 2 has a seating capacity of around 100 or so. At the time I visited (about 9:30pm) it was already nearly full. The customers inside were nearly all middle-aged Western men typical of Soi 7 in general. There were 6 girls dancing on stage but none of them were particularly attractive. Most of them were dancing on a central stage surrounded by seats that were fully taken. There is a bath tub in there too which usually has a couple of girls in it all lathered up.

There are three main selling points to this gogo bar that I can think of. Firstly, it was really good fun. The girls were quite playful and interactive with the customers without being at all pushy for lady-drinks. Secondly, there was quite a lot of nudity which is somewhat rare at this early hour. Third, it is well located as a starting point before heading off to a better gogo bar nightspot i.e. Walking Street or my new favourite LK Metro.

All in all, this section of Soi 7 is top quality if you like to drink and be merry!
Go to Main Soi 7&8 Page


Go to Pattaya Nightlife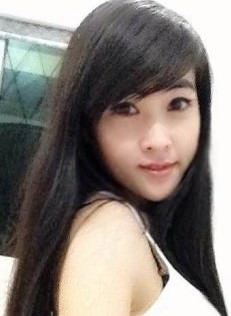 This lovely petite young lady, 28 years old and only 47kg, is looking for a western man to be her boyfriend. If you would like to meet up with girls just as lovely, you can with my:
Recommended Dating Sites: