Phuket Bar Girls; my story
By Jeremy (from France)
I wasn't really into the Phuket bar girls and naughty nightlife scene until a couple of years ago, unlike many of my friends who are real bar pillars. But, after almost two years working in France, time was coming to move to Thailand and start enjoying life again.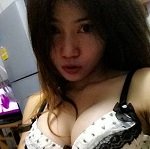 There are tens of thousands of Thai girls searching for romantic adventures with western men online. You can easily find good-looking girls for casual sex and fun times, or someone suitable for something more serious with:
Initially my plan was to stay in Bangkok, where I have many Thai Friends and enjoy the life in an emerging megalopolis, but two friends from Facebook (added from a FB group dedicated to Thailand) were in Phuket at the moment of my landing.
After some talks on the social network, they convinced me to join them in Phuket, as a lonely traveler this time, the idea was appealing.
I landed in Phuket one early morning at the beginning of October after a sleepless night in Bangkok. A late landing and a night out with a friend wasn't helping my head; I was hung-over but fortunately not so bad.
After a flight, a taxi ride and check-in to my residence in the north off Patong, I was not really ready to move and was tired by the multiple flights... but my phone was ringing already.
After renting a bike on beach road, I spent the day with Rayan and Julian, around Rawai (a beach to the south of the island) with some French expats. Then it was time to take a shower, a nap, and then off to Bangla Road in search of some Phuket girls…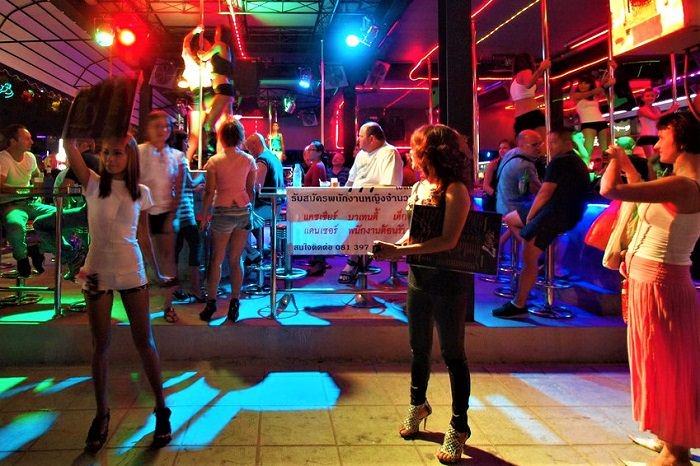 Some Phuket bar girls.
Bangla Road and the bar scene
Awake at midnight, I was going Bangla road by motorbike-taxi. Bangla road is a Walking street from beach road in Patong to Rat-U-Thit road, most of the lady bars and nightclubs are there.
In almost two years since my previous trip, many things had changed, like much of Thailand.
The Hollywood Disco (the best club with the best Phuket bar girls for over a decade) was under renovation so, according to Facebook, all the crowd from Hollywood had moved to the Illuzion nightclub, a new club looking like a first class European nightclub.
First off I stopped in the Seth Gueko bar, a bar made by a French rapper, and popular enough with a big French crowd inside. Like other bars, most of the ladies use their charm to get lady-drinks bought for them and earn a commission on it.
A few will leave the bar with you but the 'bar-fine' there is overpriced. Most of them remembered me since my visit a couple of years ago, and teased me for lady-drinks... routine stuff for Phuket bar girls.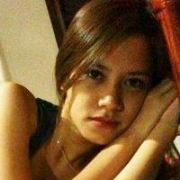 Modern technology is having a big impact on the bars in Thailand... the best girls have always been reluctant to work in bars for fear of being seen by someone from their hometowns, but there are lots of girls online at:
Mint & Apple
Inside Illuzion there are plenty of Phuket freelancers (working girls that are unattached to a bar) and after 3am most Phuket bar girls leave their bars and head to the clubs for a bit of freelance work… Illuzion, Tiger disco, Seduction, Tai Pan etc where they can continue to chase foreigners.
After a jig on the dance-floor, a couple of very sexy Phuket bar girls literally attacked me! As usual most of them will touch you, talk to you and push you to get your attention.
The first presents herself as Apple, 22 years old, from Buriram (in Isaan, a poor province in the northeast of Thailand). She has dark hair with a little red, a classy red dress and a brown skin much loved by foreigners. The second presents herself as Mint, from Udon Thani (also in Isaan), she also has brown skin, dark red hair and a short black dress with small shorts.
The couple admit working in a bar near Suzy Wong, a very popular a-go-go bar where you can give the ladies asses a playful smack. After the usual questions e.g. where you from, holiday here, how old are you, where you stay here etc., and a couple of hours of fun with some cocktails, Mint agrees to go back to my room.
Phuket bar girls take care of themselves and don't always go off with just anybody in a disco...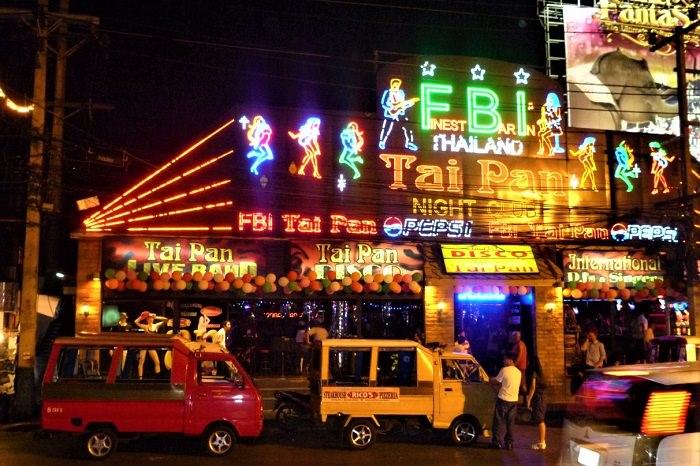 One of several nightclubs in Patong.
All about 'Apple'
After a short walk we reach Soi San Sabai, a street opposite Bangla Road where most of the Bangla Road crowd park their motorbikes and go eating in nearby restaurants. Apple explains to me that she has worked in Patong for 3 years.
As the first of a family of three children, like every Thai family, Mint has to take care of them. In a Thai culture, the eldest and especially a girl, has to respect this or lose face.
Like most Phuket Bar girls, she lives in a shared flat with other girls, near the 3rd road. After she pays for her room, she sends her remaining money every week to her family. She has a tattoo at the bottom off her back, a butterfly, and a fish with some roses on her leg. Many off these girls doing this for luck and beauty, many of their parents disapprove.
Many Phuket bar girls like to talk to farang (foreign) men about their lives, often with lies but always with a smile. At 18 years old, Apple started working at a small bar on the corner of the main street in Kata, in south Phuket. The owner was her aunt. After one year she started to scale up and go working in a lady bar near Otop market, another area for Patong bar girls.
There she met a hard working Australian man who fell in love with her. The Australian sends her some money every month via Western Union, with a promise to marry her in a few months. Then she has to leave the bar for a while, and travel to Australia for two weeks, but the easy money addiction resides in her.
You can take the girl out of the bar but you cannot take the bar out of the girl (an often repeated mantra, but usually true) so she's still working in the industry for the time being. She knows that she is young and sexy and she thinks that she has to do it now before it's too late.
I spent a few days with Apple, normally I have to pay a fee for her absence from the bar each day but sometimes the 'mamasan' (the boss from a lady girl) can let her go for free.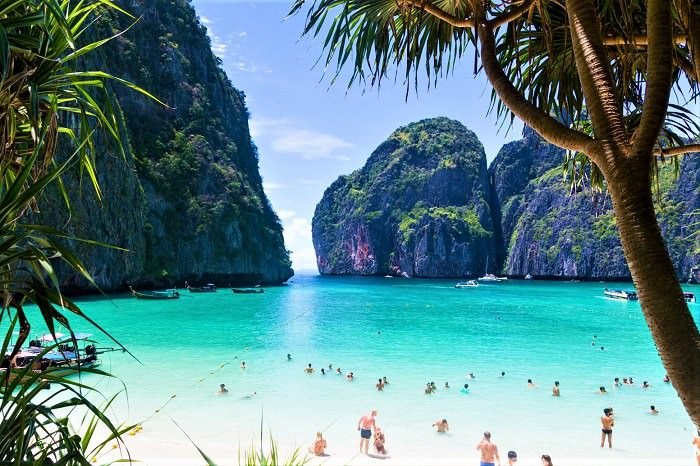 For beach lovers, Phuket has many nearby options...
Many Phuket bar girls don't go outside of the Patong area much, some don't own a motorbike or don't get time to travel around, others get hangovers every day and are lazy. Apple likes to go to Kata Beach though; we relax there and enjoy the seafood. She took care of me with everything, the food, how to eat...
After a few days, she confessed that she would have to go back to her hometown, Buriram, soon. Her grandmother is sick in hospital. I take her back to her room and we promise to meet again.
Two days later I meet Mint again; after a few lady drinks she tells me that she has got some problems with her French Boyfriend. He saw a photo taken by the Illuzion staff of me and her published on the club Facebook fan page. She met him in the bar a few months ago and, like Apple's boyfriend, he regularly sends her some money but she has never left the bar.
She knows that, like many foreigners here, her boyfriend can't afford to stay in Thailand as a resident and she is not ready to live in Europe. So, for the moment, she is still doing her thing as usual and it's making him crazy. I asked her about Apple, it turns out that she'll be back in a few days but I've decided to not contact her for the moment, and play around instead.
Phuket Bar Girls and Jealousy
I met Titty in a Soi Tiger bar. She is small with long dark hair and a sexy body. We decide to meet later in Illuzion if she's still available. One hour later, in the disco alone, a freelancer tried to introduce some of her friends to me, but she started to hassle me in the wrong way… very pushy. After a few messages on Line App I got Titty to join me there and we hit the dance-floor together. I noticed Apple looking at us in an angry way.
Titty is from Khon Kaen, (yet another Isaan girl) twenty four years old with a baby from a Thai man who cheated on her with another girl. Like many bar girls in Phuket, she has moved to Phuket and left a nursing job to make more money in a bar so that she can take care of her daughter. She confessed that she has one twin sister in town doing the same job, but I soon forgot all about that...
Thai Dating Mega Book
For anyone who wants to impress the loveliest ladies in Thailand, and win their hearts, my instruction rich mega book is here for you: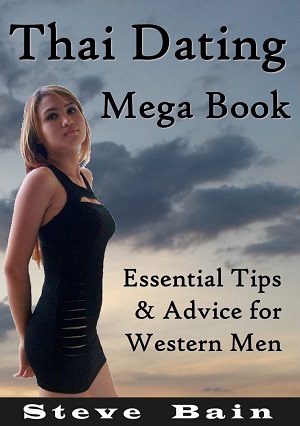 Find beautiful, trustworthy girls for long-term romance, or fun-loving ladies for casual sex with no-strings attached.

Learn all about Thai Dating Culture, what to talk about, what to avoid, how to present yourself, and how to impress.
Comes with my ongoing support, i.e. you'll be able to ask me questions and get my answers.
ONLY $27.00
For the most part Thai girls have a great attitude, and always seem happy, which then gives you a good vibe. Western women on the other hand seem to be permanently on the rag, they find any reason they can to torture you with their nonsense. From doing the laundry to preparing meals a Thai girl knows how to run a household.
On one night I met some French guys who wanted to party in style so we took the V.I.P. area of Illuzion along with the sexiest Phuket freelancers from the dance-floor crowd. Titty was there and she was angry as hell at seeing me with another woman
"Hey, I see you on the stage before you dance with a lady!"
"No, no, it's nothing, just a friend. Look, she's already gone..."
"You can't lie to me; this is my twin sister, she see you!"
"Really?!" (I look at them...) "Oh shit!!!"
Her twin saw me and shot a video of me on the stage with the other girl; and then sent it to Titty. I say "up to her to do what she has to do, we are not engaged and everything now looks like a drama series on Thai TV."
On the way out of the club she hugged a fat ugly man to try and make me jealous; what a stupid situation, but too late. Apple was also there, watching everything; sometimes it's just better to go back to your room alone...
Phuket bar girls are there for making money before anything, that's a fact, but when you spend a few days with one of them they will look at you as a regular boyfriend. Some will not allow you to hook up with other girls.
If you prefer to keep things on a strictly business only footing, Phuket escort girls might be a better choice for fun times.
Patong is a small place where everyone knows each other and, after a few weeks, I already know so many girls in each club that I sometimes feel unsafe! A combination of alcohol, sometimes yaba (crystal meth), and jealousy can sometimes make Phuket bar girls go crazy, and something bad can happen to you in those circumstances.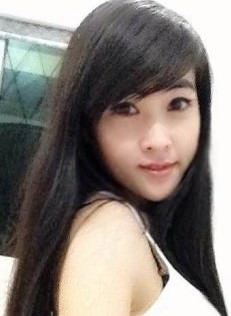 This lovely petite young lady, 28 years old and only 47kg, is looking for a western man to be her boyfriend. If you would like to meet up with girls just as lovely, you can with

My Recommended Dating Site: