Thai Happy Ending Massage

A Thai happy ending massage is, in most cases, no different to mainstream varieties, except for the ending of course! You need to be aware that it is quite common for a perfectly innocent, legitimate massage in Thailand to somehow turn into something else entirely…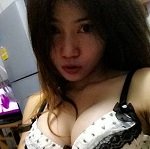 The Thai girls that you'll find on dating sites are usually quite happy to talk about massage, and it is a very good topic of conversation if you want to have some fun! Arranging a massage at your hotel is easy to do on:
The main reason for this is because adult services are available in so many of the parlors, even the ones that look completely legitimate, and once a lady starts to massage a vulnerable area of your body it is very easy for events to take an unintended turn!
And that's if you're a mainstream customer with a sore back!
For most guys, we are well aware of what we are intending when we enter the premises of a parlor in Pattaya, Bangkok, or Phuket, and treatment for a sore back is not often on our minds…
You can find lots of parlors on virtually every soi of the major cities... and a few of them are actually the real deal! However, let's be clear, most of these outlets offer very little by way of professionally trained massage specialists, but most customers leave them with smiles beaming across their faces.
I wonder what might have caused that to happen...
As a quick heads up for guys who are interested in trying out a happy ending massage in one of the many parlors that cater for tourists, do yourself a favour and initiate things with an oil massage. I'll describe this below, but trust me on this for now.

You can easily arrange for an outcall service i.e. where the masseuse comes to your hotel room rather than you going to the parlor... this is a preferred option of those guys who like a little extra discretion.
Even if you declined any 'extra' service offers, there's a good chance that someone else in the room might have fallen victim to temptation, in which case you are going to end up hearing all that's going on (the masseuse is unlikely to be silent even if the customer is!).
Call me a weirdo if you like, but I prefer a bit more privacy.
Happily, privacy is guaranteed at the big specialist parlors, as is the champion of all naughty massage options – the Thai soapy massage (scroll down the page for details).

Regular Thai Massage Options

The actual menu of services offered in the smaller generalist shops come in all sorts of combinations, and no two are the same. But broadly speaking there are five main varieties to choose from:

Traditional Thai Massage - this is the most legitimate option and least likely to lead to any offers of extra services but be warned, this is best performed by an expert, novices can cause significant discomfort.
Thai Oil Massage - by far the most relaxing and popular of the services offered is the oil massage. Done properly you'll be drifting on the verge of falling asleep, it's that relaxing. It's also a popular prelude to a sex service...
Foot Massage - these are performed downstairs in full view of people passing by, so it won't lead to anything illicit. They are a very popular due to the amount of walking that tourists do.

Head and Neck Massage - personally I find this option to be the least satisfying, and I think that they are best suited to people who tend to get minor issues in this area of the body e.g. muscle tightness in the neck.

Body Scrub - I have less experience with this but I believe that it is similar to the oil massage but with a different lubricant. I believe that it also focus on exfoliating the skin, and thereby appeals most to female customers.

Massage parlors the world over have got something of a poor reputation, and Thai outlets are certainly no different, most of them are very clearly masquerading as something that they are not, and are straight forward brothels in all but name.

Choose carefully...
Of the different sorts of massage in Thailand that I've tried, and the different outlets where I've been, and I can assure you that each one offers a unique experience to the others. They range from being ultra-relaxing to the point of excruciating pain if you get the wrong masseuse!
In recent times there has been talk that the authorities are going to crack down on the illicit practices by requiring all employees to be fully qualified and certified to work. This could have the effect of squeezing the naughty girls out of the industry - assuming that the requirement was enforced...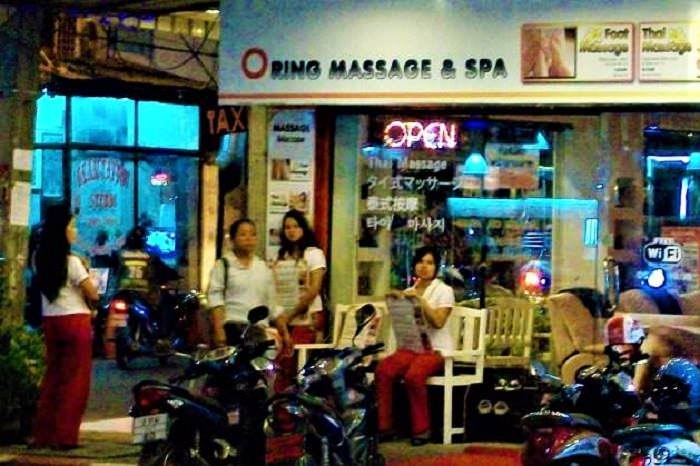 A typical Thai Massage shop.
As a general guideline, if you don't want sex, avoid the areas that have high concentrations of beer-bars and a-go-go bars. There's a good chance that these parlors are offering the adult stuff.
If you have any intention of finding a Thai lady for a romantic relationship, you may well find that all your massage requirements are taken care of without need to bother with a professional parlor. Many Thai girls have got fairly good massage skills and will be more than happy to take care of you in that department.
If this idea appeals then make sure you first get a good handle on Thai dating culture as that will be an enormous help in picking up local girls. I guess I would say this, but reading my eBook would really help you with that:
Progressing to a Happy Ending Massage
With a Thai oil massage as your starter, you will be just about as relaxed as it is possible to be ahead of your happy ending (that's unless you are the nervous sort, obviously). Towards the end, you can expect that your masseuse will ask you a question about "anything extra" that you might want.
The exact wording that she will choose to start this conversation is anyone's guess, but you should keep in mind that a price needs to be agreed first. You wouldn't ask a mechanic to fix your car back home without first agreeing a price, so don't trust to the good nature of your new friend either - get a price agreed first!
Ahead of your price negotiation, if your masseuse is any good, you will probably find that a certain body part of yours is a full, prominent member of the negotiation. This is because it will have received a fair bit of attention before anything is said.
In truth, prices are fairly standard and are usually offered on a take it or leave it basis.
Once you've agreed a price for whatever service you require, you can just sit back and enjoy! There is a full list of available options, but you will need to agree with the masseuse how you want things to develop.
There is no obligation on the masseuse to provide anything; it all depends on the particular masseuse as to what she is prepared to do.

Massage is a really good topic of conversation with the online ladies in Thailand, and it often lead to something extra... If you want to try this tactic out then make sure you choose a platform with lots of sexy girls like:
If it is a happy ending massage that you are looking for, don't ask for a foot or facial massage as your starter. These offer no privacy and are likely to be carried out alongside another customer.
Opting for a massage type in full view of other customers means that your masseuse will be too shy to ask you if you require anything extra and, even if she isn't shy, she will assume that you don't even want sex if you've gone for one of these first.
Massage skills are very common in Thailand, and a good way to get a freebie from a beautiful young lady is to join a good dating site and start up some conversations with several of the girls there. Most Thai girls love massage, and it gives you something in common to talk about.

Everyone is seen as a potential customer!
Happy ending massage is now so rooted in the core services of tourist area parlors that customers with perfectly innocent intentions get offered 'extra favours' all the time. I myself, with a lady accompanying me, have visited a fairly respectable looking parlor only to be offered sex at the end!
I ask you, what nutter in the world would have agreed to that with nothing but a curtain and a few yards separating him from his girlfriend? It's not as though the masseuse could have mistook my girl for my sister or something - she's Thai and I'm white.
No... in case you are wondering, I did not accept her gracious offer. I've no objection to this sort of thing, but there's a time and a place…
During another encounter at a fairly upmarket parlor I overheard part of a conversation between a masseuse and her customer...
In a nutshell, the masseuse was informing her customer that extra services were available. The conversation went along the lines of slowly repeated announcements from the masseuse in question that "I horny baby" and so on!
This is a seemingly upmarket establishment I'm talking about, so if happy ending massage is available here then I'm afraid that it is likely to be available pretty much everywhere. Don't let that put you off though, if you don't want that kind of thing nobody will twist your arm and force you.
As mentioned, it depends on the particular masseuse to decide what she is willing to offer, and that will depend partly on the appearance and hygiene of customer. She's human after all, and if you look like a walrus and stink like a dead skunk, don't expect her list of services to extend far beyond a four letter statement to the effect of 'go away'!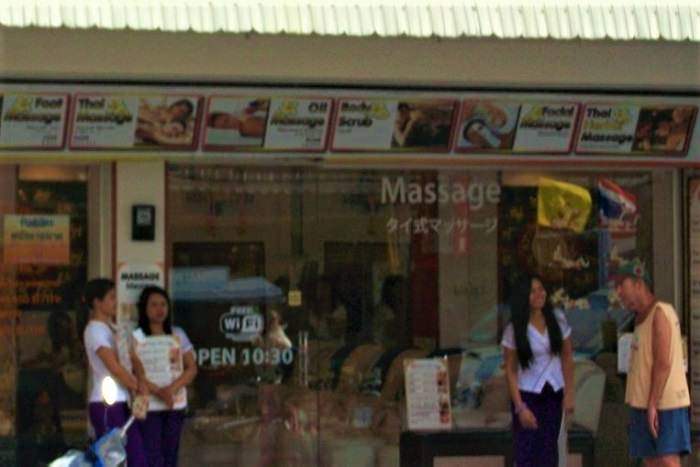 A potential customer receiving a few words of encouragement.
That said, you would have to be a particularly unfortunate individual in the aesthetic department to get turned down by all masseuses. Just take care of your personal hygiene and you should be allowed to play with the same toys as the other kids.
Thai Soapy Massage; best adult option!
The Thai soapy massage is the crowning glory of the naughty offerings in Thailand. It is only found in the big specialist parlors and is not technically a happy ending massage… because the whole thing is happy from start to finish!
I've never heard a single bad report about it from anyone who has been lucky enough to come across it. The concluding part of the soapy leaves nothing undone! It is a pleasure that every man needs to experience at least once in his lifetime, but be aware, when it comes to the soapy massage, once is never enough...
As you wander around the tourist areas, from one soi to another, looking at the shop windows, you will notice that it is quite a rarity to see any mention at all of the happy ending massage or the Thai soapy massage. I'm not entirely sure why this is, but I suspect that is because most of the parlors want to masquerade as strictly non-sexual establishments.
Why would they want to do that you might ask?
A good question and again I'm not entirely sure but, given that prostitution is illegal in Thailand, I suspect that if it is too apparent that there is anything of an adult nature going on within the parlor then this might require an extra payment to one authority or another to avoid a crackdown!
If you would prefer to go to one of the specialist soapy parlors, there are a few to choose from in either Pattaya or Bangkok, but other areas have fewer options (generally only one or two to choose from).
Unlike other happy ending massage types e.g. the Thai oil massage (with happy ending), this one doesn't just end happy, it is very happy from start to finish. As the name suggests, there is quite a lot of soap involved in the Thai soapy massage - it acts as the lubricant between your body and your chosen masseuse's body.
Before the Thai soapy massage begins, your masseuse will ask you to take off all your clothes. After that you'll be asked to lie face down on either an air-bed. Your masseuse will also take off all her clothes and she will start a nude Thai massage using her body against your body.
Thai Dating Mega Book
For anyone who wants to impress the loveliest ladies in Thailand, and win their hearts, my instruction rich mega book is here for you: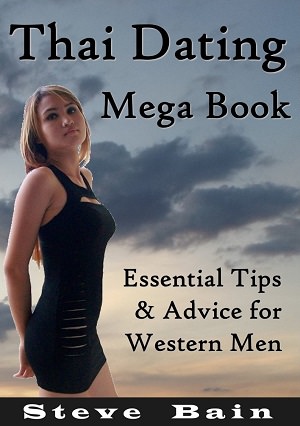 Find beautiful, trustworthy girls for long-term romance, or fun-loving ladies for casual sex with no-strings attached.

Learn all about Thai Dating Culture, what to talk about, what to avoid, how to present yourself, and how to impress.
Comes with my ongoing support, i.e. you'll be able to ask me questions and get my answers.
ONLY $27.00
When I say that your masseuse will use her body to massage yours, I'm not joking.
She will use all her... assets… to rub against your body.
If the Thai soapy massage fails to arouse you, you really should check into the nearest hospital but, I'm afraid to say, you might already be dead!
Thai Soapy Massage Prices
The only downside is the price, it's high but affordable.
The Thai soapy massage is not as cheap as other options. It will cost you around from 3,000 baht to 4,000 baht in Pattaya, and somewhat more in other areas of Thailand. On top of that, you will usually be expected to give your masseuse a tip. But like I said, I've never heard a bad word said about it!
The soapy is the happiest of all happy ending massages. I'm a happy sort of bloke, but I'm always happier (and cleaner) after one of these.
Unlike the standard happy ending massage in the smaller shops, the Thai soapy massage is all done in a private room with you and your masseuse, so there's no need to worry about making a noise!

Soapy Massage True Stories
For some entertaining stories about soapies, click on a link below:
Bangkok soapy massage – Many of the best soapy parlors are located along Ratchada Road and in Huai Khwang, but this story relates to the most famous parlor in the city – 'Annies' which is also a perfectly good option.
Pattaya soapy massage – If Bangkok has the best soapy massage options in Thailand, Pattaya isn't far behind and, as this story demonstrates, you won't walk away from the girls here feeling disappointed.
Phuket soapy massage – A good soapy massage in Phuket is readily available in Patong at the island's only established soapy parlor i.e. Christin Massage. Happily, it is well located on the Rat U Thit Road just off Bangla Road.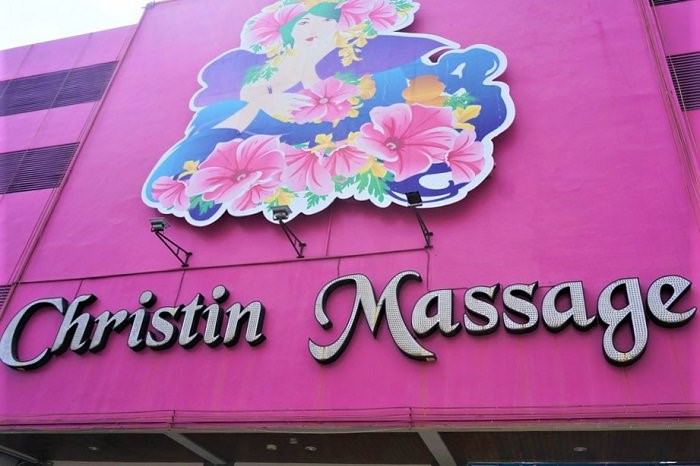 Christin Massage is the best soapy parlor in Phuket.
Thai Oil Massage; relaxation assured!
The Thai oil massage is another favourite of mine and it is one that I recommend for guys visiting the smaller shops. It is a non-sexual massage but let's not beat around the bush, it is the most common prelude to the happy ending massage.
If you don't want sex, you should make that clear at the outset…
In my opinion, the Thai oil massage itself is the most relaxing available in the land of smiles, or anywhere else for that matter. It is highly likely that at some point you will either fall asleep or come very close to doing so.
My usual advice about selecting your masseuse also applies here, if you don't want the extra services, choose a masseuse that you do not find at all attractive. In fact, choose the oldest, least attractive, most overweight lady on the premises…

What to expect
Before your oil massage begins, you will need to strip naked. Don't worry though if you are shy about such things, you will normally find that there is a towel on hand to cover yourself up, and you might even be given a loose fitting robe to wear.
That robe/towel will need to be removed when, for example, it is time to massage your back. Even so, it doesn't have to be completely removed, so you should always be able to keep your tackle under wraps - that is unless your masseuse has taken a liking to you!
Unlike the traditional Thai massage (see below for details), the oil massage is not even in the least bit uncomfortable. You can expect at least 60 minutes from start to finish.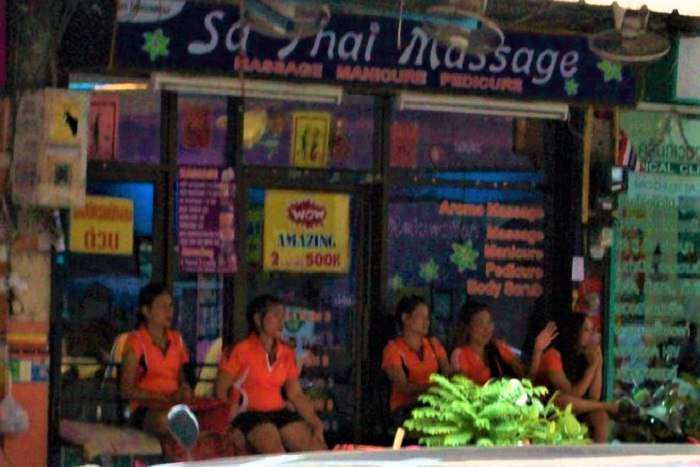 Some Thai masseuses waiting for customers.
The Thai oil massage hits the whole body. Your masseuse will start by massaging your feet and then gradually work her way up your body to your calves, your hamstrings, your back, your neck and your shoulders, finishing up on your head. She will ask you to turn over at various points so that both sides of your body get worked.
My favourite part is the back massage. The masseuse will put most or all of her body weight on your upper back, just beneath your shoulder blades. She will apply just enough pressure to force out all of the air from your lungs.
Don't resist it, it is only momentary and you will soon inhale deeply.
The pressure applied is very different to that applied during the traditional massage - it is much less severe! The pressure is distributed over a greater area of your body via her palms rather than her thumbs or elbow. She will also pick a less sensitive area of your body to apply the pressure.
Another major difference with the oil massage is that the masseuse will work along the natural contours of your muscle structure rather than at specific pressure points. It's down to personal preference as to which you prefer, traditional or oil, but my money is on the oil massage every time!

What to pay and where to go
Asking prices for the Thai oil massage vary from 200 to 500 baht depending on where in Thailand you go - that does not include the happy ending... That will usually cost an extra 2,000 baht or so.
If you are not particularly concerned by a few hundred baht, I would seek out a spa/sauna parlor. These are my favourite as you get to unwind with a nice relaxing sauna (or steam bath if you prefer) before and after your massage. You can leisurely while away most of your morning or afternoon like this if you want to.

Ladyboy Massage Options
I haven't discussed the ladyboy massage options that are open to you in Thailand because this is clearly something that interests a niche audience. However, I have written a separate page that covers this topic, and you can read it hear: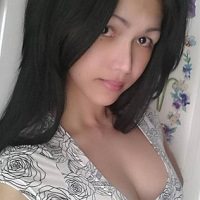 If you want to meet a ladyboy but also want to keep your privacy, far from the prying eyes of nosy onlookers, your best option is to use an online dating site. Happily for you, there are plenty of opportunities open to you on:
Traditional Thai massage; a tale of pain!
I know people who have had traditional Thai massage experiences and raved about them, but it is certainly not enjoyed by everyone... I can vouch for that! I should point out that the traditional option is less likely to come with a happy ending massage, unless you ask for it to be so!
Once in Thailand, whether you are a regular customer or a complete newbie, sooner or later you'll give the traditional massage a go... everyone does!
It's one of those things that sets Thai culture apart from Western culture. In my experience, Thai girls often tend to be skilled masseuses and you should have one of the best experiences of your life here if you can find a suitably qualified professional.
The traditional Thai massage is done without the use of any oils or lubricants and it works the full body, meaning that your head and feet are included. Of all the massage options, the traditional is the one that requires the most skill.
One session will take around 60-90 minutes to complete. Afterwards, depending on how it went, you may well feel completely relaxed, or you might end up a nervous wreck trembling at the thought of the horrors you just endured…
Before the fun begins, you will probably be given a thin robe to change into. If not, you'll be asked to strip naked; the masseuse will usually drape something over you when the massage starts.
You may, or may not, be offered a happy ending massage towards the end of your treatment. The traditional massage is not a typical prelude to such things, but then again this is Thailand...

One to remember
I still like to reflect on one particular encounter that nearly left me a broken man!
The masseuse was young, about 22 or so, and very attractive. She was a little short, even for a Thai girl, being no more than about 5ft tall. For a guess, I'd say that she weighed in at no more than about 100lbs. Her hair was long, hanging down to her lower back, straight, and jet black in color.
I remember she had big beautiful eyes, and a very sexy smile.
Although I didn't notice at the time, I can only assume that despite her petite frame she must have had hands like Tyson Fury. The pressure that she managed to generate with those hands was breath-taking – literally.
She had asked me, prior to the massage starting, whether or not I'd prefer a soft or hard treatment. Not wanting to look like a complete girl, I opted for the hard massage thinking I'd be safe enough because a small girl like her wouldn't really have the strength to deliver it.
TOP-TIP 1: unless you are a masochist, go for the soft option.
My new friend began the massage starting with my lower legs. If you can imagine a road worker going to work on your calf muscles with a jackhammer, you are somewhere close to the nightmare she was giving me.
She stopped after a few minutes to ask if it was too hard or not. Don't ask me why, but I just smiled and said I was fine, and that's when she really let loose on me. I hadn't noticed her riding a pale horse, but hell certainly followed behind her!
TOP-TIP 2: don't choose a sexy young lady when going for a traditional Thai massage. Choose a fat old duffer who you don't have even the slightest interest in impressing, it might just spare you from some unnecessary pain.
Having finished with my calves, the sweet little Thai masseuse went to work on my shins. The little charmer had decided that this called for a little more pressure than her Tyson Fury jackhammer hands could muster...
This time, with her left arm, she brought her fist up to her shoulder and used her elbow to apply the pressure. Her elbow was grinding into my shin bone and the muscle alongside it. Almost her entire body-weight was pressing down on me via her f***ing elbow!
The pain was indescribable…
Like I said before, traditional Thai massage girls tend to be highly skilled; I think this little scamp got a double 1st from Oxford in medieval torture!

Don't worry, give it a go yourself
If you decide to sample the delights of a traditional Thai massage for yourself, don't worry about it, just because I had a bad one it doesn't mean that you will too.
I think that you will be fine if you choose one of the more experienced masseuses because they will know their stuff. You should opt for experience over beauty every time.
I've got a number of friends that recommend the traditional Thai massage very highly, some say that the real benefit is only felt the next day. If you suffer from poor blood circulation, or muscle cramp, I think that you would be well advised to give this one a go. Just don't forget my two top-tips!
Starting prices vary with each parlor, but you should easily find one that will give a good service for about 200-300 baht.

Happy Ending Massage, Final Thoughts
It's hard to predict what the future holds for the typical Pattaya massage shop and the package of services that are often provided. There's very little discretion about the whole thing in terms of how openly the naughty stuff is solicited, and I suspect that the recent crackdowns on such things will persist.
So far there hasn't been any real conviction to stamp the naughty stuff out.
If sexual activities on the premises of any given establishment are going to be driven out, then there is cause for concern for all of the massage parlors, because that is exactly the business model that they operate.
The most recent step by the authorities with regard to happy ending massage employees has been more in the direction of safety rather than crackdowns, with some health checks being provided for free. I will keep my ear to the ground and provide updates on the situation as and when there is news to report.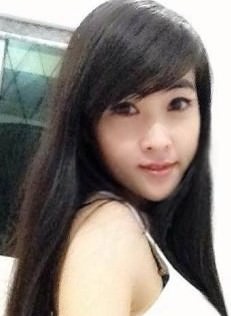 This lovely petite young lady, 28 years old and only 47kg, is looking for a western man to be her boyfriend. If you would like to meet up with girls just as lovely, you can with

My Recommended Dating Site: