Soi Cowboy Girls, Sex Story
By Shane (from Hua Hin)
The story that follows, about four Soi Cowboy girls and my recent birthday, is a true account of how I and a friend of mine spent an entertaining evening in Bangkok. Even though the girls involved all had simple nicknames, I cannot for the life of me remember their names…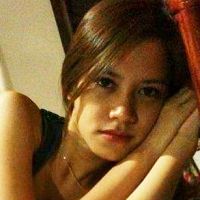 Why bother with the bar girls and hardcore hookers when you can meet someone much better online? If you prefer a more slow paced and intimate way of meeting ladies for sex and romance, you might be interested in checking out:
Anyway, it was my birthday last month, and it turned out to be a really colorful event even though I had made absolutely no plans whatsoever. Out of the blue, a good friend from Scotland arrived unannounced three or four days before my birthday.
From the moment I saw him getting out of a taxi in front of our gate, I knew I was in for a few very crazy days. Kevin (not his real name), was actually my boss for a few years while I was working in the UK, but we were also really good mates as well.
Kevin has been to Thailand on several occasions, and even ended up getting married to a girl he met in a bar in Soi Cowboy. Since the very first time he came to Bangkok he has always maintained that Soi Cowboy girls are better than the Bangkok girls you find in the bars at Patpong and Nana Plaza.
Personally, I can't really see why anyone would think that because, in my mind, Soi Cowboy girls are no different to the girls working in any of the other bar areas. Anyway, Kevin's marriage didn't last very long, but I won't get into that now.
Now, keep in mind that when he arrived outside my gate in February, he had no idea that it would soon be my birthday. This is the sort of guy who believes you need to work hard and you need to play hard, so once he found out I was having a birthday I knew I was doomed to a few days in complete overdrive mode.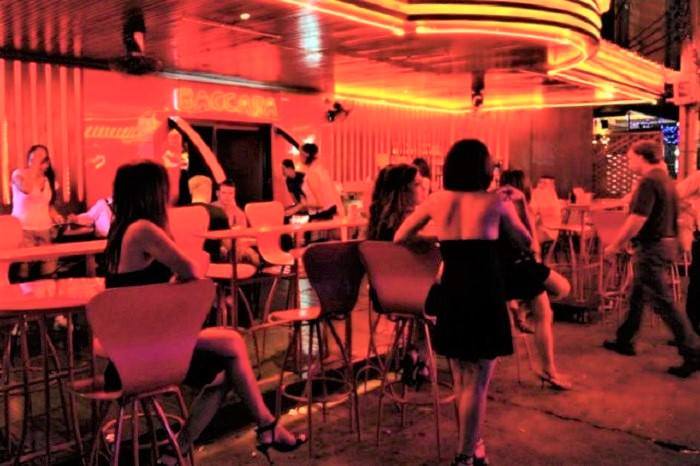 Some Soi Cowboy girls outside the ever popular Baccara gogo bar.
Soi Cowboy girls here we come
When Kevin announced that we both desperately needed to go and spend a few days in Bangkok, it came as no surprise, and of course I knew that we would definitely end up in Soi Cowboy, probably after a short visit to Patpong and a quick stop at Nana.
The first thing that struck me when we went out exploring was just how quiet all three areas were. Sure, there were plenty of girls going about, and some of the bars were very busy, but the atmosphere was nothing like it used to be when I last visited the naughty areas of Bangkok.
Anyway, as was to be expected, by the time Kevin and I reached Soi Cowboy he was in top form, and we must have visited at least five or six bars before we ended up settling down in one called Baccara.
I have been to this bar several times in the past, and I've always had a great time there. The place always has lots of good looking girls and drinks tend to be reasonably priced, especially when compared to some of the other bars in the area.
It wasn't long before we both had a girl each pandering to us...
Let me just mention that I never had any intention of bar-fining any Soi Cowboy girls, but Kevin was having none of it. Before I knew it he had chosen a girl for himself, and while he was paying her bar-fine he paid another bar-fine in advance for a second girl. Naturally, I was now more or less obliged to pick a girl, so that's exactly what I did, and believe me, I chose an absolute stunner.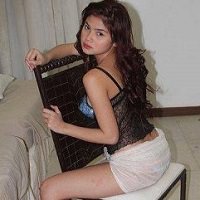 Modern technology is having a big impact on the bars in Thailand... the best girls have always been reluctant to work in bars for fear of being seen by someone from their hometowns, but there are lots of girls online at:
Two Soi Cowboy girls become four…
As you can probably imagine, Kevin and I were far from being sober by the time the bars started closing, but we also weren't in too bad a state. Both Soi Cowboy girls, and especially the one Kevin had chosen, were just as drunk as we were but they were great fun to be with, and as friendly as ever.
Then, just as we were about to leave, his girl went off to the toilet. When she returned she asked if two of her friends from the bar could come with us.
I was dead against the idea for a number of reasons. To begin with, four Soi Cowboy girls costs considerably more than two, and besides, I didn't think Kevin or I would have enough stamina to handle two girls let alone four, so basically it would be a waste of money.
Boy, was I wrong or what? I guess the bar girls in Thailand are already programmed to sleep all day and party all night, so when we stopped at some or other little supermarket type of place I shouldn't have been surprised when the girls suggested we get some drinks to take back to the hotel.
Kevin doesn't need much encouragement, so with a few carrier bags full of beer, along with a big bottle of Jack Daniels, some Coke, and a good supply of condoms, off we went to our room which was just around the corner.
Did you notice that I just said room rather than rooms?
Yep, as crazy as it might seem, there we were, all six of us, in one room. At least it was a relatively big room, and it did have two beds, one being a double and the other a single bed.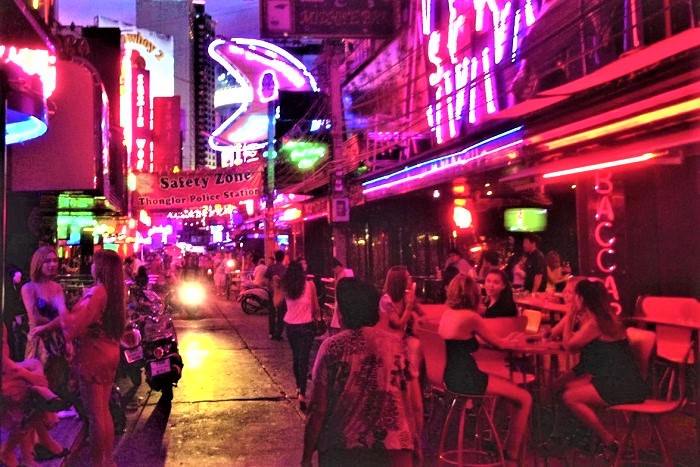 Soi Cowboy at night.
A Crazy Night to Remember
With regard to the goings on in that room, all I'll say is that we all had a great time. Nothing too bizarre or hard-core, but lots of fun nonetheless, with Kevin occasionally getting up to his usual crazy antics in the dark.
By the way, if you are one of those guys who have always dreamed of being with two women at the same time, let me tell you, it IS an AMAZING experience.
Anyway, shortly after we all woke up the girls wanted to leave. This is quite often the case, and Kevin and I were had no problem with them going. Since this was all essentially a birthday treat for me Kevin paid the girls, and then arranged to meet them again back at the bar that evening…
The rest of the day was uneventful, with the two of us just relaxing over a few cold beers at a restaurant on Khao San Road and watching the world go about its business.
Later in the day, we decided to have a light early dinner, and then it was back to the hotel room for a shower and a change of clothes. By the time we were ready to head off and track down our four Soi Cowboy girls, Kevin only had one thing on his mind, and that was that today was my birthday, and he was the party planner.
First stop was at a nearby pharmacy where he duly ordered a supply of Viagra. He clearly had a plan for the night, and he was going to make sure his plan wasn't going to be derailed. Now that we were well equipped for the night, we flagged down a tuk-tuk, and off to Soi Cowboy we went.
Of course, with Kevin at the helm, we had to visit several different bars, including one where guys can get an oral service while sitting at the bar. Obviously, Kevin thought this was very befitting for a birthday boy but despite his best effort, I declined the opportunity. Sorry people, I'm not that much of an exhibitionist.
After I don't know how many drinks, it was time to find our wonderful Soi Cowboy girls from the previous night. As soon as we arrived at the bar where they worked, we spotted three of them dancing on the stage, and damn, they looked even more stunning than before.
Once we had found a decent place to sit down, we signaled to them and they came over to us as soon as they had finished their turn on the stage. The fourth girl was apparently running late, but a quick phone call soon determined that she would in fact be arriving quite soon.
Tonight Kevin decided to pay their bar-fines early, and the six of us made our way to Nana Plaza where we continued to party. The thing that has always amazed me about the bar girls in Thailand, is that the vast majority of them are great fun to hang out with.
This night was no different, and all six of us were having a fantastic time, mostly just good clean fun but with a little bit of sexiness thrown in every now and then for good measure. Believe me, many bar girls enjoy the work they do, and many are just as keen as their customers to get between the sheets.
Anyway, after a thoroughly enjoyable evening, we all headed back to our room once again. As with the previous night, Kevin and I took turns to shower with our two girls, and then we were just sort of chilling out, laughing, joking, and enjoying a few more drinks together.
Hahaha, I was stupid enough to go to the toilet and expect nothing to happen.
As I walked out of the bathroom all four girls, now with their towels removed, pounce on me, removed my towel, and got me onto the bed, with Kevin, the crazy bastard, singing happy birthday to me. It was definitely another night to remember!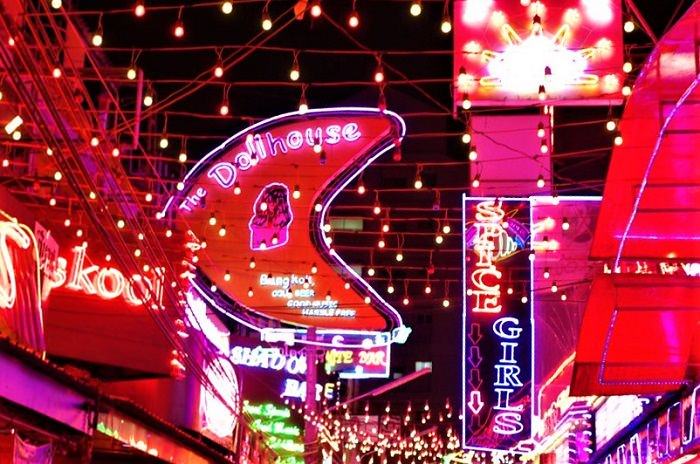 Soi Cowboy is lit up with a LOT of neon.
Soi Cowboy girls - sour ending
After such a heavy night I wasn't expecting to wake up feeling fresh and recharged, but neither was I expecting the sort of hassle that we did wake up to. Both of my girls were lying beside me fast asleep, and since we had all fallen asleep on top of the blanket, I just lay there for a while admiring their beautiful figures and their silky smooth skin.
It was only when I stood up that I noticed one of Kevin's girls was missing. I didn't suspect anything unusual, just assuming that she must have had to leave early. After all, the girls had not been paid yet.
When Kevin woke up about an hour or so later he also never thought anything of it. In fact, I'm sure he had another quickie while I was in the shower because I could hear the other Soi Cowboy girls giggling and laughing. Then suddenly it struck me.
I yanked the bathroom door open, walked over to my bed, asked the girls to move over, and then I lifted the mattress up to check if my wallet and my passport were still there. A sudden wave of relief swept over me, but sadly it was short-lived. Kevin had been reckless and he had left his wallet and his passport in his pants pocket.
The only saving grace was the fact that Kevin still had his passport.
We knew without a doubt that his wallet had been taken from his pants because we could all remember seeing his wallet the night before when he was fishing for another condom.
Now, many guys would say it served him right because he should have known better, but it is still a very shitty thing for the girl to have done. He wasn't particularly worried about the money in his wallet, it was his cards he was most concerned about.

When bad Soi Cowboy girls turn good
As is the norm in Thailand, if you take a lady of the night back to your room with you, she will often have to leave her ID card at reception, or else reception will make a photocopy of the card. This happened with the four girls we had taken back, so we should have reported the theft to reception immediately, and we should have gone to the police.
However, two of the girls that were with us pleaded with us not to report anything just yet, saying they would try and help us to get everything sorted out because they knew the other girl personally.
After a few phone calls, we were assured that Kevin's wallet would be returned to him in the evening, at the bar where the Soi Cowboy girls worked. After giving it some thought we decided to go with their plan, arriving at the bar shortly after opening time.
If you have never believed in miracles, maybe you can start believing in them now, because sure enough the mamasan (manager) at the bar came straight over to us the minute she saw us, and she returned the wallet while apologizing profusely.
All the cards were there, along with his money and a short note from the girl who had taken the wallet. The note simply said that she was very sorry for being a bad lady, and that she did not take any money out of the wallet. Kevin couldn't remember exactly how much money had been in the wallet, but he said it looked like all the money was still there.
This short story may not have been as exciting as you had hoped for, but it is true, and it goes to show that it is never a wise idea to tar everyone with the same brush. Sure, there are bound to be some bad girls hanging out in Soi Cowboy, and yes, the girl should never have taken the wallet in the first place, but this experience just goes to show that not all Soi Cowboy girls are rotten apples.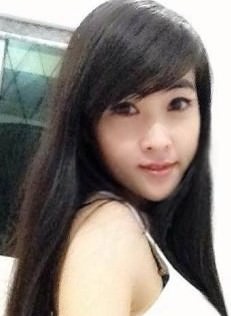 This lovely petite young lady, 28 years old and only 47kg, is looking for a western man to be her boyfriend. If you would like to meet up with girls just as lovely, you can with

My Recommended Dating Site: