Living in Pattaya

(Selling Points)
If you think that living in Pattaya is purely for the hard-drinking barfly sort of expats then think again. The city does have the worst reputation for sleaze of any place in Thailand but trust me on this, even if you aren't much of a night-owl there are some very nice low-key locations in and around the city, and there's a lot to keep you entertained.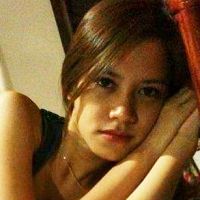 Modern technology is having a big impact on the bars in Thailand... the best girls have always been reluctant to work in bars for fear of being seen by someone from their hometowns, but there are lots of girls online at:
Above all, life here is cheap and relaxed without any of the political correctness that is ruining all the fun in the west, and you can actually be a man for once without getting an ear bashing from the nearest feminist Nazi!
The five big attractions that draw expats to this part of the word are fairly well known and they speak for themselves:

Low cost of living - you can get by on a shoestring budget if want to and with a moderate income you can live like a king.

Food & Cuisine - the local Thai food is delicious and tough to beat, but you've also got international food options around every corner.

Culture - you aren't going to get much of a taste for the 'real Thailand' in a tourist are but you'll still get a very laid-back friendly atmosphere.

Climate - being a tropical country you've got excellent weather for most of the year. Only the rainy season is best avoided (mid August to mid November).

Nightlife - Thailand's nightlife is world renowned and Pattaya in particular is the jewel in the crown if you like to have a drink and party the night away.

These are not the only attractions, and for some more reasons to choose Pattaya in Particular, scroll down the page for a quick list of all that's great about the place.
Soi 7, not as popular as it once was, but still entertaining.
There are 5 main locations to consider in and around Pattaya, depending on your budget and preferences, and they all have their own individual advantages on top of the general advantages of living in Thailand. There's the raucous center of the action, the upmarket Wong Amat, the popular Jomtien, and the quieter areas of Pratumnak and East Pattaya to choose from.

Main options for living in Pattaya
Central Pattaya – This is where the best nightlife in Thailand is to be found, assuming that you like bars, neon lights and sexy girls. This area pulls in the largest proportion of holiday visitors and it has hundreds of hotels to choose from. There is also plenty of accommodation for long-term rental as well as property for sale, so it's not just a place for short-term visitors. That said, most expats do prefer to spend most of their time away from the most popular tourist venues, in particular Walking Street, in favour of quieter bars a little further inland.
Soi Buakhao is popular with those men who are living in Pattaya as it is cheaper, less touristy, and close to a lot of the cheap long-term accommodation. Prices are cheaper the further that you move away from the beach, but that is not because the beach is so desirable – it is actually regarded as being one of the worst beaches in Thailand!
Wong Amat & Naklua – Wong Amat is immediately to the north of central Pattaya and it is the upmarket option for living in Pattaya. Some of the most expensive hotels are located here, the bar scene is a much smaller, but there are lots of good quality restaurants to choose from. Wong Amat beach is a vast improvement on the main beach in central Pattaya, and whilst it is quieter i.e. no noise from any road traffic, it is still very popular.
Naklua is a little further to the north, just beyond Wong Amat, but it isn't really a place where westerners visit. It is populated almost exclusively by Thais, and there is quite a well-established traditional Thai nightlife scene with Karaoke bars and so on. If you do choose to live there, you'll no doubt find some very cheap accommodation, but it probably won't be the most comfortable…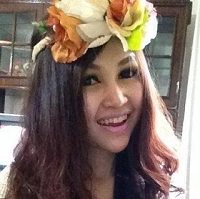 Contrary to popular opinion, Thai girls make excellent wives if you choose wisely. But don't select a long-term partner from a tourist area and hope for the best, it's far too risky. There are much better options online at:
Jomtien & Bang Saray – Probably the most popular choice for most long-term visitors is Jomtien. It is located to the south of central Pattaya and is home to the Thai immigration department offices; so renewing a retirement visa each 90 days is a simple and quick affair here. Prices are lower than in central Pattaya and the standard of accommodation is amongst the best that you will find for any given price. Getting into central Pattaya is quick, easy and cheap via the baht buses, but there is plenty of nightlife in Jomtien itself, so there's no real need to travel if you don't want to.
Bang Saray is located a little further south and is currently being developed, so there aren't many western people living there yet. There are plenty of investment opportunities there but I'd regard them as being a bit higher risk because there's no telling how the general development of the area will take off. If it becomes popular, property prices will go through the roof, because they are currently rock bottom!
Pratumnak Hill – My personal favourite location for living in Pattaya is Pratumnak Hill. It is found immediately to the south of central Pattaya, just before Jomtien, and as the name suggests it is built on higher ground. This is more important than you might think – in the wet season Pattaya frequently gets flooded and when that happens the place is no fun whatsoever. It's also quite dangerous and often causes power cuts. Pratumnak escapes all of that nonsense due to the higher ground that it sits on.
You'll find my favourite beach in mainland Pattaya in Pratumnak i.e. cosy beach. It's smaller than the others but it is more picturesque due to the cliffs that sit behind it. The nightlife is a bit low-key, but Pratumnak is also famous for its daytime 'gentlemen's clubs'. These are like mini resorts with a bar, swimming pool, girls, and rooms available by the hour!
The only downside to Pratumnak, in my opinion, is that despite being closer to central Pattaya than Jomtien is, it's actually more of a hassle getting to and from it as the baht buses don't run so frequently. Getting back after a night out in the city centre is  awkward, unless you opt for a motorbike taxi, which is notoriously dangerous...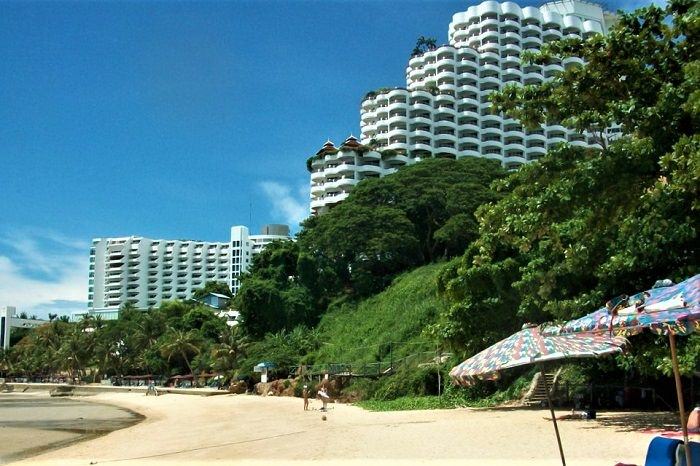 Cosy Beach, one of my favourite beaches on the Pattaya mainland.
East Pattaya, the dark-side – Where Jomtien is arguably the more popular location overall for long-term visitors, East Pattaya is well regarded by those expats living in Pattaya who don't want to stay in a condominium block. There are lots of houses available for rent or purchase in East Pattaya and, if you prefer a little more space, you might well prefer to live there. As with Pratumnak, the nightlife is more low-key, but there are still several bars with a selection of ladies waiting to meet up with you. There are also some less well known gentlemen's clubs there too.
The main problem with East Pattaya is that its greater distance from anywhere else makes car ownership more of a necessity, and that's no good for anyone that isn't living in Pattaya all year round on a permanent basis. Due to this fact, I think that the place appeals more to expats rather than long-term visitors on 6-month tourist visas etc. It's also typically preferred by those expats who have settled down with one Thai lady, rather than the guys who prefer a more flexible, dynamic sort of love-life!
More about living in Pattaya
The naughty nightlife is still here in force and it remains a big draw for a lot of guys, but there is a LOT more about the place these days, and it is attracting a much broader range of visitors than horny guys looking to hook up with Pattaya girls.

I wouldn't suggest that it is the best location for starting a family, or meeting the love of your life, but it is definitely a place that single men will enjoy, and for many more reasons than just the naughty nightlife. As a quick rundown of the sort of attractions and amenities that are available there, let me quickly mention a few of them.
Pattaya Park - complete with some fairground type rides, a water park with slides, a high tower with panoramic views across Pattaya as well as cable rides back down to the ground.

Sanctuary of Truth - a very impressive and intricate temple made purely from timber that has been constantly worked on for many years. The grounds also have elephant tours available.

Crocodile Farm & Tiger Zoo - both within a short journey from central Pattaya and both offering cheap entry. They also put on shows for tourists so, if you want to see a guy with his head in a crocodile's jaws, this is for you.

Elephant Jungle Sanctuary - you can get the best elephant rides here and the set up prides itself on being an ethical and sustainable business. The elephants are well cared for with lots of mud-baths!

Sporting Events - if you enjoy ATP level Tennis events or PGA level Golf Tournaments then you are well catered for here. You've also got international yachting events, chess tournaments, and a competitive fireworks display.

Floating Market - a huge development themed on the four distinct regions of Thailand and offering all sorts of different food and shopping options from those regions - all accessible via boat rides.

Go-Karting, Paintball & Bungee - all offered on the same site and all being of a high standard. The go-karting in particular is very good with a large track that allows the karts to reach some good speeds.

Infrastructure & Facilities - you've got some of the best healthcare facilities in Southeast Asia, world class shopping malls, easy access to Bangkok, a ferry service to Hua Hin, and U-tapao airport for internal flights.

The list goes on but I think you can see from this short, incomplete, list of attractions that living in Pattaya offers a lot of interesting activities that extend well beyond the dogma that people label the city with, and I'd advise you take a closer look at the place if you are at all interested in it.
Like I said in my opening paragraph, Pattaya has got a bad reputation for being the sleaziest place on Earth, and that will definitely put a lot of people off visiting, let alone living in Pattaya.
For those men that are not deterred by reputations, I think that you'll be very pleasantly surprised if you do decide to give the city a chance. Pattaya is changing at a rapid rate and it barely resembles the place that it once was.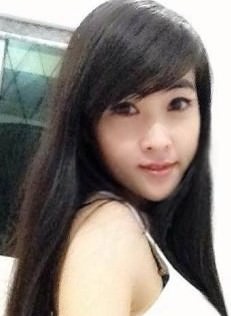 This lovely petite young lady, 28 years old and only 47kg, is looking for a western man to be her boyfriend. If you would like to meet up with girls just as lovely, you can with

My Recommended Dating Site: