Chiang Mai Ladyboys

By Karl (from Bangkok)
Mark's first sight of a Thai Kathoey (ladyboy) came in Chiang Mai, and it marked his introduction to the world that is the transsexual scene in Thailand. The northernmost  big city in the country is home to a significant population of ladyboys.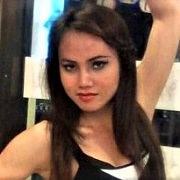 Long-term ladyboy dating success can easily be found in Thailand, but don't take silly risks in Pattaya, there are much safer options in other destinations. The list of advantages is long, and you're best opportunities are on:

Geez, she's pretty, he thought, as he watched the ladyboy glide away through the open office with grace and composure.
Not sure quite what gives her away... maybe the all "too perfect" figure, but I'm pretty sure that she is not female. The very attractive, long-haired receptionist had greeted Mark warmly, asked him to take a seat, and was wiggling away to inform the man's appointment that he was already here.
Mark glanced at his watch. Hmm…, I'm about 15 minutes too early. Still, perhaps I can just sit here and catch up on some of my other work whilst I wait.
"Dan said he'll be another five or ten minutes, is that okay?"
The sound of the young kathoey's slightly husky voice stirred Mark from his thoughts. "Oh yes, sure. No problems."
"Can I get you a drink? Tea, coffee or water?"
Sitting with his glass of water, Mark began scrolling through the messages on his I-phone, yet he found himself repeatedly glancing towards the receptionist, Khun Lek.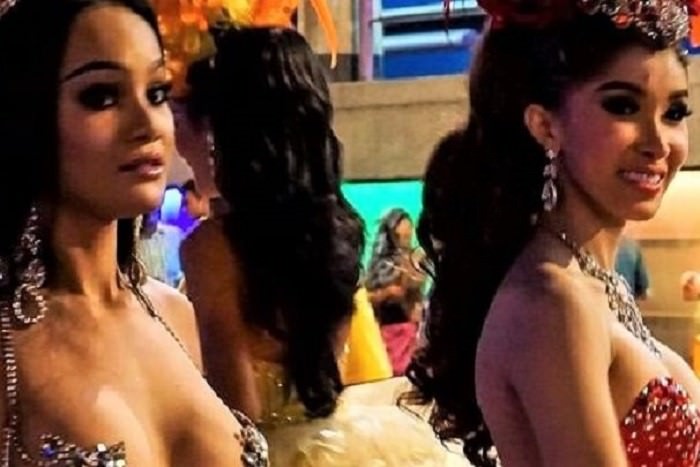 Some Thai Ladyboy Cabaret performers
Chiang Mai Ladyboys, as with local people in general, tend to be slightly taller than other Thais. What a body! Yet I wonder how much of that is real and how much of it has been supplemented by female hormones or maybe some cosmetic surgery?

Ladyboy massage in Chiang Mai
As a quick aside from the story, you may be interested to know that there are several Chiang Mai ladyboy massage options to be found in and around the city.
In particular, if you want a massage with a little something extra at the end, you'll find plenty of options on Loi Kroh Road. This is the main naughty boy destination in the city and it caters primarily for men seeking girls, but there is a contingent of ladyboys to be found.
Prices for ladyboy massage in Chiang Mai are cheap, massage is always cheap in Thailand but you should make it a policy to agree beforehand on what fee will apply to the happy ending!
As a general rule, a transsexual lady will actually charge a higher price than the local ladies, so don't be surprised if you are quoted a little more than you are accustomed to if your previous P4P experiences have been restricted to ladies only.
Your other option for finding a Thai kathoey, either for massage, friendship, or either short-term or long-term fun, is to look online at the dating sites.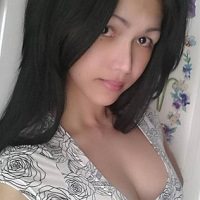 If you want to meet a ladyboy but also want to keep your privacy, far from the prying eyes of nosy onlookers, your best option is to use an online dating site. Happily for you, there are plenty of opportunities open to you on:
For more information about transsexual ladies in Thailand, and the opportunities for long-term dating with them, have a look at my main page:

Back to the story - the sales team
Now and then, the sound of fragments of conversation drifted across the office from the 10 or so other staff seated in neat rows behind the reception area. Mark occasionally looked up as the sounds reached him, for a while looking intently at the exclusively female contingent diligently working away.
Hmm…, Dan certainly knows how to pick a sales team, he thought. That is, if the sign of a successful team is the way they themselves. Just look at these women. There must be five or six real stunners amongst them. Long dark hair, almond shaped eyes, high cheekbones, all beautifully made up and well turned out in their smart uniforms.
Two minutes later, and Mark still found himself discreetly staring in turn at each of the women; his I-phone lying redundant in his left hand, his right hand gently rubbing the side of his face as he pretended to be deep in thought about anything other than the women he watched.
Every time a snippet of conversation reached him or he heard a voice louder than the others, Mark's eyes would wander to the source; his head barely moving as to avoid the impression to anyone watching him that he was seriously ogling the bevy of Thai beauties before him.
Then it struck him: Aaah…  that's it, it's their voices… at least four or five of those women are not "real women"; they're probably all Thai kathoey women!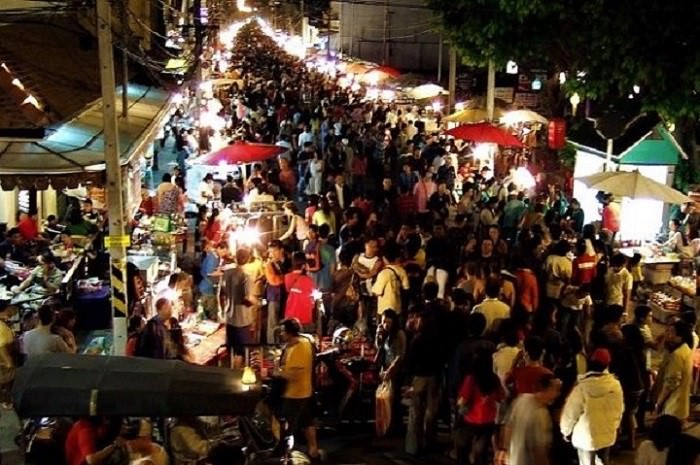 The Chiang Mai night market
Dan & the Thai Kathoey office staff
"Hi Mark, how's things?" Dan's voice boomed across the office, and his old friend reached out to shake his hand. "Long time no see. You're looking well. Come with me, we'll go in to the meeting room."
The meeting went well. Dan had been through Mark's proposal beforehand and only wished to clarify a couple of outstanding points. "I think we can get this signed off later today, Mark. But when can you actually start work, we'd really like to get this project started? It's very important to our company."
"Well, as the proposal says, the first stage will need quite a lot of involvement from some of your staff and we can get started almost immediately once you tell me who will be on the team from your side."
"That's easy," replied Dan. "I can arrange that quickly. In fact, how are you for time? If you can wait a few minutes I'll briefly introduce you to the four I had in mind."
Less than five minutes later Dan re-opened the door to the meeting room and ushered four beautiful Thai kathoeys into their seats opposite Mark. He quickly ran through the purpose of the meeting and explained that Mark was to be an external consultant to the company for the project in question.
"I'd like you four to work closely with Mark and let him have any assistance and support he needs," Dan continued, looking at each one of the women in turn. "These are four of my very best, most capable staff," Dan said turning to face Mark. "I'm sure you'll all get on well."
"Yes, I'm sure we will," said Mark. "Nice to meet you all," he added, yet thinking, I must be dreaming. Four stunning colleagues to work with, what more could a man want?
"So let me introduce the ladies to you," Dan said. "Khun Lek, who I think you met earlier, Khun Dao, Khun Noon and Khun Ning."
Each one of the ladyboys smiled as she was introduced, "wai'd" (the traditional Thai greeting with hands clasped together in front of their faces) and said hello to Mark.
"They have all been with me for over…."
But Mark wasn't really listening to Dan's last sentence. His brain was racing at the prospect of working with these ladies.

A chat about Thai kathoey gender identity
Once the women had left the room, Dan sat on the edge of the conference table. "I'm pleased we can work together on this project, Mark. We think a lot of your company and believe you can do a good job for us. Plus, we've got a great team to help you, so it should be a win-win. No problem working with all women?"
"Er… er, no," Mark managed to say surprisingly convincingly, hoping his consternation wasn't showing. "In fact, I'm looking forward to it."
"Good!" Dan declared. "By the way don't be put off by the fact that they are all transsexuals, they're not Pattaya ladyboys and they aren't prostitutes, they're all good workers. I understand though, that some people might be a bit unsure about them," he added, his brow furrowed.
"I've always found Thai kathoeys to be unnecessarily maligned," Dan began, looking directly at his friend, but appearing to be thinking aloud rather than talking to him. "Most of them I come across are hard-working, diligent and motivated. It's almost like they have something to prove to the rest of us. A bit like the situation with gay people 10-20 years ago, really."
"I see…," interjected Mark, nodding his head.
"What you have to remember is that, fundamentally, Ladyboys are women. Sure, some may look masculine in certain aspects, but appearances can be deceiving. Mentally and temperamentally, either with or without hormone supplements, they are women.
"One big problem arises as most people misunderstand exactly what constitutes gender. In my view, a person simply has to present herself as female if that is what she feels inside. I'm not at all interested in their biological gender."
"I see," said Mark again, conscious that he was repeating himself, but seeing the rationale in Dan's comments.
Dan suddenly stopped speaking and stood up. "Sorry, I got carried away; I really hate prejudices and discrimination against minorities just because they are somehow different." He smiled. "Want some lunch?"
"Sure, let's do it," replied Mark, closing his laptop and also standing up. Message well received! I'm sure it will be a pleasure to work with these Chiang Mai ladyboys!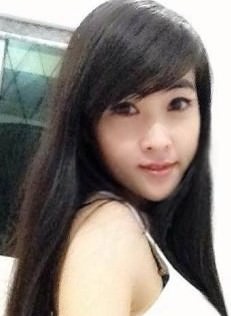 This lovely petite young lady, 28 years old and only 47kg, is looking for a western man to be her boyfriend. If you would like to meet up with girls just as lovely, you can with

My Recommended Dating Site: