Thai Visa Runs to Cambodia

For the uninitiated, Thai visa runs are a bit of a mystery. Before I actually went on one myself, I had thought that I might need to fly out to Vientiane in Laos, or maybe even Manilla. I was thinking that the whole thing might cost me upwards of 20,000 baht!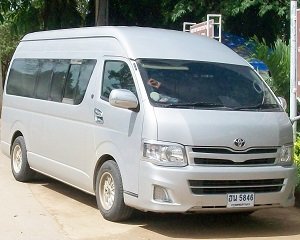 I had even been to a travel agency just off Soi 7 in Pattaya and asked about visa runs, only for the lady in the shop to tell me that she first needed to see my passport before she could tell me anything, and that yes, I would need to fly out the country!
Load of nonsense, there was something about the girl that I didn't trust. I'm not saying she was trying to rip me off, but I could sort of sense that she didn't really know what she was talking about. This happens a lot in Thailand, people will tell you what they think you want to hear rather than just own up and say they don't actually have a clue! Always keep that in mind with regard to Pattaya information services...

Anyway, off I went in search of a new travel agent. I found two on Soi 13,2 - as you come off Beach Road and start walking up the Soi, the first two shops on your right both do Thai visa runs. The first one wanted 2,000 baht for an all inclusive Cambodia visa run service. It turns out you do need your passport, and two passport photo's when you book the thing, but I didn't have them at the time so off I went promising to return the next day.

The day of the Pattaya Visa Run to Cambodia:
Next day comes and the shop is closed so I tried the one next door. I wasn't sure at the time whether or not they did a Cambodia visa run service as there was no sign to say so in the window. No problem though, I walked in and asked about it and yes, there's a minibus service every morning. The cost - 1,800 baht all inclusive!
The all inclusive bit means that, when you get to the Thailand/Cambodia border, there is no fee to pay to the Cambodia officials. I had done some reading up on Thai visa runs to Cambodia by this point, and I was aware that the Cambodia officials charge a fee of 20 U.S. dollars (or 1,000 baht if you don't have it) to stamp your passport at the border. With that fee included in the 1,800 fee I had already paid, the Cambodia visa run service was very good value. There was even a meal thrown in on the way back!
I was told that the minibus would arrive at my home address sometime between 6:30 and 7:00 am and that I should be ready and waiting outside. Sure enough, at 6:25 I got a phone call telling me that the minibus was on its way and would be here at 6:30. It arrived as promised. There was one more pick up to make before heading off to Cambodia, and that took no more than 5 minutes.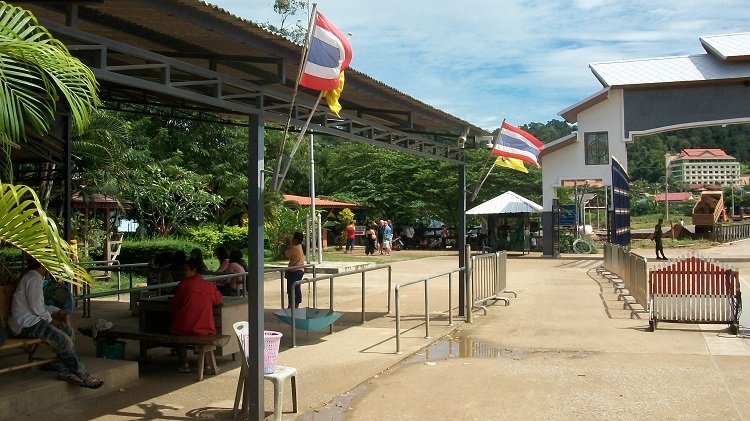 The minibus was a silver Toyota Commuter. At a guess I'd say it was about four or five years old. Inside was a clean and tidy, grey and black velour, with comfortable reclining leather seats. I counted seven other passengers, the driver and a driver's mate. I'm not one for conversation at 6:30 in the morning, so I was happy enough that the other passengers were mostly interested in getting some sleep.
Our driver, Mr Boon, was a man on a mission. I reckon that Thai visa runs are a bit unpredictable in terms of traffic. Mr Boon was determined to get where he was going. His cruising speed was 130kmh; if the road had three lanes, Mr Boon was driving at 130kmh. if the road had a single lane, Mr Boon drove at 130kmh.
If Mr Boon met with traffic in both directions, Mr Boon drove at 130kmh! No idea what the top speed is for a loaded Toyota Commuter, but I've got a sneaking suspicion that it might be something like 130kmh!
Apart from a fuel fill up around 7:10, and a telephone call at about 7:40 whilst everyone was sleeping (well, either sleeping or holding on for dear-life whilst Mr Boon navigated his way through various obstacles), the Cambodia visa run was fairly uneventful. By 9:50 we had arrived at the border.
At the border there were two offices, one Thai the other Cambodian. About 30 to 40 people were lining up waiting to exit Thailand. Once you get through the Thai office, the Cambodia office (actually more of a small open air restaurant with a Cambodian official sat at one desk collecting passports) was just a few yards further on.
Mr Boon and his mate were very efficient in collecting our passports and handing them in. There was no paperwork to complete, all that had been taken care of already. It was just a matter of waiting for the passports to get stamped. There is a duty-free shop at the border where you can pick up cheap cigarettes and alcohol if you like. Mr Boon was a keen buyer, and he got those of us that didn't buy anything to carry some items back over the border for him.
By 10.25 I had got my passport back and passed back through the first office to collect my new 90 day stay permit. Just after 11:00, we were all back in the minibus and were on the return leg of the Cambodia visa run service.
Thai visa runs; the return journey
By this time I had figured out that there was another reason for Mr Boon's unique driving style - it was the only form of entertainment. Thai visa runs are dull, necessary but dull, that's the only way of putting it. Apart from a second fuel fill-up and a bowl of noodles (provided free), the return leg was uneventful.
The highlight of the return trip came when, during a ten minute stop, one of the passengers went AWOL. He had decided, after lazing around for the 10 minute break, that now would be a good time to empty his bowels. Mr Boon had to go into the toilet to retrieve him. Out he walks half way through a cigarette. I ask you, what kind of person chooses to smoke a cigarette at the same time he is taking a dump?
By 14:45 we were in Jomtien dropping passengers off one by one. As I was second to last getting on the minibus, I had to wait until second to last before I could get off. No problem, by 15:25 I was back, a job well done at a fraction of the price I thought I might need to pay.
If your stay in Pattaya means that you need to go on Thai visa runs now and then, I can recommend the Cambodia visa run service. They are boring, but they are good value!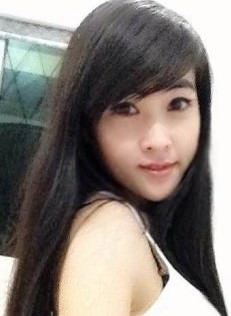 This lovely petite young lady, 28 years old and only 47kg, is looking for a western man to be her boyfriend. If you would like to meet up with girls just as lovely, you can with my:
Recommended Dating Sites: