Russian girls in Pattaya & Sex
The topic of Russian girls in Pattaya is raised from time to time amongst the Pattaya faithful, and it's a subject that often divides opinion. For some guys they are the loveliest of specimens, for others they are not so lovely and are regarded as being a scourge to be avoided at all costs. Bad attitudes have been reported, so be aware!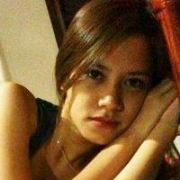 Modern technology is having a big impact on the bars in Thailand... the best girls have always been reluctant to work in bars for fear of being seen by someone from their hometowns, but there are lots of girls online at my:
The disagreement usually circles around two points:

Firstly, the admiring group make the observation that these long legged lovelies are beautiful, even more so than the local Thai girls.
Secondly, the dissenting group argue that the attitudes of the Russian hookers in Pattaya are not good, and sometimes verge on outright hostility!
In terms of the beauty of the Russian girls in Pattaya, I personally am not completely won over by them. Don't misunderstand me, there are some stunners to be found, it's just that the majority of the girls that I've seen are not great looking.
You'll have to dig around a little if you want to unearth a little nugget of gold.
With that said, you could make exactly the same statement about the Thai girls in Pattaya but, in their case, searching out the beauties is much easier due to the huge number of them. You've got a much smaller talent base to choose from with the Russian ladies here.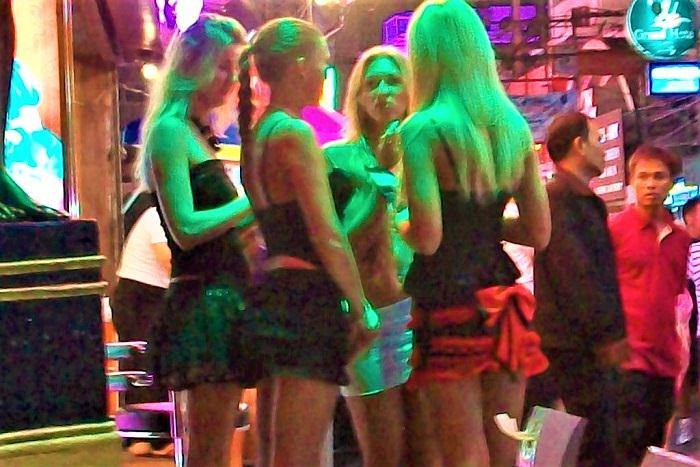 Some Russian girls on Walking Street, Pattaya.
Attitudes & Bar Mechanics
To those guys that insist that the Russian girls in Pattaya are the most beautiful, my advice to you is to reserve judgment until you've had time to check out the ladies that work in the strip clubs of Eastern Europe.
I've been to Prague many times and I can tell you that the ladies of the night over there are something else entirely, and they're in a different league to anything that I've seen in Thailand.
I'd go as far as to say that, on average, they are genuinely the most beautiful girls that I've ever had the good fortune to meet… but enough about Europe, were talking here about the Russian girls in Pattaya.
The bad attitudes that are reported from various quarters tend to relate to some misunderstandings about how things are done. In particular there is often some resentment about the prices that are charged in two of the most popular places for meeting Russian hookers.
The prices in the Walking Street 'European Girls' a-go-go bars are high; a beer costs at least 250 baht and as soon as you sit down a lady will come over to you and perform a dance, which will cost you.
If you are not really in the mood for this, and you think that you can simply wave them away, then you'll have a surprise in store. Dances are compulsory… as is a payment for the privilege! Then again, if you're not in the mood for a lady to give you a sexy dance, then you probably shouldn't have wandered into one of these bars in the first place.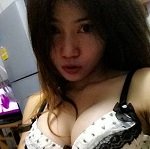 There are tens of thousands of Thai girls searching for romantic adventures with western men online. You can easily find good-looking girls for casual sex and fun times, or someone suitable for something more serious on my:

I think that these a-go-go bars do have a role to play, and they do add an extra dimension to the already world class nightlife offered in Pattaya.
Some men seem to love them and, on the few occasions that I've stepped inside them, there has always been a larger patronage of Middle Eastern gentlemen inside than you usually find in other venues. They always seem to be having a good time too, so I guess it takes a wealthy sheikh to shrug off any concerns over the Russian girls' prices in these a-go-go bars.
Now, I'm no bar owner and I have no problem with a bar charging whatever price that they see fit, but I do think that most men in Pattaya kind of expect prices to be low. Where this is not the case I think that a little more signage, in order to indicate that prices are higher, would not be a bad thing.
This signage would certainly apply to the 'European Girls' a-go-go clubs on Walking Street. In addition, some explanation of the compulsory dance system that requires patrons to put their hands in their pockets would not go amiss.

Russian Escorts in Pattaya
You'll have to do a little searching around on the internet if you want to find a decent sized selection of Russian escorts in Pattaya because most of them tend to work for agencies in Bangkok.
Quite a lot of the Thai escort agencies in Bangkok actually have some Russian ladies on their books, so one solution might simply be to use a Bangkok agency because you can always arrange to meet theses Russian escorts in Pattaya. It's less than a two hour drive from Bangkok.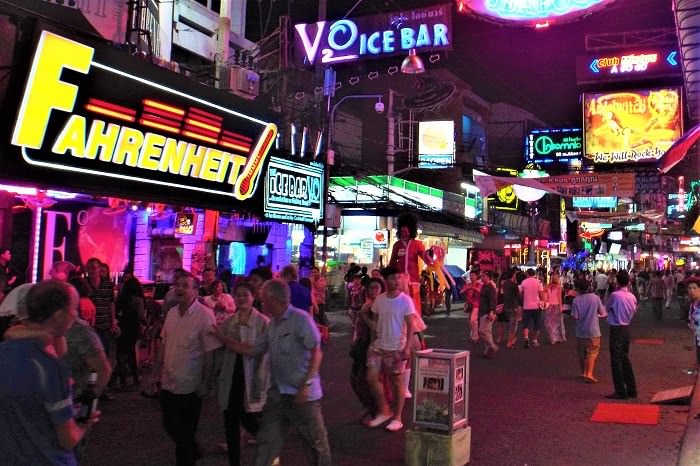 Walking Street; you'll find many things here, including Russian girls.
Judging by the pictures posted on those escort sites, the girls are stunningly beautiful, and much sexier than the girls on Walking Street. However, they are just pictures and I've no idea what the girls look like in person.
In any case, you'd better make sure that your finances are up to it because I've seen one all-night rate quoted at 20,000 baht! Russian escorts in Pattaya don't come cheap, but that price is way in excess of anything I've seen before in Thailand.

Freelance Russian hookers in Pattaya
Getting back to the perceived bad attitudes of Russian girls in Pattaya for a moment, I thought it might be worth pointing out that you'll be unlikely to experience any such thing if you head off to one of the discos in search of a companion.
There are two in particular that attract these girls that are worth a look. The Mixx nightclub and the LimaLima club, both on Walking Street, are the best venues to head off to.
You'll find both regular Russian girls in Pattaya, who are on vacation, as well as some freelance hookers. The prices for working girls here are much lower than in the a-go-go bars, but you can still expect to pay more if you want the company of a Russian working girl.
Prices tend to be roughly double what you would pay for a local Thai girl, so something like four thousand baht for an overnight liaison is roughly the going rate.
I get the impression that Russian girls in Thailand expect a man to be a man in the traditional sense, and that they might not respect your feminine side should you decide to show it to them. Actually, this is probably also true to some extent of Thai bar girls.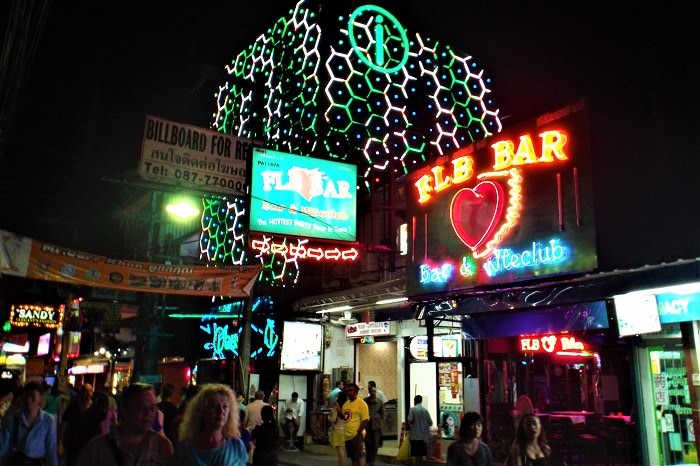 Insomnia (background) and FLB discos in Pattaya.
I used to be a regular patron at a particular restaurant/bar in Pattaya and I would often see a Russian man come in for breakfast in the morning. He always came in with a different Russian companion, and sometimes more than one. At no time did I see anything resembling a bad attitude from either him or the Russian girls in Pattaya that he dined with.
I believe that you too can expect the same good behavior once you start to understand Russian culture. Sadly, you won't find any instructions about that on this site… I think that it is a big enough task for this site to give you a grasp of Thai girls and their customs!

Final thoughts about Russian girls in Pattaya
I can see why a long-term visitor to the land of smiles might want to mix things up a little and get cozy with a Russian lady, but I'm guessing that Caucasian guys on short term visits will just pass them by.
If you originate from a country where white girls are a relative rarity, and you have the financial resources to procure their services, then you can have a good time with Russian women. I will help if you are a more masculine type of guy who can project a no-bullshit sort of personality without actually being an asshole, because the girls will respect that.
Even if you do hail from a country where white girls are unavailable, I'd recommend visiting somewhere in East Europe such as Prague or Bratislava, because the girls there are the most beautiful I've ever seen. They are almost all slim, with long hair, and long legs…
The Russian girls in Pattaya are a long way from interesting me personally, but it's partly a case of different strokes for different folks. They remain too few in number to easily find pretty girls that make the grade in a city where there are endless options for single guys. Numbers are growing though, with many Russians living in Pattaya these days.
On the other hand, on my next long-term visit, I might succumb to the temptations of the Russian escorts in Thailand, but I'll need to save my pennies for that to happen :)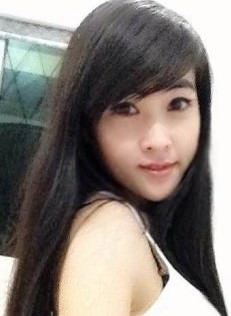 This lovely petite young lady, 28 years old and only 47kg, is looking for a western man to be her boyfriend. If you would like to meet up with girls just as lovely, you can with my:
Recommended Dating Sites: