Bangkok Ladyboy Story

By Wesley (from the USA)
My Bangkok ladyboy story comes about from a typical night out on the town in the big mango, the home of so many adventures on to the wild side of life... Bangkok ladyboys are truly amazing creatures.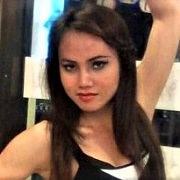 Long-term ladyboy dating success can easily be found in Thailand, but don't take silly risks in Pattaya, there are much safer options in other destinations. The list of advantages is long, and you're best opportunities are on:

So many are completely indistinguishable from ladies, in appearance and manner, and you wouldn't ever guess they were anything but ladies, especially on the late night dance floor.
The night had started with a few friends at a small ya dawng whiskey stand not far from where we lived. Tucked away in a grassy lot beside some run-down, super low rent shanty things at the end of a dead end road. We shared a few pints of whiskey there and decided to go into town to work on a bottle they had at an after-hours club.
I can't remember what club it was but I do remember two things – it was supposed to be open all night (it was already past two) and the police arrived shortly after we did.
We wandered to a few other places, but nobody wanted to pay cover so they decided to go home. I'd started hitting on some Ukrainian girl sitting outside and told them to go on ahead. The girl ditched me and I wandered off on my own.
The next taxi I caught offered to take me to a nightclub, with dancing he said. So I went. We got to the club and he wanted to go in with me, which was weird. When I walked through the door I realised what had happened.
Some Thai girls waiting to be 'chosen'
To the left was a small bar; directly ahead in the centre of the room were a number of small couches and soft chairs and to the right was a horseshoe shaped recess with a floor to ceiling mirror and low bench running along the entirety of the wall. The bench was covered with girls in numbered bikinis.
Under pressure to choose a girl...
I was pressured and surrounded; the proprietor and the driver gave me a drink and led me to a couch, where they sat on either side of me. I love watching Thai bar girls, chatting and flirting, but that was not what I was out to do that evening. I was also pretty sure this place had an expedited system that didn't involve nearly as much flirting and coaxing as you'd get on Soi Cowboy.
Even more pressing, I didn't have the money for that kind of foolishness but I'd been spotted. A lean, dark skinned girl was smiling and making her way over to me. I looked at her chest, number 8.
As is the way with bar girls in Thailand, she didn't waste much time. She sat down beside me (the proprietor had gotten up to make way) and started pawing and fondling me.
She said she was a southern girl, parents caught fish. The driver was smiling and nodding at me and the proprietor had come smiling back with a piece of paper that had a few numbers written on it, prices for number 8. I said everything looked great and I would just run to the ATM and be right back. I walked out the door, turned left, took another 4 or 5 casual steps, and then ran to the end of the alley.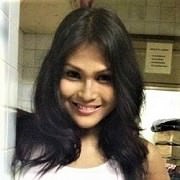 Thai ladyboys have a tough time maintaining long-term relationships with Thai men due to family pressure to start a family. This inevitably leads to a lot of lonely transsexuals, many of whom have profiles on:

As I had a smoke on the corner to collect myself a tuk-tuk pulled up with two foreigners, guy and girl, and their driver had fed them the same line mine had fed me. I warned them and they said they would go have a look and if it wasn't what they were after they'd come back and the three of us could continue the search for a real nightclub together.
They came back pretty quickly. We ended up at a pool hall that was still showing signs of vigorous life at 4 in the morning, and realized that there was also a restaurant open, both of which were great news. This was inside a walled enclosure off the soi, with a big sliding metal door and a smaller metal door on hinges. In other words we were "out of sight, out of mind" and it didn't matter how much the law was being violated.
After some food, a few drinks, and the mysterious reappearance of the friends I'd started the evening with, it came to our attention that there was a second bar in the enclosure that would be opening up at 5. As the other bar had already closed and we were on the war-path we decided to hang around and wait.

Thai ladyboy Story; Chinese dress...
The bar was up a narrow flight of stairs and fairly small, but the energy in the place was undeniable. Flashing lights and a pretty good DJ had the place moving around and it wasn't very long before I'd locked onto the belle of the ball. In her skin-tight, red silk Chinese gown she was the most irresistible creature I'd set eyes on that evening and I moved in.
I was drunk at this point, so as far as I was concerned my dance moves were impeccable and I made a great show of them...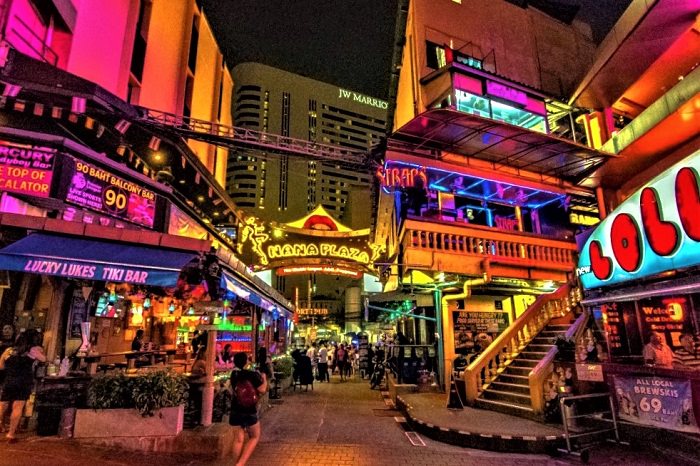 Nana Plaza, one of the tourist focused nightspots in Bangkok.
We danced back and forth together for a while, chatting, and it seemed like things were really starting to go somewhere. When I went to get myself another drink, I looked back from the bar and saw one of the guys I'd been partying with all the way back at the evening's beginning chatting her up.
Jealousy flashed and I decided to go in for the kill. We danced closer and closer, and I decided to break the local rule regarding public displays of affection and pulled her in for a kiss. It was wonderful, and it's probably not breaking the rules if it's 7 in the morning at an illegal after-hours club.
And then to tie the not... "I'll go home soon"
A blush and giggle... "I like to go home with you, you nice"
Elation, what a beautiful conclusion to a beautiful night. I may have run out of money, but I never ran out of luck. As we made our way out into the burning light of early morning there seemed to be something amiss, and the taxi drivers across the lot were giving me funny looks and laughing amongst themselves.
We walked out to the main soi and caught a taxi back to my place and snuggled shamelessly for the duration of the ride. Embarrassingly, she had to pay for the taxi as I didn't have any cash on me, but she didn't seem to mind.
When we got to my room I got her a drink from the fridge and told her to make herself comfortable while I freshened up a bit. Making my way into the bathroom I saw her beginning to undress. I went for a quick shower, just a few seconds to rinse the nocturnal city off myself, and toweling off with toothbrush in my mouth I heard her call to me, "I no have milk."
(Editorial note: Thai ladyboys and girls refer to their breasts as 'milk'.)
Suddenly, realization as to why the idle drivers outside the club had been grinning hit me; my beautiful lady was no lady at all (Editorial note: Thai ladyboys do sometimes assume us Westerners know the score even when we don't. If you have any doubts, ask.) I also realized that her confession wanted some response from me.
"That's fine; you're so beautiful I won't miss them."
This was brand new territory for me. I had read too many Bangkok ladyboy stories since I'd moved here, how could I not investigate? But I was still shy about it and it was hard to admit, even to myself, that I was actually more excited about my new friend now that I new she was packing a little something extra and that things would likely be a little bit more exciting than the usual one night stand format allows for. But I also had some new concerns.
"I don't have any money."
"That's okay, I don't want money, I just want to..." she moved on me now, pulled my towel away, wrapped her lips around me, and I felt myself melt into that sweet ladyboy abyss that would be my next three months...

Editorial Note - Key Learning Points:
For detailed information about long-term romantic opportunities with ladyboys, have a look at my main page: Dating Ladyboys in Thailand

If you have been living on Mars until now, you might not have any knowledge of the wonders of the Bangkok nightlife that await you. This Thai ladyboy story is not unusual, and there are way more western men that are interested in these sorts of encounters than is commonly admitted to.
Whilst the author makes the reference "out of site, out of mind" regarding the legality of the out of hours clubs, it is made somewhat light-heartedly. It is best to stay on the right side of the law in Thailand, but there is no doubt that many things that are technically illegal whereby laws are not particularly well enforced. For example, prostitution is illegal, but I imagine you have heard that it is not exactly unknown in Thailand!
The story demonstrates that it is perfectly possible to meet Thai ladyboys (and girls for that matter) in regular nightspots outside of the regular tourist areas. In these places you are more likely to find someone worthy of dating for a little longer than is recommended with working girls.
It was illuminating that, at the end of his Thai ladyboy story, the author confessed that he "did not have any money" meaning that he was not certain if his companion was expecting payment. If he had met someone in a tourist area, you could be sure that payment in the morning would be expected, but this was not the case here and that is somewhat typical of regular Thai focused nightspots.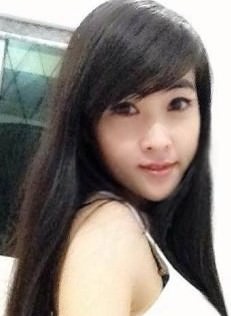 This lovely petite young lady, 28 years old and only 47kg, is looking for a western man to be her boyfriend. If you would like to meet up with girls just as lovely, you can with

My Recommended Dating Site: