Hat Yai Girls

(Sex, Escorts & Dating)
The first thing to know about Hat Yai girls is that they don't see a lot of western men, which makes us a bit of a novelty. Most tourists here hail from Malaysia or Singapore due to the proximity of the city i.e. about 40 km from the Malaysian border.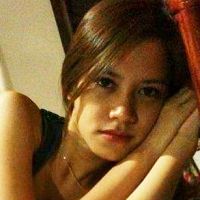 Why bother with the bar girls and hardcore hookers when you can meet someone much better online? If you prefer a more slow paced and intimate way of meeting ladies for sex and romance, you might be interested in checking out:
The city (the largest in South Thailand with a population of around 160,000) is not really on the western tourist's map, but in my opinion it should be.
The Hat Yai nightlife scene reflects the preferences of its foreign visitors by being dominated by Karaoke bars, with waitresses available for take-out. Karaoke is not really my sort of thing, but at least these venues come with standard bar prices rather than the astronomical fees that you find in Bangkok KTV bars – the ones targeted at Japanese tourists.

Hat Yai Escorts & Prostitution
There is only a very small number of Hat Yai escort girls to be found online, and getting any information on the local prices for their services is difficult. I suspect that given the small number of escorts in Hat Yai that prices will vary widely.
All in all, I think you'll have more success with online working girls if you look for them on a regular dating site and, as ever, my recommended dating site is the place to start.

For ball-park Hat Yai escort girl prices, have a look at my page about:
There is a significant number of prostitutes working in the city, and most work in bars or as freelance hookers. As with other locations, Hat Yai bar-girls are usually available for private appointments with customers if they work in the bars popular with tourists.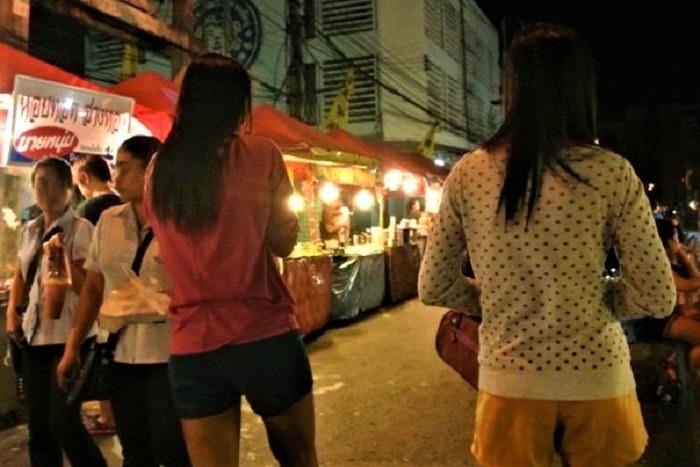 Hat Yai girls at the city's night-market
Your other commercial Hat Yai sex option is to find a suitable massage parlor. Happy ending massage in Hat Yai is not as widely available as in other areas of Thailand, but it does exist... including the all-important soapy massage!
There isn't much of dedicated red-light district in Hat Yai, but there is a larger concentration of bar-girls and freelancers to be found close to the night-market.

Meeting my Hat Yai girlfriend
By Axel (from Prachuap)
I first paid the city a visit during a journey from Bangkok to Butterworth, in Malaysia. The overnight train arrived around 6 in the morning and I checked into a guesthouse near the train station. I would just spend the night in Hat Yai and continue my travels the following morning.
The guesthouse was a large run-down hotel that had been converted into budget accommodation, and was popular amongst backpackers.
The establishment had a lot of staff: Several receptionists, 3-4 cleaners, 2 in the kitchen, 2 in the travel agency and the manager, who was the only male. There were plenty of Hat Yai girls under that roof, and I suspect that the manager had a somewhat unusual recruitment policy!
Since I had taken a liking to the guesthouse I came back on subsequent visits again and again. I usually ended up staying for 10 days each time and I got to know the manager and all the Hat Yai girls that worked there.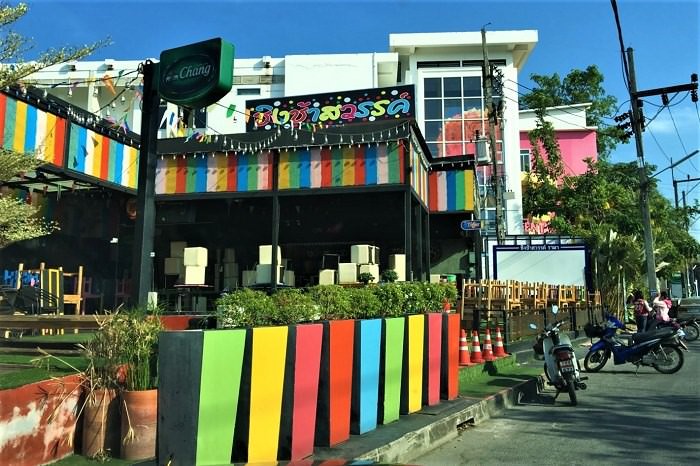 One of the better Hat Yai bars.
There was a pleasant woman in the kitchen named Pong. She was quite short, had a normal build and wavy hair that was tied back. She came across as having a slightly low self-esteem, or troubled by life.
Pong was really keen on practicing her English. Whenever she waited tables, she usually engaged in small talk. Unlike most Thais, she wasn't that shy or worried about making mistakes. Her English skills were quite basic, but it was easy enough to understand her.
One day she asked me if I could teach her English. I could tell by the look on her face (she blushed and smiled at the same time) that it would mean a lot to her, so I agreed to help her out in exchange for some Thai lessons.
Generally speaking, Hat Yai girls speak less English than you find in the western tourist focused areas, but many of the girls there are keen to learn when the opportunity presents itself. We arranged to meet in the restaurant the next day, after she had finished cleaning up the kitchen.
Pong's cousin, Mem, worked in the travel agency downstairs. She was short and skinny, full of energy and quite hot-tempered. Mem did speak really good English and I had just learned that she had a Japanese boyfriend. The two Hat Yai girls shared a room in the center of town.
I was looking forward to the first lesson. Pong was running a bit late and came up to me in the common room to ask if she could go home quickly to shower and change. Before she dashed off with a big grin on her face, I told her, "Don't forget to bring a notebook and a pen."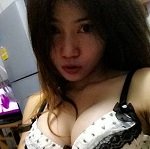 There are tens of thousands of Thai girls searching for romantic adventures with western men online. You can easily find good-looking girls for casual sex and fun times, or someone suitable for something more serious with:
English Lessons
When she returned, one of the older cleaners teased Pong and called her teacher. I hardly recognized her; I was used to seeing her in plain work clothing and an apron. Now, she was wearing nice clothes, bright red lipstick and makeup, rings and earrings, a thin necklace and a racy blouse that exposed the better part of her chest.
As you can imagine, I started wondering if these lessons might turn out to be more fun than I'd expected…
First we worked on her English for about an hour. She was really eager to learn and took plenty of notes. Then I asked her to help me with my Thai for 30 minutes or so. Pong had brought a Thai-English dictionary, and I used it to look up English words for her whenever she didn't understand what I said.
Throughout the lesson my attention was drawn to her cleavage, again and again, it was hard not to look. The revealing blouse did the job. Before wrapping up, I gave her some homework and we scheduled another lesson.
Once I had closed the door to my room, I lied down on my bed and went over what had happened. Pong was clearly after a foreign boyfriend, or phrased differently, she wanted to improve her English and have a foreign boyfriend. What's more, I reckoned that her cousin Mem had encouraged her to dress up like that.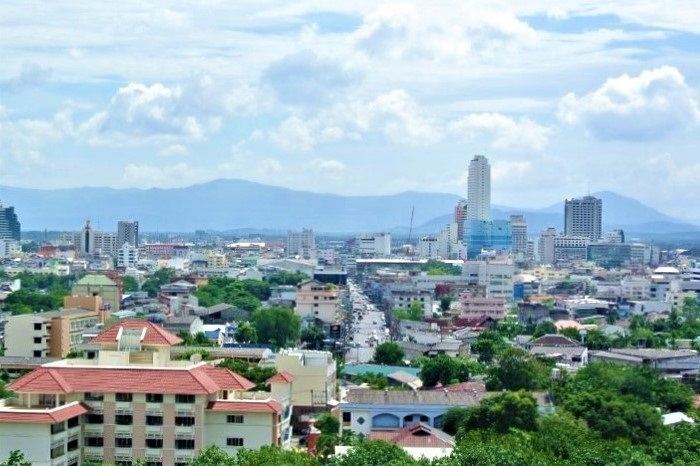 Hat Yai, located in south Thailand.
Pong was not the feminine type, so the bright red lipstick and the makeup wasn't her, she looked much better without it. I had never expected the Hat Yai girls to set me up like that. What a pleasant surprise.
We continued to meet in the restaurant, after she had finished work, about 2-3 times a week. Pong did her homework and her English improved steadily. After some time she started to dress casually, wearing jeans and a t-shirt, without the makeup and the rest of it.
As we got to know each other better it got more relaxed. We had a lot of fun during the lessons. One time she started to laugh out of the blue at my western facial expression, while I was trying to remember a Thai word. Sometimes a grimace is all it takes to entertain a Thai woman!
Every time I stayed at the guesthouse, Pong and I continued with our Thai-English language exchange. The staff had gotten used to our lessons and had stopped teasing her. The first time I asked if she cared to join me for dinner, she shone like the sun and smiled.
I took her to a funky jazz bar, where we listened to live music and had good food. It was a relief to get away from the guesthouse scene, and to be alone with her.
She smiled a lot, and so did I. Pong was curious about Europe and the US. She always asked lots of questions and tried to understand what life was like in the west. I could tell by the look on her face that she tried to take in all the new information, and piece together a mental image of what the west was like.
Thai Dating Mega Book
For anyone who wants to impress the loveliest ladies in Thailand, and win their hearts, my instruction rich mega book is here for you: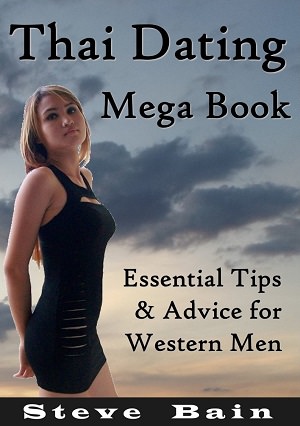 Find beautiful, trustworthy girls for long-term romance, or fun-loving ladies for casual sex with no-strings attached.

Learn all about Thai Dating Culture, what to talk about, what to avoid, how to present yourself, and how to impress.
Comes with my ongoing support, i.e. you'll be able to ask me questions and get my answers.
ONLY $27.00
Before we left the jazz bar I handed her a large banknote and told her to buy some nice clothes. Her reaction reminded me of a little kid who was meeting Santa.
We continued with the lessons, even after we became a couple.
All in all, if you get the chance to travel down south somewhere a little off the beaten path, I recommend the Hat Yai girls and the simple way of life in the city.
Final thoughts about Hat Yai girls
Being a little off the beaten track, at least for western tourists, makes Hat Yai a good choice for anyone looking for a serious girlfriend. The same cultural barriers that present themselves elsewhere in Thailand are present here even though the deep south of Thailand is relatively more Muslim in nature.
To get acquainted with Thai dating culture, and thereby give your romantic overtures a serious lift, consider buying my eBook:
In appearance, the Hat Yai girls tend to be a little shorter and darker skinned than other Thais. There is a smaller number of ethnic Chinese Thais here, and a larger number of people from Malay decent.
The cost of living in Hat Yai is extremely low, and much lower than the popular south Thailand destination such as Phuket and Krabi. Rental costs are really low, as are all non-touristic prices.
The general level of safety is high, and even the UK government travel advice puts the city in the safe zone, albeit only just. A few kilometers to the south of the city is an area that's regarded as being somewhere that non-essential travel should be avoided.
There was a recent terrorist attack in the area with Muslim separatists from the 'deep-south' suspected of being responsible, but Hat Yai itself is not located in the separatist area and is usually left alone. Check this news article for details.
The dominant religion is Buddhism, but there is a more sizable presence of Islam here than in the main tourist areas. The local people are friendly toward tourists, and the traditional Thai smile is rooted in the local culture.
I'd take note of the climate, it's significantly hotter than most Thai locations due to the closer proximity to the equator and the low altitude. March through to May can see temperatures rising close to 40 degrees Celsius, so if the Hat Yai girls don't get you all hot and steamy, the weather certainly will…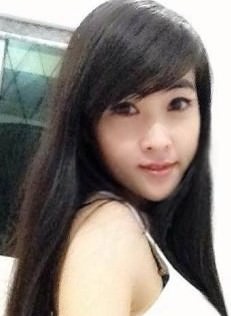 This lovely petite young lady, 28 years old and only 47kg, is looking for a western man to be her boyfriend. If you would like to meet up with girls just as lovely, you can with

My Recommended Dating Site: