Bangkok Dating Story
By Wesley (from the USA)
The various women in my own Bangkok dating story have come with all conceivable temperaments, and often with no visible sign on the packaging as to what's inside...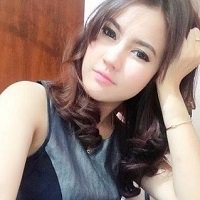 If you want to meet a lady for serious romance, online dating is a better place to start than a disco in Pattaya. The tourist focused bars are no good for meeting the love of your life, but there are alternatives online at:
The archetypal soft spoken conservative girl stands next to the man eating dominatrix behind the bank counter, in the checkout line, at the market, on the BTS, and we'd be none the wiser were it not for the miracle that is online dating.
Sure, some Bangkok girls advertise certain aspects of their attitudes towards life with clothing and ink, but not all of them can afford this kind of transparency, and there are many distinctions that can be every bit as divisive, though not quite as sensational.
There are ways to use the Bangkok dating sites to target like a sniper and hit your mark most of the time. Unfortunately, I managed to get tangled up in all kinds of awkward romances before I worked this out.
One of the biggest revelations came in realizing that lots of markers can make for a really exciting short term adventure, but there are these awful minutia's that begin to surface after a few months and the milk starts to sour.
Of course I had some vague idea of what I was after from the dating sites, and that helps. I didn't want to jump right into the rest of my life with a serious Thai girlfriend, so anyone who mentioned marriage too much in their self-descriptions was out.
Things like caring for others, making people happy, and good cook also show up a lot in the self-descriptions, indicating that there is a strong and urgent compulsion to domesticity. This might be absolutely perfect for some people, but not me.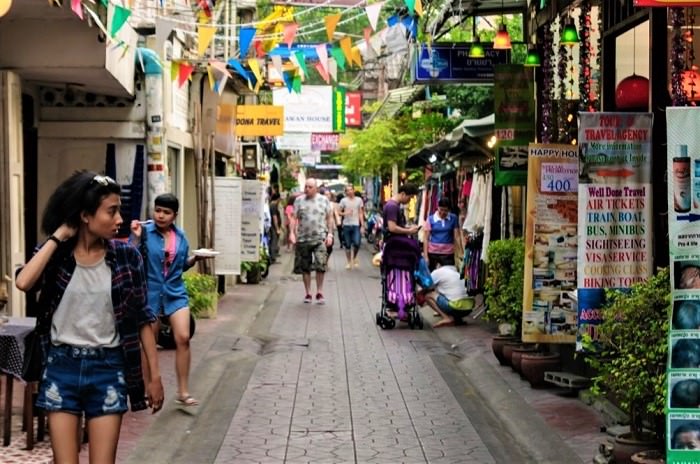 Bangkok is a good place to exercise your 'daygame' skills.
I spent two weeks talking to one girl, and another month dating in Bangkok, with no more common ground than physical attraction and a love for homemade food.
I saw that she had graduated from a culinary program and worked as a cook. I was also a cook for nearly 6 years, and have even written a few cookbooks. I thought it would be fantastic grounds to get together.
While I did get a lot of really good food delivered to my house by a pretty girl, things dissolved pretty quickly. She loved pop music and soap operas, she didn't really read anything (I don't mean English language literature, which I wouldn't begrudge, I mean anything), and there was absolutely nothing for us to talk about except facts about our daily routines.
Despite my best efforts I could not stomach more than 5 minutes of the inter-pop music. I love morlam and luk thung, I own a couple of Carabao cd's that I enjoy quite a bit, but the pop music here could not possibly be more repetitive. I really think it's just one song and they put different words around love.
So when things developed to the point that I was expected to commit myself to regular couch and TV time, or hanging around with the bubble-gum radio ambiance, I had to make a break for it. It wasn't particularly hard, she was forever annoyed by my rambling on about things that she was aggressively indifferent to.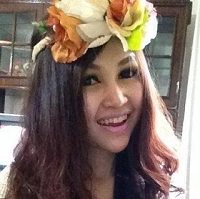 Contrary to popular opinion, Thai girls make excellent wives if you choose wisely. But don't select a long-term partner from a tourist area and hope for the best, it's far too risky. There are much better options online at:
A new chapter in my Bangkok dating story
Back at the Thai dating drawing board; I decided to pay closer attention to any prospect's interests and hobbies. This increased my confidence. Through a sort of filtration process I came to know the 'bookworm'. She was actually really bright; cute too, if perhaps not too shapely.
She had graduated from Chula with a degree in English Literature and was teaching for a little while before she left for grad school in the US or England. She'd already been accepted by some impressive schools.
We even liked a lot of the same kind of stuff, speculative future dystopias and remorseless social satire, and she liked real music. Her tastes were diverse, lots of the Beatles, handful of lounge/jazz crooners, and some heavy classic rock. She really like guitar solos, and thought Jimmy Page was fantastic.
I don't like Jimmy's stuff that much myself, but I saw an opportunity here to try a few more English axe wielders on her. First I hit her with McLaughlin and Mahavisnu, she loved it. My heart was in my throat. Then I tried some Fripp, she loved it too.
I was ready to kick in her door and sweep her off her feet and into the sack, but I'd only gotten to second base, which in this context I assume to be exchanging some kind of chat app details.
Giving out Facebook information is a bad idea and I try to avoid it; it's just another level of entanglement if the relationship ends up being something you don't want to keep with you. I mainly stick to sharing information on the dating sites, I wait until after I've actually met someone to go as far as Facebook.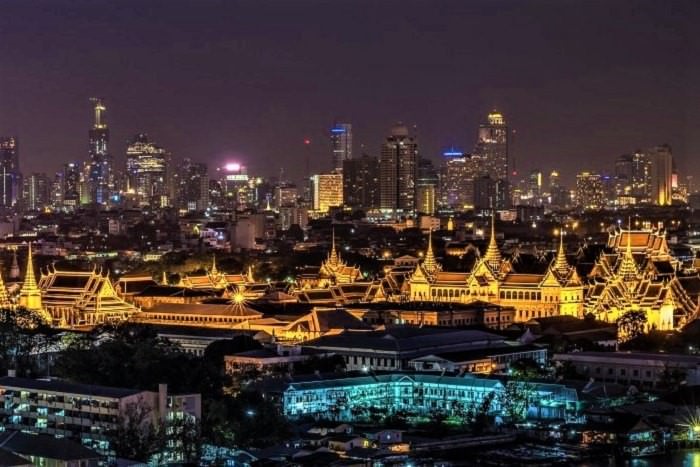 Bangkok at night.
Anyway, this girl and I were still just chatting.
That had gone very well though, and setting up a date was not hard at all. When I met her I can't say that sparks flew at first glance, because they didn't. But she was cute, and as we chatted all of her features started to take on a seductive elegance I'd failed to notice before.
We ended up talking through the night moving from pleasantries at a coffee shop at Seacon, cultural esoterica through the night market behind it, whether Hemingway was overrated at a bar on Sukhumvit, to Thai politics over ice-cream & pie at the 24 hour diner at Foodland, and finally it was time to go home.
But where would that be and in what number?
I asked if she would like to come back to my place and watch the sunrise over some tea. "No, I'd better go home and get some sleep. I have to work later today" was her somewhat clipped response. It was very late and I could understand sounding a little short and wanting to get some sleep, it seemed a perfectly reasonable condition to be in at that hour, but this kept happening with my Bangkok dating attempts.
Without labouring the story with undue detail, when the deal was finally sealed I felt as though I might as well have gotten one of those high-end latex dolls. I'd let this happen to myself though.
In my mind I'm a white knight, pure and noble. In reality I am in fact something quite different. I can't enjoy a sexual relationship without an intellectual connection, at least not more than once and for a limited time. However, I'm far from prudish and I need a lot of very primal engagement from a partner, like a no holds barred cage fight where everyone is lying around happy and smiling at the end, at least sometimes, and after all that build it up I was crushed.
The takeaway moral for using these dating sites is, of course, to be honest with myself about exactly what I wanted out of anything and in what timeframe, and to be honest with any Thai women who I started chatting with about this.
I also started spending more time screening girls' profiles for things that I thought might be signs of a healthy relationship with sex. I sallied forth again with new resolve and metrics and every bit as much short-sightedness and folly into an open relationship with a young Thai woman. That's another Bangkok dating story though...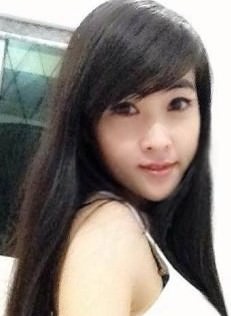 This lovely petite young lady, 28 years old and only 47kg, is looking for a western man to be her boyfriend. If you would like to meet up with girls just as lovely, you can with

My Recommended Dating Site: