Phuket Girls & Life in Paradise
In appearance, Phuket girls are usually a bit fairer skinned, a bit taller, and a bit more curvaceous than you find in, for example, Pattaya. The reason for this is because Phuket is a lot further away from Isaan than Pattaya, or Bangkok for that matter.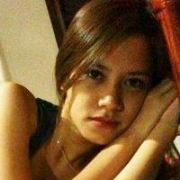 Modern technology is having a big impact on the bars in Thailand... the best girls have always been reluctant to work in bars for fear of being seen by someone from their hometowns, but there are lots of girls online at:
This means that fewer of those girls travel there for work. Isaan girls, if you haven't guessed already, tend to be significantly shorter and darker skinned than other Thais.
In Phuket, the difference in the appearance of the Thai girls is not as marked as it is in Chiang Mai, where the Chinese ancestry of the people makes them quite notably taller and lighter skinned, but there is a subtle difference none the less.
There is plenty of variety amongst the Phuket girls though, so whatever your preference is you won't struggle to find someone that meets your exacting standards!
Phuket is one of my favourite destinations in Thailand and, if you enjoy a busy nightlife, then you'll probably love the place too. The nightlife is nowhere near the size and extent that you find in Pattaya, but then there is no place on Earth that I'm aware of that can compare to Pattaya in that regard...
As with the other island destination that I've written about i.e. Koh Samui, Phuket seems to draw a significantly younger tourist demographic than you find in other places. I'm not sure why the islands seem to draw a younger crowd, but they do.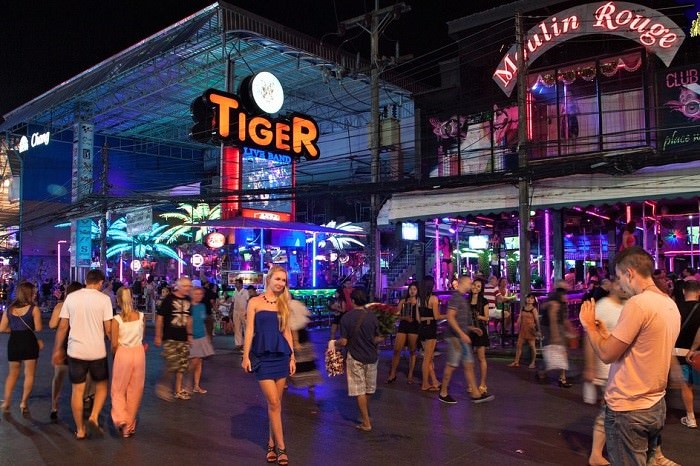 Bangla Road, in Patong, is Phuket's main nightlife attraction.
Similarly, they draw a larger number of couples, but this is a little easier to understand since island retreats can be seen as being a bit more romantic than mainland destinations. Phuket certainly fits the bill if a romantic setting is what you are looking for, some of the best beaches and scenery that Thailand has to offer can be found there.
If you are travelling alone, the Phuket girls are very friendly and you will find that there is no need to spend your time on the island alone. Phuket is a very good place if you like to do a bit of exploring, and the girls can be really good company for showing you around the island.
Renting a motorbike on the island is cheap, but many Phuket girls own their own scooters and will be happy to ride you around if you don't mind sitting behind – it's actually ideal because you'll be able to have a drink without fear of being prosecuted for drunk driving.
Phuket bar girls and nightlife
Phuket bar girls are more or less the same as those in other tourist areas of the kingdom but once again there are some subtle differences.
For one thing, the number of gogo bars on Phuket is much smaller than you find in Bangkok or Pattaya, so most Phuket bar girls are of the beer bar variety. I'm not sure why gogo bars are less popular here but my guess is that it reflects the different customer profile i.e. younger tourists and more couples.
Serious whore mongers may be quite disappointed with Phuket and will no doubt be horrified to read that some Phuket bar girls are quite choosey with regard to the customers that they will go off with. The younger crowd means that there are plenty of good looking westerners to spend their time with and, contrary to some opinions, looks do matter…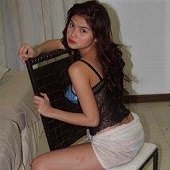 The vast number of Thai nightlife venues to choose from will give you plenty of opportunities to meet girls. But, if you prefer a more slow paced and intimate way of meeting ladies, you might be interested in checking out:
In Patong there is another difference in that a good number of the bar girls there can actually dance. They may not have gogo bars but there are still plenty of chrome poles to be found in the beer bars, and in my opinion the best dancers in Thailand can be found there. I've never seen anything in Pattaya to compare with the sort of acrobatics that you see on Bangla road!
Prostitution on Phuket is dominated by the bar girl scene but Patong does have a naughty massage venue called Christin massage, or Christine's as it is often called. For a true story about the Phuket soapy massage experience at Christin's, click here.
The other option for companionship on the island relates to the escort scene; Phuket call girls can easily arrange to meet you at your hotel and, as always, this option is best if you value discretion in these matters. Click here, for more information.
The nightlife options on the island are split into 3 general varieties:
Patong beach is the largest and busiest destination on Phuket and it has by far the largest nightlife scene. The centre of the action is focused on and around 'Bangla road'. If you have seen Walking Street in Pattaya then it is the same sort of thing but smaller. There are side sois leading off Bangla road, Soi Crocodile, Soi Eric, Soi Gonzo and many more that all combine to make nightlife here the best on the island.
Karon beach & Kata beach just to the south of Patong offer a much more sedate sort of holiday experience, and the nightlife there is much more relaxed. Kamala beach and Surin beach just to the north of Patong are similar options to Karon & Kata, and all of these options are popular with couples. That doesn't mean that you can't find ladies though - the Phuket girls here are usually looking for a western boyfriend or two…
Finally, if you want to experience a more authentic Thai style nightlife, there is always the option of Phuket town where Karaoke type bars are popular. You won't find many tourists here and it is not somewhere that I'd advise you to pitch your tent if you are only visiting on a short term basis. It may be of interest if you are staying for a few months, and you want to find the cheapest prices, as well as the most suitable girls for a serious relationship.
All in all, Phuket has got plenty of variety to offer, and each location on the island is within easy travelling distance of the other locations.

More about Phuket
Phuket is the largest of the Thai islands, and the most developed. It has some top class hotels to choose from, but also the full spectrum of cheaper options if you are on a budget. The resident population is more than 6 times that on Koh Samui, which means that there are plenty of online options for finding Phuket girls to meet up with once you arrive.
There is a sizable expat community living on the island, and all the things that you need to make life there a fulfilling experience are present. Healthcare is of a high standard, and basically I'd like to retire there...
Some local attractions that you will want to see are not actually on the main island. Maya bay, Phi Phi Island, Phang Nga Bay are all good places to head off to, but you'll need to book a boat trip excursion for that. It is cheap enough to do, and going with your new Phuket girl travelling companion will virtually guarantee some memories that will last a lifetime.
The stats regarding the cost of living in Phuket came as a bit of surprise to me; I had assumed that this was a relatively expensive place to live. There are certainly some aspects of living there that are expensive, taxi fares and general travel costs, for example, are horrendous compared to other Thai destinations.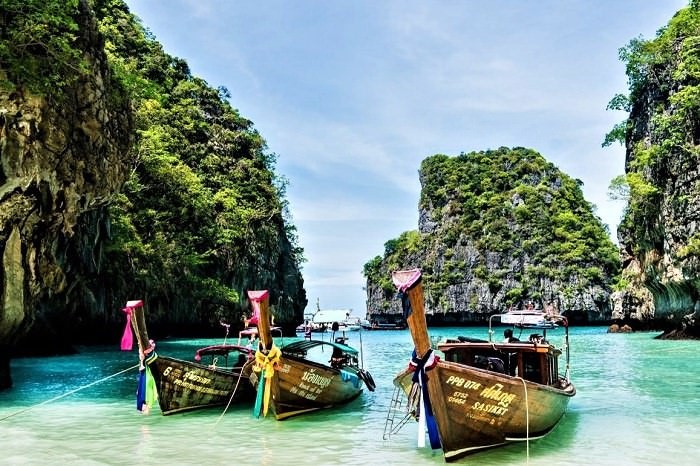 Some of Thailand's best beaches are in Phuket.
However, there are other costs that are lower. Rental costs and property costs are surprisingly low, especially considering that local incomes are comparatively high. Overall, the cost of living in Phuket is a little higher than in Pattaya but significantly lower than in Bangkok.
Rumours of scandal in south Thailand have done the rounds in recent years, with more than a few westerners being relieved of large sums of money for one reason or another – usually involving romantic attachment to the wrong sort of Phuket girls.
Attention was recently focused on property market scams and a court case over claims written by Jonathan Head, the BBC correspondent for Thailand. In the article, published by the BBC, the name of a person allegedly involved in a property market scam was published, and that resulted in a defamation claim be registered against Mr Head.
Now, not knowing anything about the case other than what was reported, I have nothing more to write about it. However, you won't find me investing in Phuket property anytime soon. However, the case against Mr Head did get thrown out of court, so there at least sanity prevailed.

I have written previously about the potential high rewards from investment in Thai property, but Pattaya has always been my preferred location for that. There is definitely a lot of potential for high returns but, as always with such things, the potential for high returns comes with extra risks. If those risks are unacceptable to you then you shouldn't invest.
I know that some westerners are married to the idea of owning property but it is a good idea to be flexible on which particular properties you own. There's no reason why you can't own a property in your own country and let it out.
The rental income that it generates could then be used to lease the property in Thailand in which you intend to reside. You will, perhaps, miss out on an investment that could grow substantially in value, but at the same time you would eliminate the extra risks involved in overseas property investment.
Phuket girls; final thoughts
There is one clear distinction that needs to be made as regards the ladies, Phuket girls and Patong girls are not the same thing.
Patong is like a smaller version of Pattaya and the ladies that you will meet in the bars there are lovely, but totally unsuitable for any kind of lasting romance. Patong girls are working girls, and getting involved with one will likely lead to serious regrets at some point.
Regular Phuket girls, on the other hand, are a different matter. If you can find a regular lady working away from the tourist areas (Phuket Town is the obvious choice) then you have every chance of finding a good girl.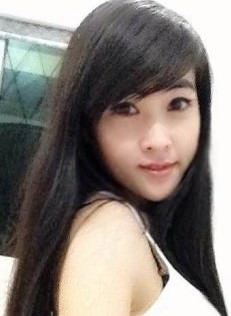 This lovely petite young lady, 28 years old and only 47kg, is looking for a western man to be her boyfriend. If you would like to meet up with girls just as lovely, you can with my
Recommended Dating Sites: