Chiang Mai Nightlife; Girls & Sex
The Chiang Mai nightlife scene offers all the usual delights that you find in the other parts of Thailand where there is a sizable expat community i.e. lots of bars, girls, clubs, international food outlets and so on.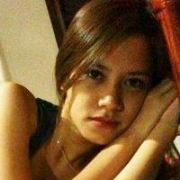 Modern technology is having a big impact on the bars in Thailand... the best girls have always been reluctant to work in bars for fear of being seen by someone from their hometowns, but there are lots of girls online at:
The local Chiang Mai girls are noticeably taller and fairer skinned than the other ladies that you'll meet in Thailand due to their ethnic Chinese origins. If that is a look that appeals to you, you should consider this popular city to be a place worth investigating.
Along with Chiang Rai it is located in the mountainous north where the higher altitude means that the climate is significantly cooler than any other place that you'll read about on my site, and that's good news if you dislike heat and humidity.
Temperatures are still very comfortable though, without the heat being too stifling.
With regard to finding a companion in Chiang Mai, you could try the traditional method of trying to score with a regular girl once you get there, but I know that most guys like to have something a bit more in the way of a arranged itinerary before heading off somewhere new.
As is often recommended on my site, online dating is the answer.
If it's a regular girl that you are intending to meet, Chiang Mai girls are amongst the best as they are more likely to have retained their traditional Thai values. You will need to understand those values though, so download my Mega Book for guidance.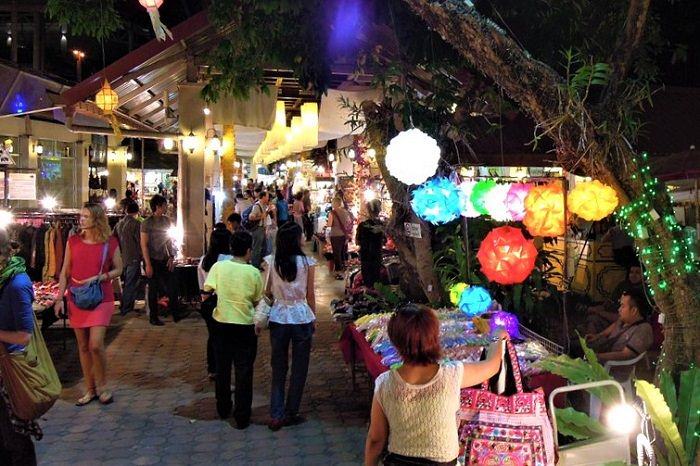 Chiang Mai Night Bazaar.
Chiang Mai Nightlife Opinion Piece
By Aran (from the UK)

I know some people who have been living here since the 1980s, and though opinions on how the city is changing vary enormously, few would dispute that the Chang Mai nightlife is only getting better and better.
I have to confess, I have always been unimpressed by Bangkok. Though no one in their right mind could ever claim that the capital city's nightlife scene isn't anything other than amazing, especially when it comes to girls, the city itself never had much appeal to me.
After about a week of going out there on my first visit to Thailand, I decided to head north to the city that everyone had such good things to say about, Chiang Mai. From the moment I stepped off the train, I never looked back.
Chiang Mai has a really great relaxed feel that few other cities of its size have. This is probably why it has attracted so many people, including freelance tech specialists (digital nomads) who seem to be everywhere these days.
It is really nice to be able to walk around parts of the city and feel like it is a Sunday afternoon in the country back home. But don't let this fool you, Chiang Mai is a city that has plenty of things going on, day and night. Over the last decade or so I've noticed a dramatic increase in traffic levels in some parts of the city, and with it, a steady increase in the pace of life.

Chiang Mai Nightlife Options
Though obviously not as crazy or big as Bangkok, the Chiang Mai nightlife doesn't disappoint. It caters to just about every desire, from a good night out with friends to getting a nice little hottie or two for a one night stand.  If you are planning a trip soon, here is the lowdown on how to make the most of it.

A relaxed night out on the riverfront
Whenever I want to have a nice but quiet night out with friends or a date, I usually head to the riverfront. It is probably the best setting to sit and drink. The area is crammed with really cool expat run bars and live music venues that really leave you spoiled for choice.
Thanks to the large expat community here you also get some really good western-style musicians playing on a regular basis. I love to listen to live blues and jazz and have to say I've been really impressed over the years at the standard of music here.
The Nimmanhaemin Road area is also a really nice spot to enjoy yourself, particularly in and around Chonpratan Rd. I usually head down here for a drink or two after work as there are a few really nice bars that are all within arm's reach of each other. This area seems to have a big pull for the younger crowd, including backpackers, probably due to the mix of live music and cheap drinks.
Both of these areas are really nice and safe. You won't get hassled by hookers or hustlers because they seem to avoid the area completely. Another good bet is to hit one of the city's sky-bars that are located on top of the more expensive hotels. Drinks are expensive but these places are really chilled, and you get to see some really stunning sunsets.

An upmarket rooftop restaurant.
Chiang Mai nightclubs
What I like about the nightclubs in Chiang Mai is that they don't get overcrowded. Most of the clubs I have been to always seem to have a good vibe even if they are a little empty. Generally, the clubs fill up around midnight, which is the best time to arrive. Don't expect to see any international DJs in any of them but there is enough choice to find one with the kind of music you like.
The nice thing about this aspect of the nightlife scene is that entry and drink prices are relatively cheap. At these prices, I don't care about going into a club for a drink to check out the girls there, and leaving alone if I don't see anything I like.
In my experience, clubs are definitely the best place to go if you want to meet young Thai girls in Chiang Mai. Though dating sites are a sure bet in Thailand, you still need to meet the girl for dinner or drinks to get a chance of a hook-up. As a western male, the odds are heavily stacked in your favor in Thailand anyway, so provided you make sure to talk to lots of girls in the club, you have a very good chance of going home with one.
If you dress the part and don't turn up in the shorts and t-shirt that most other foreigners always seem to, you will find girls will sometimes approach you in the clubs. Sometimes these will be pay for pleasure girls, but I have had many shy country girls come stand next to me waiting for me to start a conversation.
Not once when this has happened have I failed to take the girl home with me.
Thailand has gained a deserved reputation as a place that just about any western man can go to get a beautiful girl. Truth be told, the real challenge here is how to stick to just one.
The nightlife is fuelled by beautiful young Thai girls who come in from the countryside to find work. Some girls choose to work in the hotels and bars as waitresses, while others just go straight into the P4P scene where the big bucks are.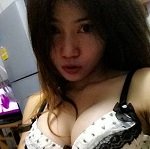 There are tens of thousands of Thai girls searching for romantic adventures with western men online. You can easily find good-looking girls for casual sex and fun times, or someone suitable for something more serious with:
In keeping with the scene in the rest of the country, the city has a selection of go-go bars, KTV/Karaoke bars (be careful with these – see below for details), massage parlors and a host of other places where men can get girls.

A-Go-Go Bars
There are plenty of a-go-go bars spread out all over the city. You won't find them lined up in long streets like in Pattaya. If you are new in town the best way to find them is just to take a taxi. Tuk-tuks are still really cheap in Thailand so, even if you decide to drive about for a bit to find the best one, it won't cost you that much.
A-go-go bars are probably the most expensive places to buy drinks for obvious reasons. When you go in the girls will always give you lots of attention as they want you to buy them drinks. Lady-drinks are even more expensive and if you decide you want to take a girl home you will need to pay her bar-fine first. Always ask prices before you drink or do anything.

Girl Bars
Personally, when I am looking for a one night stand, I like to head to the area around Loi Kroh Road, which is where lots of the girlie bars are located. These bars are cheaper and much busier than the a-go-go bars, so the atmosphere feels much livelier. I like Thai bar girls because if you are out on your own you can get a girl to keep you company or play pool with you.
My first experience of the nightlife was spent in one of these girlie bars with a really fun and sexy girl from near the border with Laos. We had a really great evening that only cost me 4 extra drinks. I took her number and when I messaged her the next day she came straight over to my place.
The nice thing with most of the Chiang Mai girls is that if you do find one that you like, you can just pay her bar-fine and take her home. Bar-fines here are also lower than in the a-go-go bars.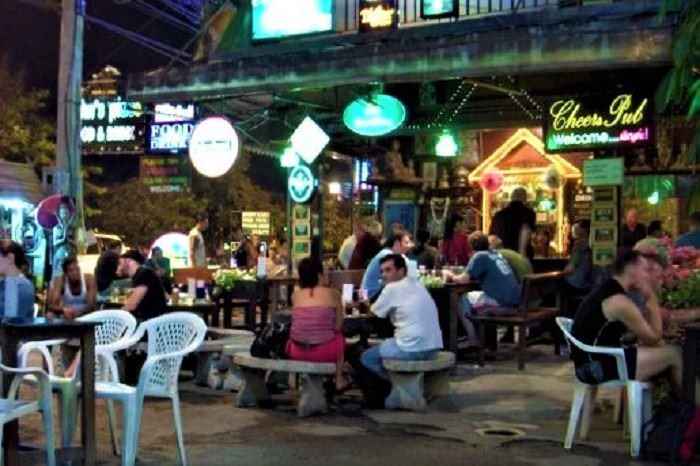 A relaxed atmosphere at the popular 'Cheers Pub'.
KTV and Happy Ending Massage in Chiang Mai Thailand
While you can actually go to the KTV to just sing, from what I have seen they are mostly used by East Asian guys to get girls. There are loads dotted around the city and the girls seem to get more expensive the more beautiful they are.
You need to be very wary of these KTV venues, it is not uncommon for a girl to come sit with you and start ordering drinks as though she is a customer – she isn't, and you will end up paying a hefty bar bill!
Happy ending massage parlors are another famous feature in Thailand. Most massage places offer extra services such as happy endings and sex. In all the places I've ever been, they will discreetly let you know beforehand what's on offer so you can decide what you want.
After trying out plenty of different places, I have to say that my favorite is the soapy massage parlor. Here some stunning Thai girl will wash and massage you before letting you have your way with her. Soapy massage parlors are definitely one of the most pleasurable ways I've found to enjoy the Chiang Mai nightlife scene, I must say.

Online Chiang Mai Sex Opportunities
As Aran explained in his article, find sex in Chiang Mai is not difficult once you are there. But, if you want something arranged before you arrive then the dating sites are the way to go. They aren't just good for meeting regular girls for serious romance, there are also plenty of girls just out to make some extra money or just looking for some fun.
The added rewards of meeting someone who knows her way around town will pay dividends and it's not just about finding the best nightlife - Chiang Mai is absolutely beautiful if you go at the right time of year.
Being located in a mountainous region means that there are some stunningly beautiful scenic locations to be found in and around the city.
My tip is to go over just after the rain season has finished, the end of November is usually a good choice. The colors will be at their most vibrant at that time and the rivers/waterfalls will be at their fullest.
As with Pattaya girls, the girls here are very sweet and the Chiang Mai hookers will provide the full 'girlfriend experience'. To get an idea of the prices that they charge, have a look at my:
The girls tend to be a little less battle hardened, with fewer visible tattoos than the girls elsewhere, and you'll find that they are a little quieter and more reserved in character.

Early evening at the Chiang Mai Night Market.
Thai culture frowns upon ladies that act in a loud and outgoing manner, and the close-knit community in the city ensures that the behavior of the ladies more closely conforms to the traditional calm and polite role model.
Chiang Mai in general has more of a traditional feel to it than some areas of Thailand, but in other ways it is a modern city. The big multinational corporations have invested quite heavily here, so don't be surprised to see all the usual western fast-food outlets and high-street brand names.
Contrasting the local McDonald's, there are lots of temples, lots of monks, lots of Buddhist festivals... there are even some hill-tribes living nearby that are friendly towards tourists.
All in all, it's a place that will appeal to a lot of westerners on some level. Some will prefer a brief visit, others would jump at the chance to settle there on a more permanent basis.

Chiang Mai bar girls
Whilst the city does have a popular bar area for tourists, known as Loi Kroh Road, it is small in comparison to the big nightlife destinations in Bangkok, Pattaya and Phuket.
The prices that you'll pay are low, amongst the lowest anywhere, but the beauty of the girls in the bars on Loi Kroh Road is not considered to be of a high standard; butt-ugly is a popular description of the ladies that you'll find working there.
The only paid option where beauty comes as standard is with escort girls in the area.
There are exceptions of course, but the best looking Chiang Mai bar girls tend not to stay in the industry for long. That's because some poor fellow will usually take an early leap of faith and try to make an honest girlfriend out of her.
Chiang Mai bar girls are no different to sex workers from any other place as regards their suitability for long-term romance. To acquaint yourself with their usual methods, have a read of this true story:

Happily, whilst the nightlife options that you are first presented with are small, there is much more to the city than first meets the eye. Most visitors never realize that the best of the nightlife is strewn out all across the city.
Much of it is Thai-style, which gives a new experience, but there's no way that you'll discover it all by yourself if you are on a short, first-time visit.
That makes meeting up with some Chiang Mai girls all the more important since they'll be able to show you around. Bar girls are fine for this purpose, but I'd still avoid their services if you want to meet a regular girl because you'll need to avoid the stigma that comes with being seen in the company of a hooker.
Don't go thinking that regular Thai girls will give you a pass and turn a blind eye to a known whore-monger, and don't doubt that you'll soon be labelled as such if you mingle with the wrong company!

Cost of living in Chiang Mai
One of the main attractions of the city, for humble paupers such as myself, is the extremely low cost of living in Chiang Mai. Pattaya is cheap, but it doesn't compare to this place.
Using the figures provided by Numbeo to compare the city's expenses with Bangkok, the overall cost of living is a lot lower. The biggest difference is in rent where the average cost is around half that in Bangkok.
Due to the cheap living there's a sizable expat community and an even more sizable community of 'digital nomads' visiting on long-term visas. Many of these guys have found themselves long-term Thai girlfriends and wives from amongst the local Chiang Mai girls.
If you are close to retirement and don't want to live in the bedlam of Bangkok or Pattaya, Chiang Mai is a serious alternative and well worth further investigation.
By all accounts, the expats who do live there speak very highly of the quality of life that it offers for a man on a budget, and if you prefer a more close-knit community, the Chiang Mai nightlife has enough going on to keep you happy.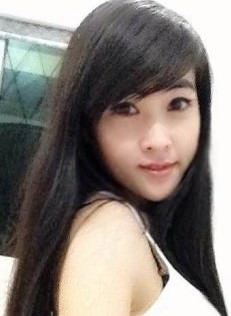 This lovely petite young lady, 28 years old and only 47kg, is looking for a western man to be her boyfriend. If you would like to meet up with girls just as lovely, you can with

My Recommended Dating Site: